ShinyBound Productions – Summer Marshall.. The Gamble
ShinyBound Productions – Summer Marshall.. The Gamble
Sexy redhead Summer came to visit me in Las Vegas and wanted to try her hand at some gambling. Not knowing the rules, and trusting me to show her how to play.. I quickly devised a game she wouldn't be walking away from..
I tell her that I am going to deal her two cards Blackjack style. What ever the numbers on the cards add up to is the number of ropes I get to tie her up with. She looks at me funny.
"I'm getting tied up? Is that part of gambling?" she asks innocently.
I flash a crisp $100 bill. I tell her that if she can get out of those ropes within 5 minutes, that she wins the money. Her eyes light up.
"I can totally do that! How hard could it be?!" she gleams.
"That's right Summer.. Easy as pie.. But… If you fail to free yourself in the allotted time, I get to add more ropes and keep you tied up for the whole day."
She doesn't even bad an eye and watches my shuffle the cards intently, fixated on the $100 she thinks she will be getting.
I deal her the two cards. A 2 and a 5.
"So seven ropes."
"Sweet! Seven is my lucky number!" she spouts off.
I grab my rope bag and pull out 7 pretty hefty lengths of rope. I tell her to take off her shoes, revealing her sweaty black bottomed gym socks.. (Those will come into play later.) Grab the first rope and tightly fashion a crotchrope out of it. I take the second and tie up her upper torso. She looks at me questioningly. Next, I have her get up on the counter where I use all of the remaining ropes to tie her into an extremely over-tight hogtie.
"This is way too tight!" she complains. "I didn't say you could tie me this tight!" She pulls at the ropes and realizes this may be more difficult than she anticipated. I tell her a deal is a deal and that she has 5 minutes on the clock to escape the tie.
At first she stretches out slowly, looking for any knots I may have carelessly left that she could get ahold of. When she can't locate any knots, she starts frantically jerking and struggling, trying to get free. The tight ropes are very painful and soon she is again calm, trying to wiggle free and complaining that this isn't fair the entire time.
Finally the timer reaches zero and the alarm sounds. She has not freed herself.. And so now I get to tie her up more! She hisses and squeals at me, telling me I cheated and to let her go. A deal is a deal Summer. I untie the rope holding her hogtie and she sigs with relief. Then I pull the rope tighter, arching her back in a more extreme bend, and then tie it off. As she screams at me, I pull her dirty nasty gym socks off of her sexy feet. I wad them up and shove them into her big mouth. I take some tape and tightly wrap her face to keep those sweaty socks lodged deep in her jaw.
"There. Nice and quiet." I chuckle. She is furious. Next I blindfold her, tie her big toes together, and then tie her toes to the blindfold strap. Now she's really stuck and can't move an inch. She howls through the gag and shakes on the counter top. The lesson for today Summer.. A deal is a deal, and gambling isn't smart when the house writes the rules.

Starring: Summer Marshall
Size: 776.1 MB
Duration: 00:17:24 min
Resolution: 1920×1080
Format video: mp4
Preview: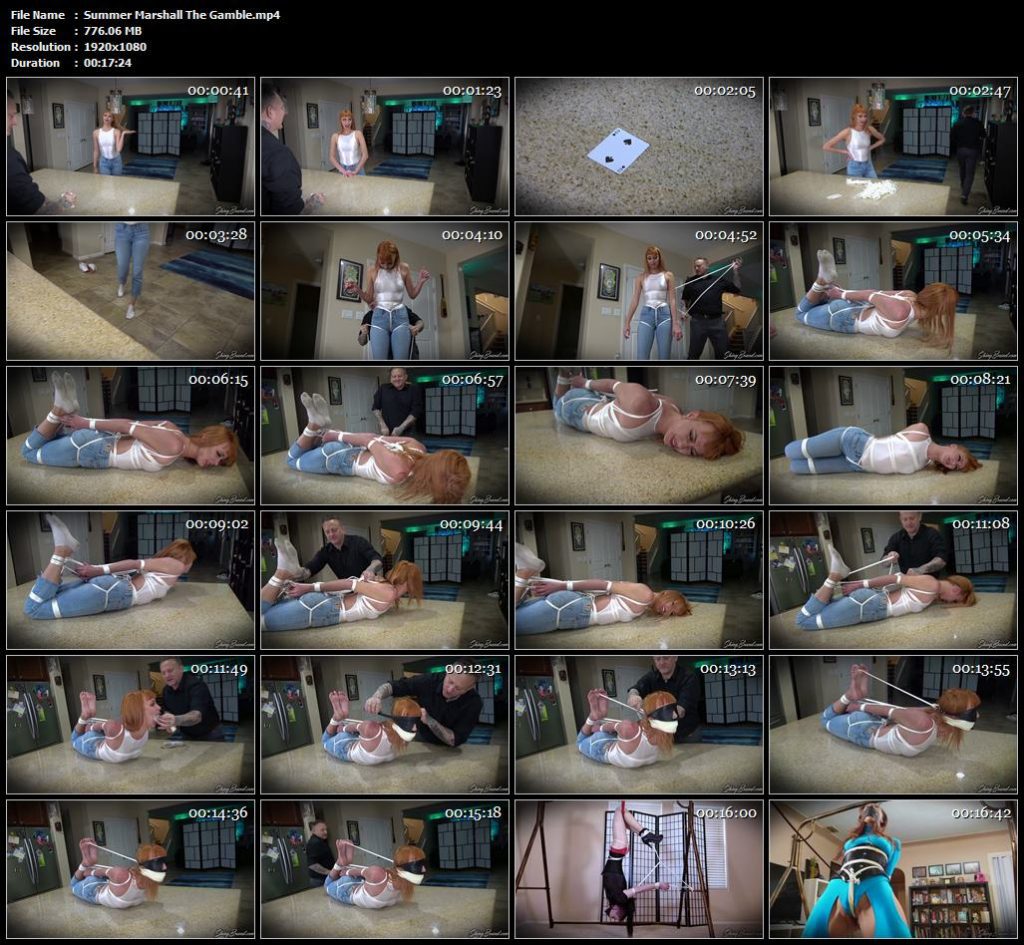 Download link:
Summer_Marshall_The_Gamble.mp4