ShinyBound Productions – Rachel Adams.. Brutal Metal Slave Training Part 2
ShinyBound Productions – Rachel Adams.. Brutal Metal Slave Training Part 2
Bondage, BDSM, Metal Bondage, Slave Training, Shackles, Collar, Chained, Dragged, Satin Nightie, Nylons, Pantyhose, Girl Next Door, Captive, Prisoner, Dark Fantasy, Ballgagged, Tight Ball Gag, Drooling, Gag Talk, Ball Gag Challenge, Struggling, Groping, Fondling, Helpless
Poor girl next door Rachel Adams has been captured by an evil BDSM slave trader. He plans to sell her to the highest bidder, but first he must train her properly.
Now in part 2, Rachel finds herself still brutally shackled and chained and sitting on the couch. She futilely struggles and calls out for help. She stands up and slowly hobbles across the hardwood floor, dragging the heavy chains, to the door to try to escape. She pulls on the door trying to open it, but it has been screwed shut to prevent her escape. Slowly she hobbles back. Whats this?! He left his phone on the table?! She scurries as quick as she can over to it and picks it up. She tries her best to operate it and get it up to her face, but with her hand shackled behind her, its no easy task!
"Hello hello? Help me!" She tries to yell into the phone.. But with the tight ballgag still lodged firmly into the back of her mouth all that comes out is a garbled mumble.
Just then the slaver comes in and grabs the phone from her. He takes the heavy chain connected to her collar and drags her across the floor. She fights and tries to plant her feet, but her slippery pantyhose just slide along the hardwood as he drags her along. He pauses for a moment and thinks..
"So how about this.. I'll make you the same offer as before.. If you can spit out that ballgag within 5 minutes, I'll unchain you and let you go. But… If you can't.. You're going down to the dungeon to begin your sex slave training.. Sound like a deal?"
She nods and he pushes her back onto the couch and gropes her through her satin nightie. Then he sets his timer and tells her he'll be back in 5 to check on her.
Once again she tries as hard as she can to push the horrifically tight gag out of her mouth, distorting her face, drooling, using her tongue, and almost dislocating her jaw trying. After 5 minutes he comes back.
"So I see.. Again we failed.." He Smiles. Once more he grabs the chain attached to her collar and drags her down to the dungeon.

Starring: Rachel Adams
Size: 495.8 MB
Duration: 00:14:30 min
Resolution: 1920×1080
Format video: mp4
Preview: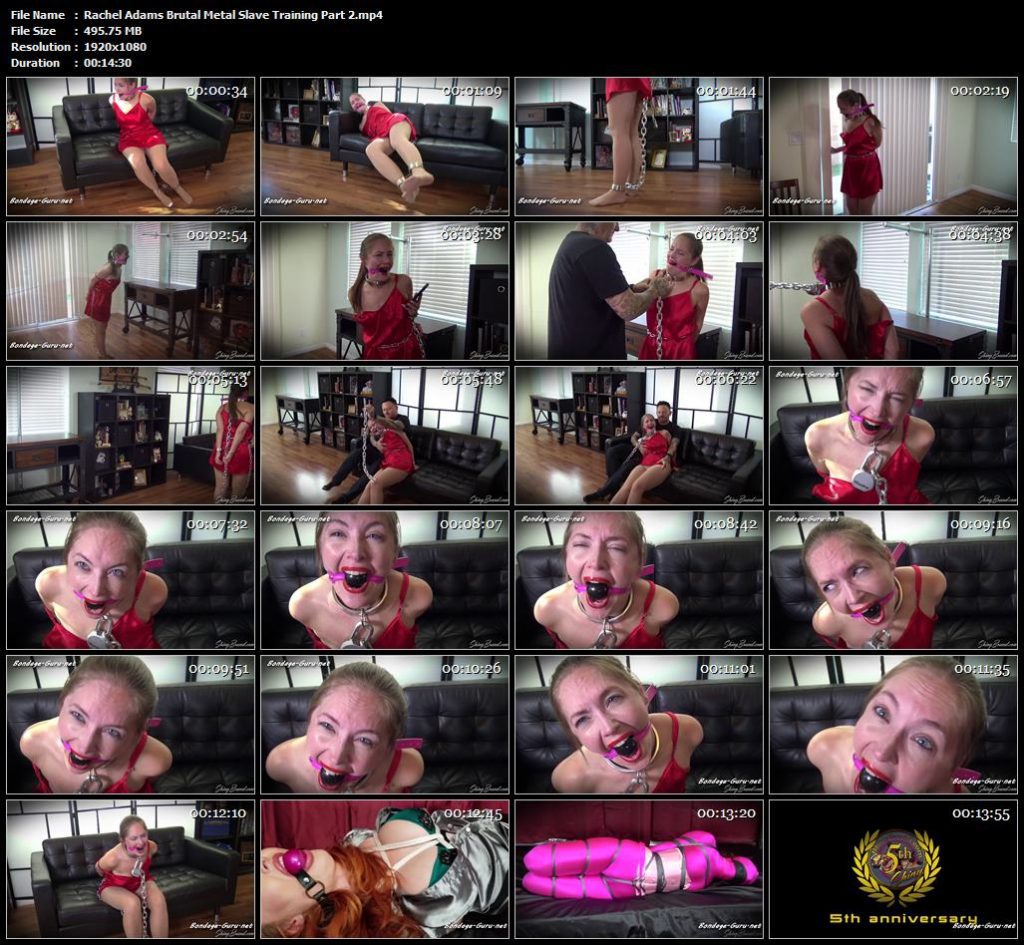 Download link:
Rachel_Adams_Brutal_Metal_Slave_Training_Part_2.mp4