ShinyBound Productions – Kendra Lynn – Crime Doesnt Pay
ShinyBound Productions – Kendra Lynn – Crime Doesnt Pay
Kendra has been watching the house next door. She knows when they leave and come home everyday. Tonite while they're away, she is going to sneak in there and see what kinda goodies they might have laying around..
Night falls and their car leaves the driveway right on time. She waits an extra 10 minutes just in case they loop back for something, then she sneaks thru the side door on their garage and slips into the house. She heads into the living room and starts looking at the merchandise in the bookcases.
A deep voice rings out. "FREEZE!" Kendra slowly turns. The man of the house has stayed behind tonight, unfortunately for poor Kendra. As he handcuffs and gags her he tells her he is going to teach her a lesson about breaking into peoples homes.
He makes her march upstairs and into the back bedroom. He ties her down to the bed tightly, arms at her sides and her ankles and neck anchored to opposite ends. He takes the last rope and wraps it around her waist and up through her crotch. She squeals in surprise. "What are you doing to me?!" she howls thru the ballgag. He pulls the rope tightly and ties it up to the ceiling above her, lifting her hips off the mattress. She tries to struggle, but as her weight shifts the crotch rope digs in painfully deep!
"There we are.. You're going to spend some time here while you reflect on what got you into this predicament.." he says while groping her body through her spandex catsuit.
She shifts side to side, trying to dodge him, but only digging that crotchrope even deeper. "No, please let me go! I promise I won't do this again!"
"I know you won't" He says as he shuts the door and leaves her there to suffer.

Starring: Kendra James
Size: 657.5 MB
Duration: 00:14:25 min
Resolution: 1920×1080
Format video: mp4
Preview: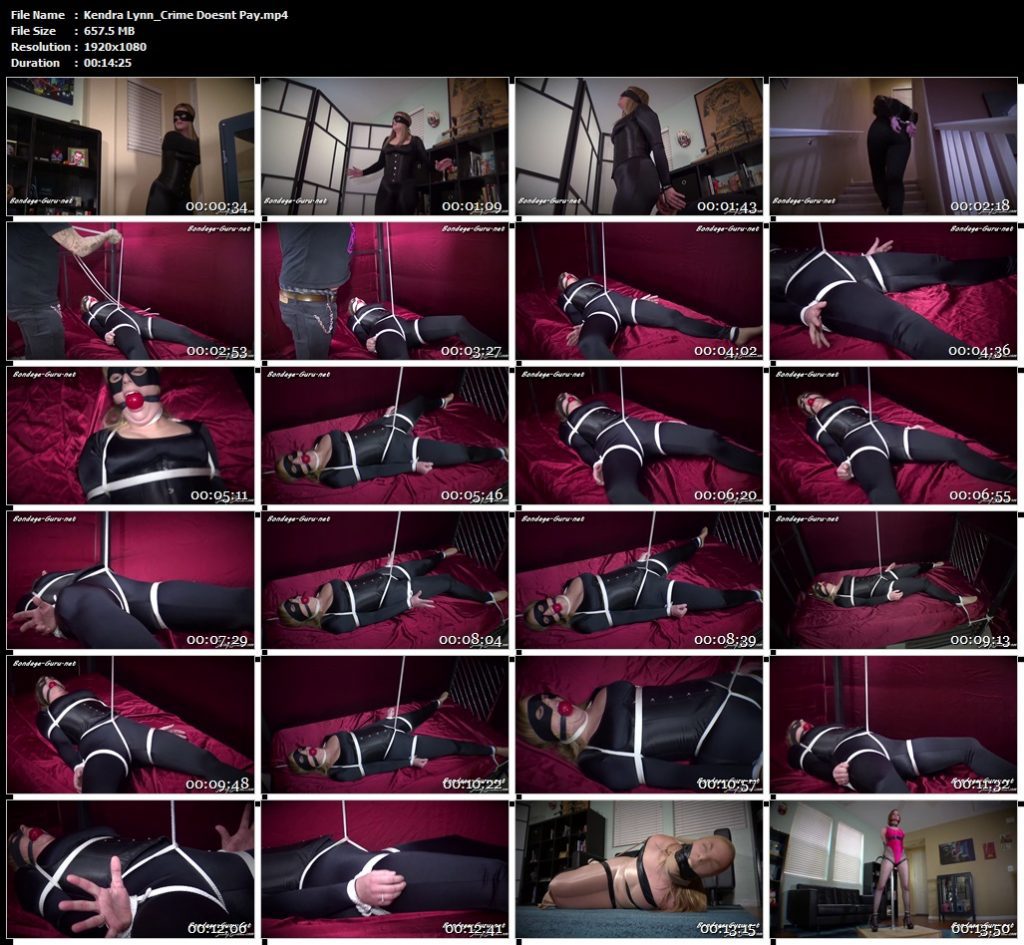 Download link:
Kendra_Lynn_Crime_Doesnt_Pay.mp4