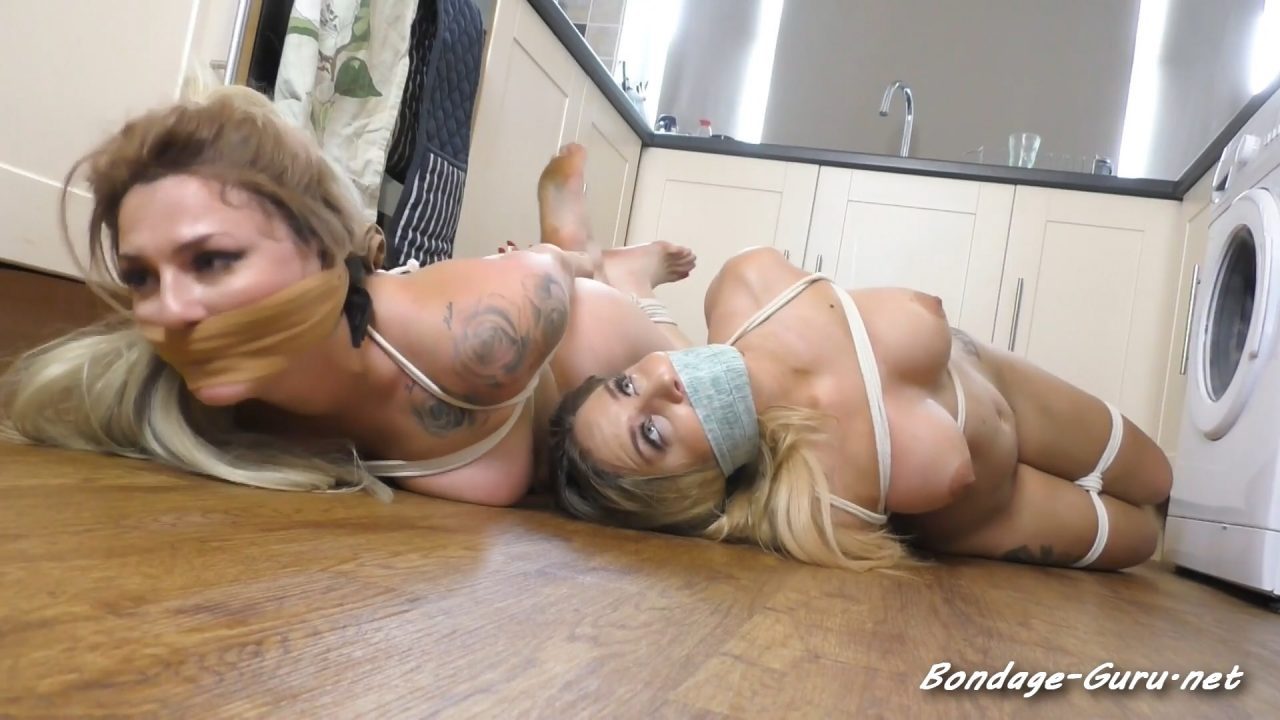 Shannon & Brook in: Swiss Holiday Chalet Morning Madness: Hot Lovers Trussed & Gagged Ultra-Tight, With Their Torn T-Shirts! – Borderland Bound
Shannon & Brook in: Swiss Holiday Chalet Morning Madness: Hot Lovers Trussed & Gagged Ultra-Tight, With Their Torn T-Shirts! – Borderland Bound
Was that the postman outside?? The tied up girls go wild trying to attract attention. Ski-holidaying in the Swiss alps, the demented attacker has used their own crudely fashioned wind chill factor t-shirt 'masks' to gag them with, adding more layers when they get too out of control. Alas, that Postie does not hear them, and they struggle on, bound like pigs, gagged heavy and extraordinarily, eye-crossingly tightly. And all because they stayed in the WRONG chalet!
Lovely busty girlfriends Brook and Shannon have had a long and rewarding day up in the mountains, skiing. It's their favourite past time. Days are spent on the slopes, evenings in a restaurant or bar, nights, passionately love making, all alone, in their hired chalet. They've in fact just had such a day, and night. Steamy showering and retiring to bed (to sleep this time) the ladies are treating us to a bit of a hot buttock show as they snooze. Maybe they know we are watching.? It must be about 9am when something stirs Shannon. Not knowing what it might be, she gets up, stretches and trots downstairs, for a glass of water.
She's preoccupied, sipping from her glass, when a shadow descends upon her. Just as she notices it, a hand shoots out over her mouth, stifling a cry of surprise. The thrashing babe is overpowered, bound hand and foot, and gagged halfway through with one of her own ripped up t-shirts. Resting on the kitchen counter, she stripped it off yesterday afternoon, having worn it, along with other material, to protect her face from the whipping, snow-swirling winds. Now it's cinched stupidly tightly between her teeth. Cute!
With the hot, wriggling little barefoot rascal all tied up, the madman responsible (an escaped lunatic it turns out from the nearby JizzGiggler Institute for the Criminally Made-Up) allows as to how she will not interrupt his planned 'special dinner' for a rear admiral or something he apparently once knew, that night. Clearly the guy is delusional, but certainly no less dangerous. He has after all, bound and gagged a girl, and whatever else might he be planning? Taking our Brook, as a matter of fact! While Shannon struggles and mmmppphhhs, Brook eventually gets up and comes downstairs, wondering where her lover is.
Shocked to discover Shannon all tied up, she hunkers down and begins to untie her gag, but that's when, despite Shannon's frenzied yet indecipherable warning, she too gets the hand over the mouth treatment and is soon trussed and gagged herself. With the girls helpless and unable to speak, the fiend ropes them up some more and leaves them squirming in the kitchen. TWO of them – Two little bitches bent on spoiling his dinner with the rear admiral this eve. Well, not while he has strength enough to subdue them they won't!
Later, and the struggling, bewildered captives are all trussed up hogstyle, groped and spanked repeatedly, as the leering menace comes to realise how sexy they both are. Maybe, if they are good girls, they can stay for diner, instead of being hidden out in the coal shed, or the snow for that matter! Neither beauty is thrilled by the prospect of any of it, but gagged senseless as they are, they're unable to articulate their true feelings about the matter. Shame!
Later still, and the nutter is back from the delicatessen. He decides to gag the girls some more, little mumblers that they are, and now they are REALLY muffled up. Just as well, for that postman shows up, but can't be aware of what is going on in the kitchen, through the girls very much try to raise the curtain on their capture!
Brook scoots over on her side, gag talking hotly to Shannon, who is presently squeezing her tits into the floor and twitching her round rump in the air, touching her nude heels and soles – very exciting. Brook in turn pumps her hips and pokes her tight crotch our way – thank you, darling! And then they are back on their baps again, hogbound in the traditional fashion, straining into their layered, ultra-tight gags, and hoping that this dinner he has planned goes 'safely' for them. We're sure it will, but the idea of them thinking it might not, ensures that the mental gymnastics continue at pace, with the very struggly naked hotties giving us something and half to think about, all tied up in their chalet. Yep, we'll probably need holidays ourselves after checking this action-leaden romp out!

Starring: Shannon, Brook
Size: 1.21 GB
Duration: 00:24:51 min
Resolution: 1920×1080
Format video: mp4
Preview:


Download link:
Shannon_&_Brook_in_Swiss_Holiday_Chalet.mp4