Ruby in: Stuck Up Real Estate Developer Gets Her Ripped-Off Knickers Stuffed in her Mouth While Trussed Securely for a True 'Queen's' Ransom! – Borderland Bound
Ruby in: Stuck Up Real Estate Developer Gets Her Ripped-Off Knickers Stuffed in her Mouth While Trussed Securely for a True 'Queen's' Ransom! – Borderland Bound
You'll know how we like to do a severely tight wrap gag at the best of times, but Ruby has some real difficulty with this skin TIGHT face hugger. Join her and share in the kinky peril of it all as she chugs back on her own stuffed in panties while her mouth is frozen wide and filled, and her head whips about plastered with several turns of strong silver tape. One thing she won't be doing is giving any of her legendary smart tongue. But does she ever look hot.
We begin with the stupidly busty beauty in stockings (hold ups), blouse and cranberry business suit, showing, in her heels (mustn't forget these) some dude around a house. So far so normal, for she is a real estate agent and this is her job, and though the client is saying some weird stuff, she can handle him. Or so she thinks. He has expressed a keen interest in the property though, so when his back is turned (in fact he is off visiting the toilette) Ruby places a call to her staff at Dustbin & Debris Estate Agents Ltd to let them know that the oddball is gonna buy. But there is more to all of this.
.Turns out the gorgeous babe's partner, Edmund Thermidore, is a very wealthy chap. That's probably why the way out of his league beauty sticks with his ass, at least for the time being. Though soon enough, she'll need him more than ever. But Edmund knows a few shady villains, one of whom is connected to Thermidore, and knows how much the guy is worth. The plan is to snatch his bimbo and ransom her up. As one does. He'll subdue her in this house and when the coast is clear get her out to his car.
Knowing none of this yet, Ruby is perplexed indeed when the man returns, this time wearing a red mask, which as she spoke to him earlier she had just assumed was a very rubbish hat, pulled up as it was off his brow. But when he suddenly seizes her, obstructing her very smart mouth with his hand, her eyes bulge in surprise. What is this guy planning on doing now?? Taping her the fuck up, as it happens.
Removing Ruby's knickers while she wriggles around, outraged, he crams them into her mouth and methodically binds her lower face. The gag is so extreme she can barely 'gggmmmmppphhhh'. And immediately we can see she'll have some difficulty with it. Oh well? Good for her, and us, eh? Binding the young lady hand and foot, he leaves her laid out on the heated kitchen floor (would have been a lovely house to buy, he thinks, if that had been his thing, but it isn't) squirming heavily and trying to call out through that vicious gag she has on.
While he is gone, and having bent out the very best of positions (Ruby is always so excellent with her struggling) she eventually shuffles into a darkened room adjoining the kitchen, which she understands is a utility area. Whatever, if she can get in there, maybe she can find somewhere to hide until this nutcase is gone?? But here he is now, and catches her just before she makes it.
Furious, he snips her legs free and very roughly conveys Ruby upstairs, where he strips her as best he can around her bindings, gropes her passionately, and adds a load more tape. This is what she gets for trying to change the state of play. And now Ruby struggles fervently in a corner of the room. Her hot, sexy body occupies our senses and that clearly facially-compromising massive gag she has on, is grinding her DOWN! Still, she struggle hard, showing us how it's done. In her stockings and high heels, her tight little skirt pulled up around her waist, and her gargantuan tits on display, she cuts quiet the evocative damsel. So now what? More struggling, and a phone call to the boyfriend, Edmund. We'll save these juicy details for now, but you'll get to find out more when you get into this wacky tale of serious restraint.
Like we said at the start, Ruby ( a genuinely tough girl) still struggled a lot with this super gag. Do you like these, by the way? A lot seem to, and they are always a challenge for the girls. If you are indeed the type to enjoy a monster gagging, you will find your evening made with this. And Ruby is one of the best. So have a hot slice of tape pie served directly by us! Ruby at her most awesome. PS: Wonder what Edmund said when the guy sent him a picture of his helpless girlfriend all gagged up?? Ha!
Starring: Ruby Summers
Size: 1.00 GB
Duration: 00:20:07 min
Resolution: 1280×720
Format video: mp4
Preview: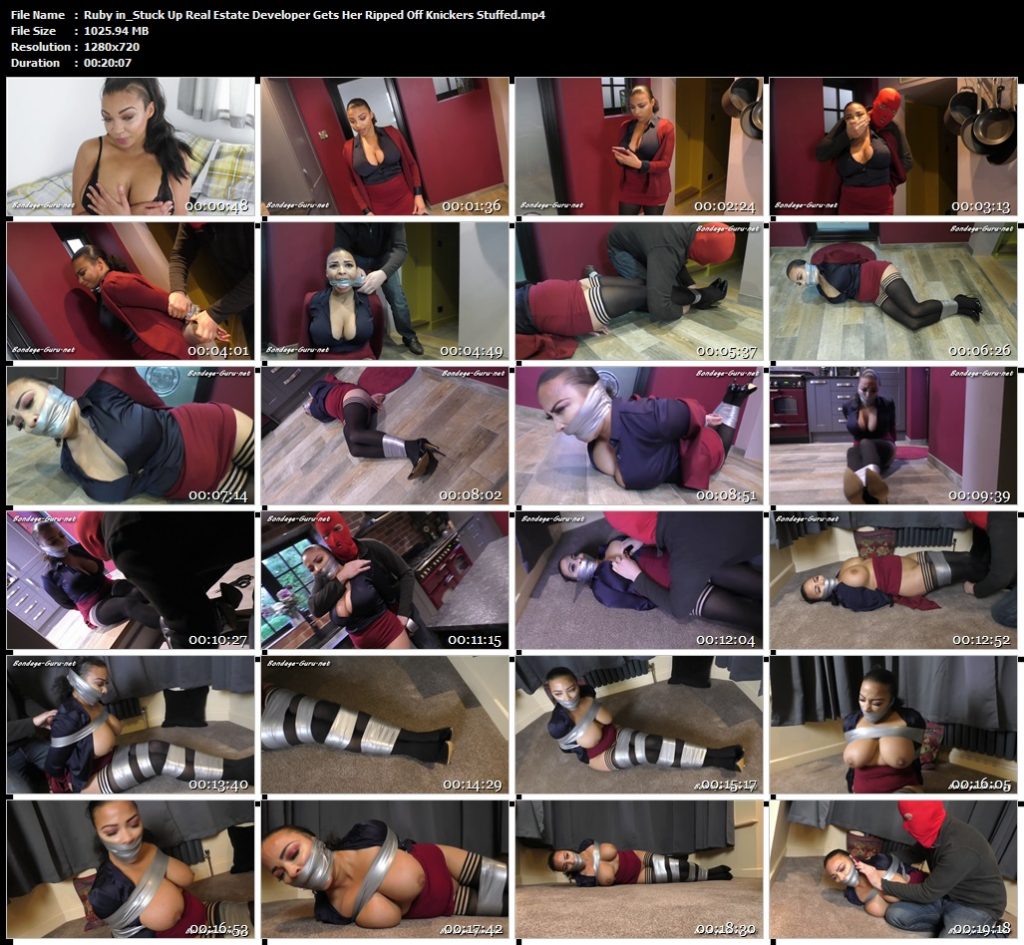 Download link:
Ruby_in_Stuck_Up_Real_Estate_Developer_Gets_Her_Ripped_Off_Knickers_Stuffed.mp4