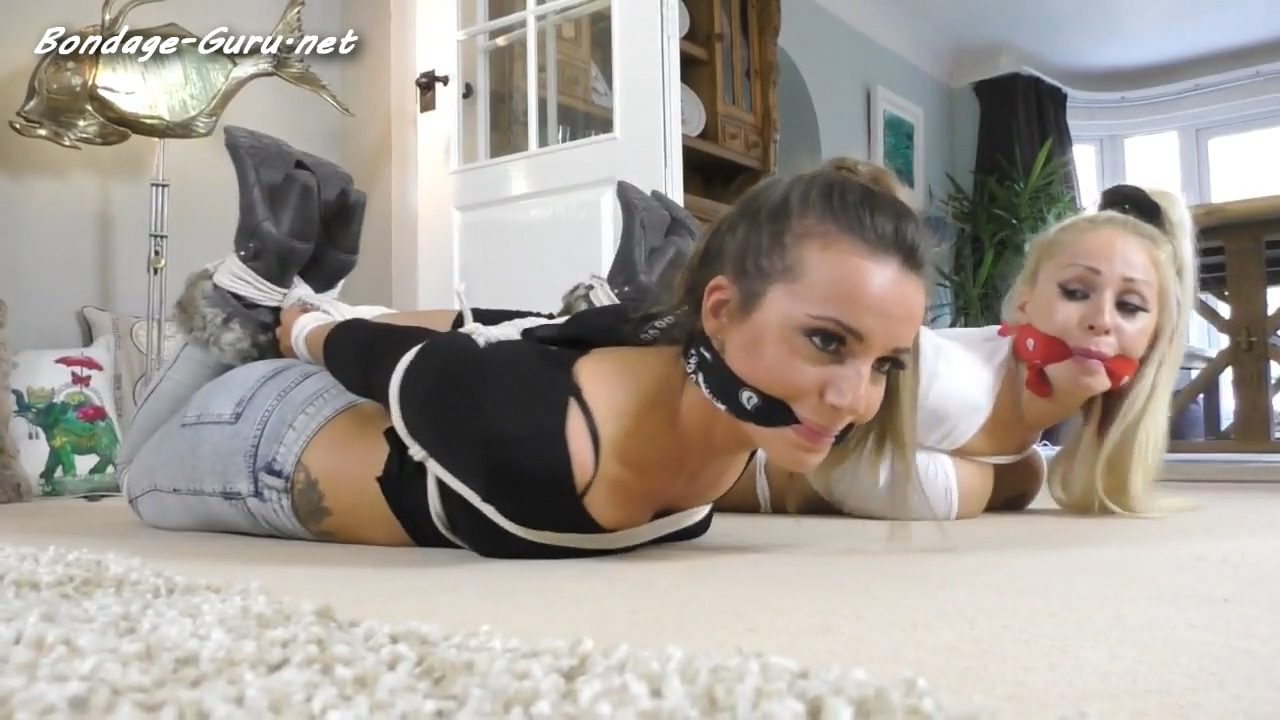 Ruby, Carley & Dannii in: Beautiful Girl Snoops in Jeans Tightly Trussed & Bandanna Gagged Weekend At Waldorf House! (Full Clip) – Borderland Bound
Ruby, Carley & Dannii in: Beautiful Girl Snoops in Jeans Tightly Trussed & Bandanna Gagged Weekend At Waldorf House! (Full Clip) – Borderland Bound
A trio of bound beauties in boots and tight jeans, all very tightly cleave gagged with thick bandannas and restrictively hogbound apiece. Need we say more? Oh go on then, we do like to set a scene!
Its a dark and stormy weekend up at Waldorf House. During a lull in said storm, in sweep dazzling, leather-booted, jeans-clad, perfectly-formed babes Dannii & Carley. They have heard there is stolen loot being stored here by a couple of notorious thieves. Intelligence says they are off holding court in the nearby township, so the girls should have just enough time to gather clues before reporting back to HQ. Having heard about what happened to the ravishing Agent Summers (back on the job once more, apparently having overcome her last ordeal) the girls exercise some measure of caution. But not much. And that's a good thing for us, because they are easy fodder for the two lunatics who are holed up here. It is true that business is being conducted in town, but not by both crooks.
One of these evil bastards lies in wait up here at the house, expecting just this kind of brazen snoopery. He WILL curtail that. Grabbing buxom lovely Carley and slapping a hand tightly over her mouth, she is quickly bundled away before Dannii can be alerted to danger. Doubling back through the warren of secret passageways within the house, the dude soon appears behind Dannii, grabbing her the same way, fiercely handgagging this stunner and taking her away to tie her up too.
Gorgeous Dannii struggles valiantly on the floor, a very tightly tied black patterned cleave gag silencing her, bound hand and foot, oh, and chest and thigh for that matter. She is well trussed indeed and outraged as the demented crook hauls a much wriggling, similarly trussed and gagged Carley in over his shoulder. Both girls are left to struggle and gag talk while he fetches more rope with which to further detain the pair. So, this is Saturday, and guess who is getting hogtied? As the spirited lasses buck and strain into their gags, trying hard to resist, both are bound into tight and close hogties. That is how they shall remain too, until this nutter can get rid of them.
While the mmmmpppphhhhing and struggling beauties are being taken away for interrogation up at a second location, the day is changing, Sunday, and that lovely Agent Summers is back. Leather jacket, jeans, knee high boots. She is dressed for action. Utterly stunning, the busty babe is bent over, searching through a drawer, when she is accosted, quite brutally, then carried like a sack of feathers up to a creepy attic room she knows well. As she comes around an extremely tightly bound red bandanna gags her. Her eyes bulge and veins stand out in her forehead as she deals with the mouth-yanking muzzle. She cannot believe this. All tied up and left to struggle; she certainly has been captured again. Time to have a go at loosening those knots before this second crook can have his way fondling and hog roping her. That is, after all, what these guys do. Sadly for her, she doesn't make it, and so is lashed into a strong hogtie, all the while trying her best to cope with that stupidly tightly pulled bandanna gag. Then she is locked away in the room as the crooks consult on getting rid of Summers in the same way as the others. With the former pair bound and gagged in the van, it will be a similar destination for the bucking, twisting, tit-mashing, awesomely corralled Ruby, aka Agent Summers after darkness falls.
Do get on this guys, three girls, two very hot scenarios rolled into one continuous bandanna gag and hogtie (and JEANS) fiends wet dream. And with three of the hottest girls in town all tied up in their jeans. Just watch how they chew on and wrestle with all those hot gags. Positively thrilling!

Starring: Ruby, Carley, Dannii
Size: 567.34 MB
Duration: 00:18:01 min
Resolution: 1280×720
Format video: mp4
Preview:


Download link:
Ruby_Carley_&_Dannii_in_Beautiful_Girl_Snoops_in_Jeans_Tightly_Trussed.mp4