Roxxi in: The Case Was Going Pretty Well – Until One of DunWoody's Goons Grabbed Me! Had Me Tied Really Tight & How They Pulled That GAG! – Borderland Bound
Roxxi in: The Case Was Going Pretty Well – Until One of DunWoody's Goons Grabbed Me! Had Me Tied Really Tight & How They Pulled That GAG! – Borderland Bound
Serious cutie Roxxi, with her big, expressive doe eyes and genuine damsel countenance, wriggles gagged and tied in a sealed off part of the old house. With a thick slice of cloth secured with super-tightness between her teeth, she cannot yell for assistance, which she certainly requires. Thick ropes hold her amazing body as she struggles fervently, barefoot and helpless. The Psycho who grabbed her has bound her hard. No doubt about it. This is a tie-up she'll not escape in a hurry!
It all began when the lovely detective for hire, in tight stripy vest top and stretch leggings, looking just plain delicious, entered a gloomy old property down near Despair Street. A real bad guy named Chas DunWoody has leased the place and Roxxi has reason to believe that terrifying things are done here. In fact, when later she is bound and gagged, she is told an little more about it all. Ancients from the sea. Sacrifice. Including, if they get away with this, of her!! Yes, it all gets quite sinister, but with a gag in her mouth and her body all pigged up to the max, there is little she can do about it…
Shining her trusty flashlight into some dark corners, she stealths her way up a flight of stairs and continues. She's looking for something to confirm her intel. Runes or some such. Perhaps old Nordic carvings. Something to tie in with what unholy monstrosities these buttwipes appear to be summoning! She's intrigued by this particular room, and so fails to notice a shadow bobbing on the wall behind her until the owner of it descends upon her!
The beauty is seized, brutally handgagged into submission as she mmmmppphhhhs hotly into his palm. He swiftly binds the protesting girl's wrists behind her back and uses her own red scarf to gag her mouth. Ummmpppffff!!!! Roxxi is speechless. He leaves the bound and gagged girl squirming on the floor and locks her inside the room. With her flashlight illuminating her heaving tits, the gorgeous detective realises her jeopardy. DunWoody's lecherous goon here clearly has malign plans for her!
After a hot and spicy struggle, the crook returns and unceremoniously drags the wriggling captive out of the room. Downstairs, he secures her into a very stringent hogtie while marvelling at her amazing bare feet. Roxi splays her toes under his greedy eyes while he binds her up. Groping the fallen minx, he leaves her to struggle. Roxxi surges around on her thick chest, doing special tings with her very, very pretty feet and toes!
Later, and he's back. DunWoody has been informed of the arrival of their little guest, and he hopes she is comfortable! Roxxi glares at the man as he hauls her off again. Seems the villains have guests and so have sealed off this section of the house. He leaves the girl tied up with a severely tight napkin cleave gag back here and heads off to let another guest in. Meanwhile, the Roxxi looks for a way out, but before much can be done, he is hogtying her yet again!
The beauty bucks angrily as he roughly trusses her, her painfully tight cleave gag stretches that sexy mouth of hers right the fuck back. She is so helpless and so in jeopardy, and it is such a turn on. This babe knows it too, and she teases us with her every move and distressed grimace. Bound, gagged, told of her forthcoming trip to 'The Sea', she starts to freak. What on EARTH are they planning? She thinks she knows the answer to this though, and it fills her with dread! Poor, sweet Roxxi. Perhaps your boss at the agency, who has been called and advised of his special young lady recruit's forthcoming fate, will summon aid for her. They'd better be quick for the rescue though. Roxxi, in exquisite jeopardy, barefoot and meatily secured, depends on it!

Starring: Roxxi
Size: 991.07 MB
Duration: 00:19:51 min
Resolution: 1920×1080
Format video: mp4
Preview: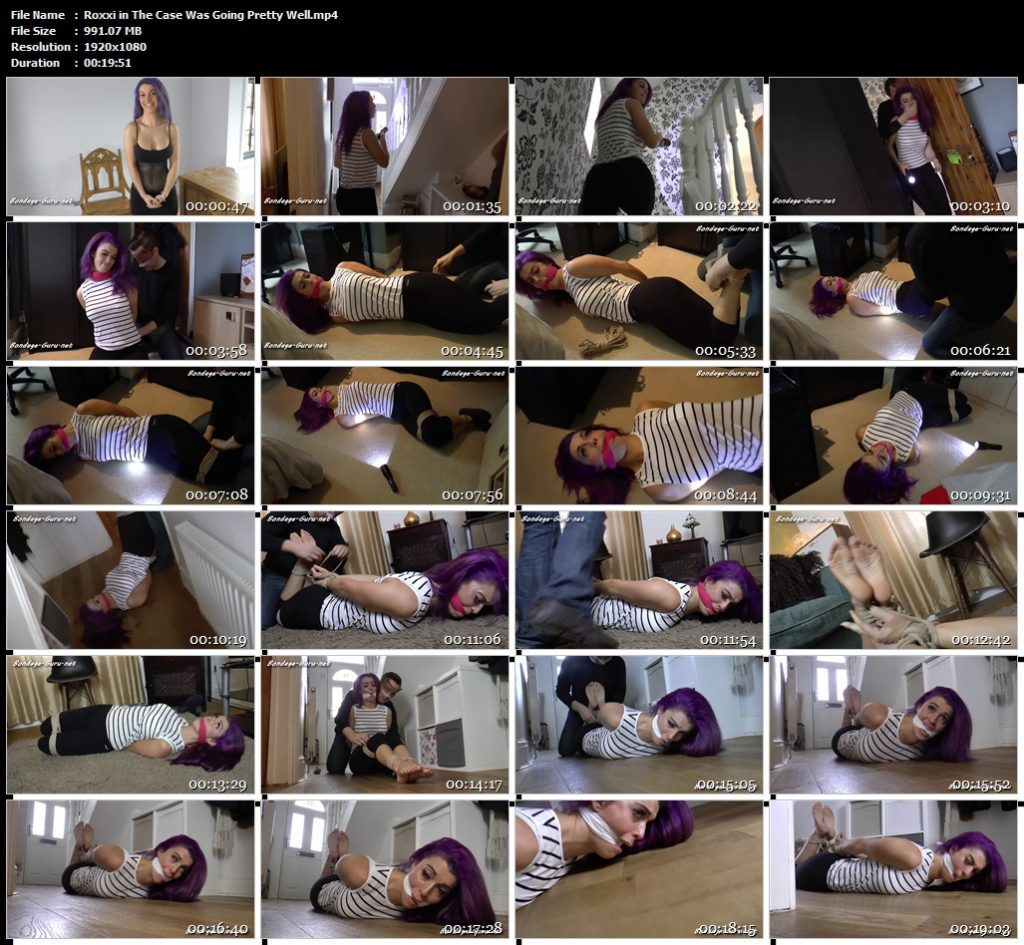 Download link:
Roxxi_in_The_Case_Was_Going_Pretty_Well.mp4