Rebecca & Chloe in: One of Our Mini-Skirt Models is Missing & the Newly-Minted Detective Agency Bungle! – Borderland Bound
Rebecca & Chloe in: One of Our Mini-Skirt Models is Missing & the Newly-Minted Detective Agency Bungle! – Borderland Bound
In this bizarre tale boasting two extraordinary, mini-skirted Damsel Supremes, we open the door on some heavy struggling and intense gag-antics. The babes are all tied up on chairs, with what appears to be a double layer of cloth bound excruciatingly tightly over their pretty mouths. What does the fiend, who has them like this, plan on doing with them?
Chappie's modelling agency has long-specialised in beautiful fashion models showcasing all of their latest mini-skirts. Business has been thriving, for who doesn't appreciate a beautiful girl with one wrapped around her ass? But, just recently, some odd things have been happening. Threats to burn down the agency building, strange vehicles seen cruising nearby, and now, a missing model! Tall, beautiful Timotei-type Rebecca was last seen answering an assignment at the local mall. Her friend described her as being a little wary of the photographer she was going to meet, but that he was offering a lot of cash.
Drawn in by greed, the willowy stunner has not been seen since this morning! We know, give it a chance, but it just so happens that one of the other new models, a sultry little number called Chloe, happens to have a bit of a background in amateur detecting. She volunteers to go find Rebecca, and her enquiries have drawn her to this house on the edge of town.
Picking the lock to enter, the mini-skirted young lovely, in casual gym shoes and ankles socks too, creeps through the halls, alert for danger. Just then, she hears a soft mmmmmmppphhhhing noise. It appears to be emanating from within a locked store room. Again, the deft detective uses her hair grip to pick the lock ('Lock-Picking Made Easy' is her latest book) and she is in. Also 'in' is a bound and gagged girl! It's Rebecca, sure enough, the fashion model gone awry. Some lunatic has tied her up with thick torn strips of sheeting and gagged her too. The poor dear. She is surely in some distress. But instantaneously, so now is Chloe!
A masked man creeps up on the cute blonde and throws a leather strip over her head, catching it extra-firmly across her mouth. He uses this gag to drag her off into the shadows while Rebecca watches desperately. And then there were two.
With the blonde duo tightly bound and gagged with sheets and leather, the creep remarks upon how fortunate he is. Having a dark and disturbing fetish for captured beauties in mini-skirts, he finds he has to grab one (or two in this case) every once in a while, and then detain them and all of that good stuff. His dream is to begin a harem of hot chicks who he'll keep tied up for as long as he can get away with it. Crazy, huh? Oh yes, he is.
Later, and the industrious Chloe and Rebecca, after much wriggling and rolling, have managed to get their gags off. Chloe's is first, and she uses her pearlies to gnaw down Rebecca's mouth restraint. Relieved to be able to talk, the girls begin working on their knots. But not effectively enough! A dark shadow over them, and before they know it, the girls have their gags back on and are being carried away!
In an old theatre supply room, both are heavily trussed up to wooden chairs, toyed with (pun intended) and left to struggle. Of course, they do, and the majority of the scene is made up of this truly wonderful resistance. But after being gagged again over their already tightly tied mouths, the girls begin to hit on the plan of getting the gags off again. Eventually, after quite some time, it appears they are making progress.
In the end, they somehow manage to shed their second gags, but the first ones remain firmly in place. The next thing is to try to get their wrists free. After a huge effort, Chloe eventually slips one and the rest follows. Untied at least in a manageable way, the girls remove their tight gags, allowing them to hang about their necks. They discuss their predicament and vow a violent payback against the pervert. Having heard them escape, that old rascal has fled, and the girls comically chase after him, intending to exact and unseen revenge. Which is just as well. The girls are who we are interested in! And they show us again, just how spectacular they can be. Especially when they make a pact there and then to form their own detective agency! Cool huh? Huh??

Starring: Chloe Toy, Rebecca Leah
Size: 1.67 GB
Duration: 00:34:01 min
Resolution: 1920×1080
Format video: mp4
Preview: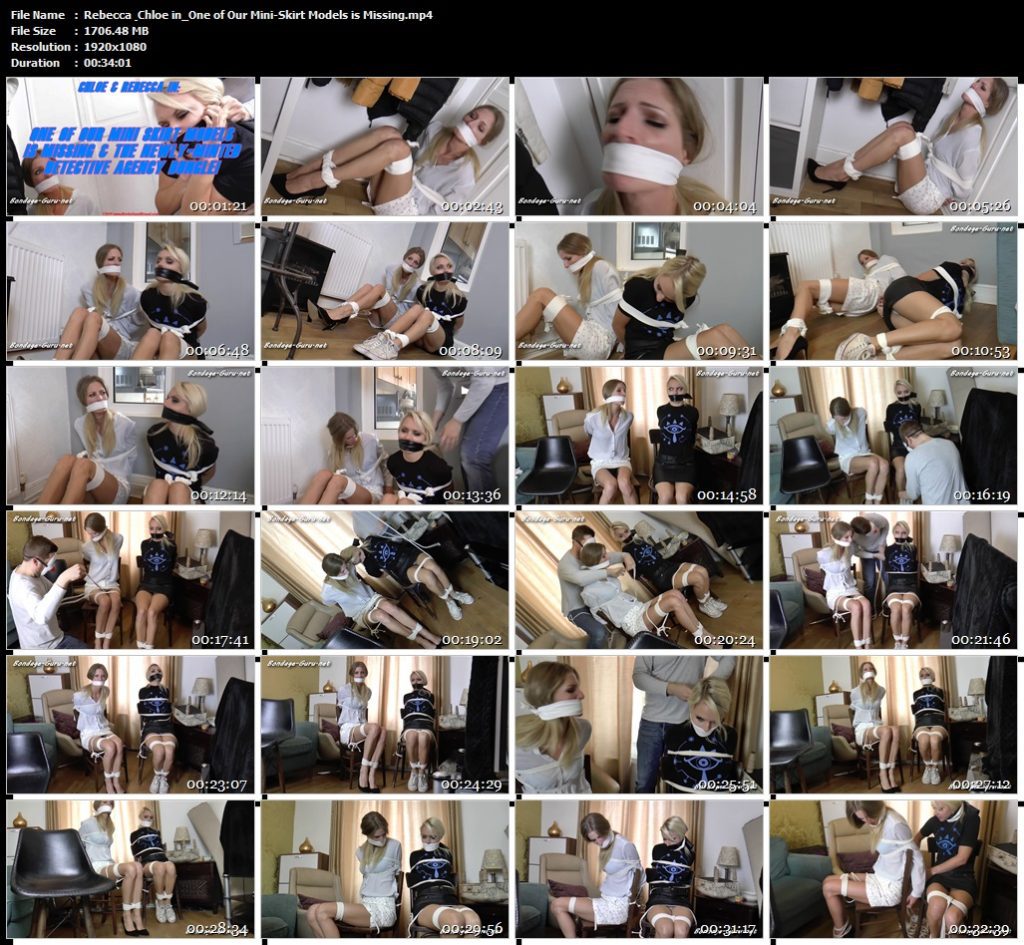 Download link:
Rebecca_&_Chloe_in_One_of_Our_Mini-Skirt_Models_is_Missing.mp4