Rachel Adams.. Brutal Metal Slave Training Part 1 – ShinyBound Productions
Rachel Adams.. Brutal Metal Slave Training Part 1 – ShinyBound Productions
Poor girl next door Rachel Adams has been captured by an evil BDSM slave trader. He plans to sell her to the highest bidder, but first he must train her properly.
Rachel comes to and she is wearing only a satin nightie and pantyhose. She goes to roll out of bed, but she is severely shackled and chained in a hogtied position! She goes to call for help, but a ball gag has been strapped deeply into her mouth and brutally tight!! She tries to trash and struggle, but the cruel metal shackles and collar bite back hard.
The trader comes in soon after and gropes her over her satin slip. He tells someone on his phone that he is going to train her to be a BDSM slave and sell her. She struggles and fights to get free. He laughs and throws the phone down as he walks to the other room..
Rachel squirms and crawls to the phone. Her hands are firmly chained directly to her ankles, so she tries to operate it and dial out with her nose to call for help. The trader comes back in and grabs it away, laughing.
"Oh no no my dear.." he sneers. "I'll tell you what. If you can spit out that gag in the next 5 minutes… I'll unchain you and let you go. Sound fair?" Rachel nods in acceptance. "Alright, I'll be back in 5 to check on you!"
Rachel struggles to push the ball gag out. She wedges her tongue behind and under it, drooling all over the place. For 5 long minutes she contorts her jaw and face into every position she can trying to dislodge the horrific device. (All shown on camera.)
After 5 minutes, he returns. "Well.. I see we didn't get that out of there.." he laughs fully knowing that he put it in there impossibly tight. "Looks like you'll be getting your training after all!" He gropes her some more and walks out, and Rachel again hears him on his phone in the next room. She knows if she is going to have any chance, she is going to have to get out of these chains.. Somehow..

Starring: Rachel Adams
Size: 702.1 MB
Duration: 00:20:39 min
Resolution: 1920×1080
Format video: mp4
Preview: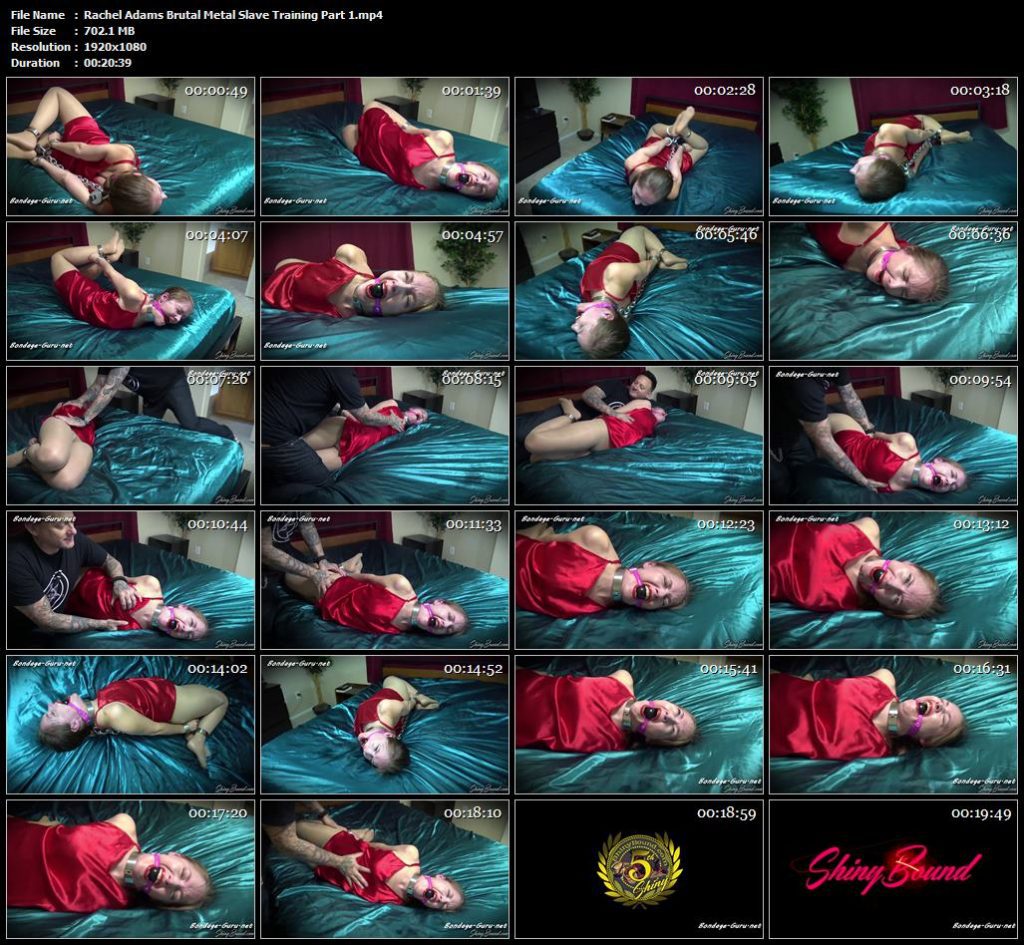 Download link:
Rachel_Adams_Brutal_Metal_Slave_Training_Part_1.mp4