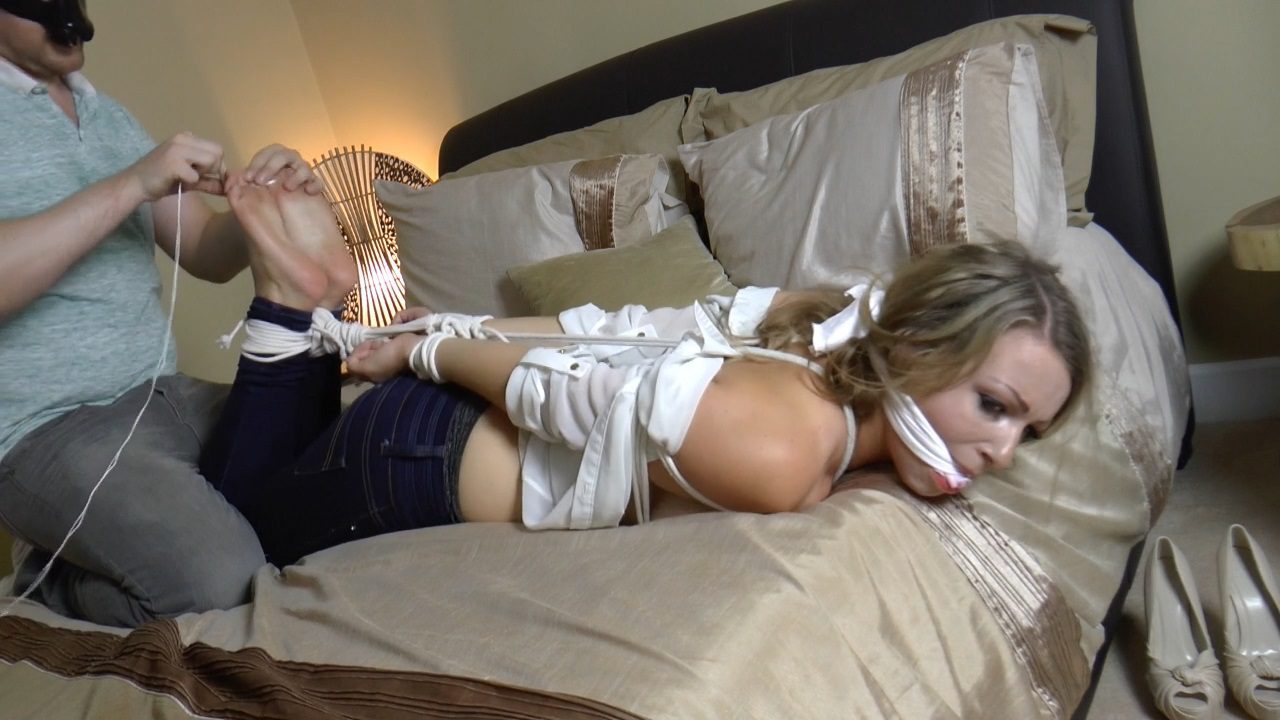 Penny in: Trussed and Sock Gagged TWICE By That Dastardly Toe Tie Bandit! – Borderland Bound
As if one sock to the cakehole wasnt enough, this feisty little tart manages to escape, only to be all gagged up with one again!! Classic!
Looks like that highly kinky toe tie bandit is up to his old nefarious tricks again. This time hes stalking sexy lady thief, Penny, in her skin tight jeans and floaty blouse, as she searches high and low – after kicking off her heels, of course – and trotting about barefoot, for those fabled secret papers. It doesnt take long before the beautiful snoop is hauled off via a tight and sustained handgag and trussed up on a bed, her delicious big tits bound tightly too, a sock shoved deep in her mouth and wrenched into place with another of our skull popping cleave gags. And next, a jolly good hogtying followed by the squirming babes sexy big toes being bound together with fine twine this dudes signature move. Then the angered captive is left to struggle and gag talk unbelievably, tethered into one wicked facedown-on-the-bed tie. After much tit shaking and enthused endeavouring, the hot little bitch only manages to get loose. After a great sock spitting out and untying of her lovely self, the intrepid beauty is back out to that garage area, all barefoot and on tiptoe and the search once more is on. But the Toe Tie Bandit is onto her, literally, and with a big bone to the back of the nut, if youll allow us the expression. Penny is then taken back into the house and all bound up again. As the humiliated would be thief starts in again with the ol youll never get a mmmmmppppphhhh routine, in goes that big sock to muzzle her ass down beautifully, sealed in place with several duct tape strips. Then its more hog-bound, toe-secured wiggles and squiggles all over the bed as the spanked and chastened babe is left once more, all gagged and bound and utterly unable to do a damned thing about it except entertain us to the max. Another epic entry then into the toe tie annals here. You might also want to check out this sinister pervs earlier adventures. There are plenty of them here He LOVES toe-tying these big-titted hot sluts. Oh yeah and YOULL enjoy every second of him going about it!

Starring: Penny
Size: 852.6 Mb
Duration: 00:20:57 min
Resolution: 1280×720
Format video: mp4
Preview:


Download link:
https://florenfile.com/rl04um87xild/Trussed_and_Sock_Gagged_TWICE_By_That_Dastardly_Toe_Tie_Bandit.mp4.html