Penny & Fiona in: Taped Up Ridiculously Tightly, With Their Own Socks Gagging Them DOUBLE, If They Could Juuust Get To That Phone… (Full Clip) – Borderland Bound
Penny & Fiona in: Taped Up Ridiculously Tightly, With Their Own Socks Gagging Them DOUBLE, If They Could Juuust Get To That Phone… (Full Clip) – Borderland Bound
Won't try and josh you, these girls are genuinely run through the mill, as is often our wont, and those gags positively GLUED to their mugs are huge. You can see all that from the pics, but, as ever, we will further enlighten you pre this exceptionally hard tape bondage ordeal for lovely Penny and Fi. Relax though, they're just fine, bless em!
Detective duo Miss Lee and Miss York have been called to a spooky old house up on a hill to meet with a potential witness to a terrifying (it is) crime. The guy seems very weird, and rather determined to get them both up there, but the babes swallow that for the sake of narrative flow. Little do they know, however that things are headed south at the speed of a puma.
As they sit comfortably, lovely Fiona in the cheeky lotus position and Penny in an armchair, wondering where their mysterious contact is, he suddenly presents himself, and before thy know it, both are very much taken prisoner. The jig is up first, and then the hands. The surprised ladies are soon bound wrists to midsections with strong and ultimately mental-tight tape. The defiant detectives attempt to give their sudden captor a verbal what-for and as a result both must submit to having their shoes removed (quite briskly we have to say) and then their socks peeled off, balled up and crammed into their instantly more amenable mouths. Both are obscenely powerfully wrap gagged and further trussed salami-stylee. Incredible silver tape binding up and down the bods.
The captives thus neatly (and rather extremely) packaged, both are left trussed and hugely silenced, utterly powerless. They must suck back on their bundled in double sock packages, and are (as you love) totally unable to speak or loose themselves. Penny eventually struggles down form her chair and the girls wriggle around wildly trying to understand each other, but after much explosive gag banter they hatch smooth plot to utilise Fis mobile phone, which she has, with some effort, managed to shuck out of her jeans back pocket. Arse grinding, hip elevating, tit bopping, the restrained beauties try as much as they are able to get that blower rolling, quiet unaware of how to signify where they are etc with these insane gags on! Oh and the foot fetish stuff. Yummy. Lots of that for ya. Tip toes. Sole arching, toe waggling. Its all here, which is more than can be said for the socks which once encased them. Those are definitely there, in their gobs. Stuffed in big time.
So, their strange captor is off elsewhere in the house. But WHY did he do this to these poor girls. Perhaps we will never full know, or care. But what we can say is that he has done it very well. Maybe he just wants two less meddlesome detectives off of the radar for a while. Maybe he (perish the thought) just relishes the fact that he has been able to get such and effective drop on two lady law officers? At any rate, 'tis time for us to vamoose now and allow you to watch in awe as this latest tape bondage romp unfolds by action-soaked degree. Yes,these girls are going through it, yes there is no escape. Yes. They DO try. It's the best entertainment in town, in fact. Mmmmmppphhhhh!!

Starring: Penny, Fiona
Size: 598.22 MB
Duration: 00:18:53 min
Resolution: 1280×720
Format video: mp4
Preview: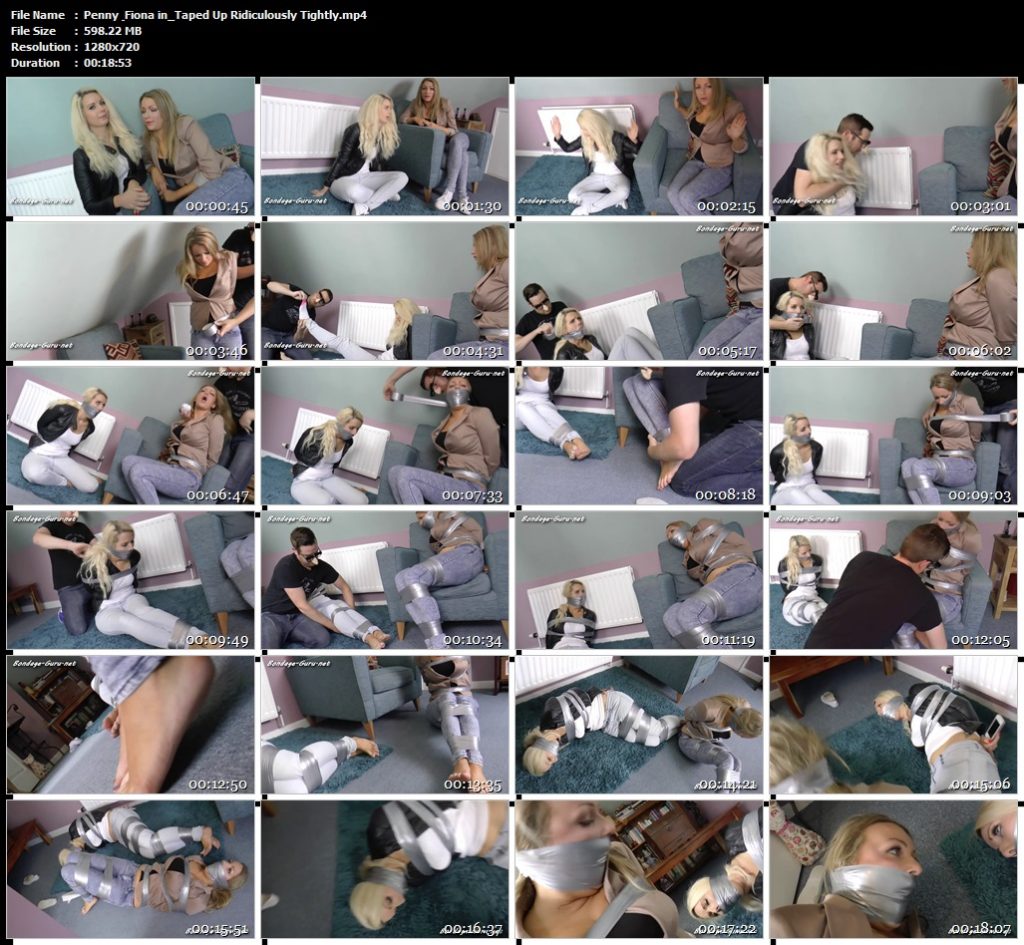 Download link:
Penny_&_Fiona_in_Taped_Up_Ridiculously_Tightly.mp4