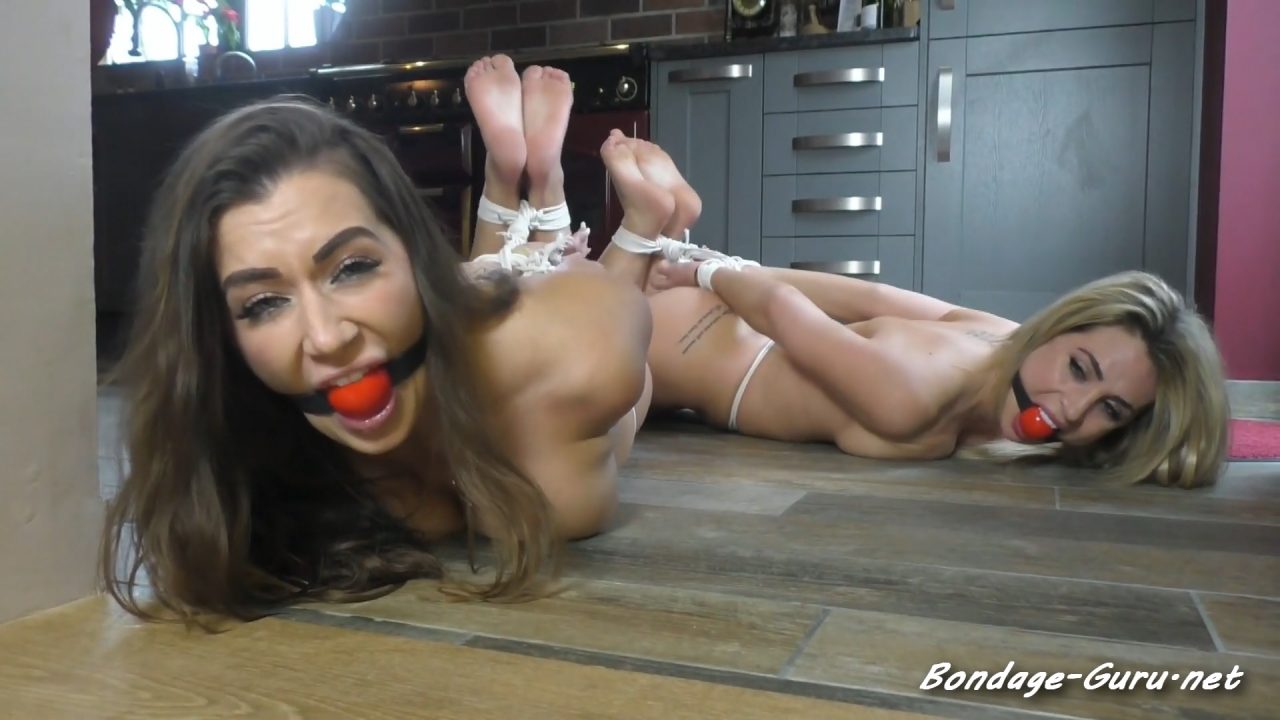 Pandora & Skylar in: Rope-Happy Nude Cat-Burglar Stunners Bested, Bound & Hog-Juiced By a Surprise Bandit! & Wait'll the Owner Finds Their Asses! – Borderland Bound
Pandora & Skylar in: Rope-Happy Nude Cat-Burglar Stunners Bested, Bound & Hog-Juiced By a Surprise Bandit! & Wait'll the Owner Finds Their Asses! – Borderland Bound
All jolly exciting watching these two incredibly naughty girls trying to blame one another for their current securely trussed predicament! As they slobber it out through juicy ballgags, trussed like piggies, naked and completely helpless, the bandit who has gotten the better of them is the least of their concerns! The owner of this house they've attempted – VERY unsuccessfully – to burgle, happens to be an out-and-out psycho! GIRLS, what WERE you thinking..?
We begin with the gorgeous beauties having disrobed, clutching rope with which to bind what they believe is a pretty lone female occupant. They've seen the chick going in and out while casing the place, and are confident they can overpower her and steal from the big house. Well, they got that one wrong. And it isn't just them who has been casing here, either.
As the amazing nude babes prowl through the house, showing us more than our fill of toned, sculpted rump and tip-toed feet, we have them do us the favour of splitting up. We'll soon have Skylar in our clutches, and boy does this blonde filly like a struggle. Chopped down to size, after quite the intense handgagging, the bandit responsible needs the duo bound and gagged and unable to interfere with HIS score.
We cut to the ladies all roped up in chairs. He's tied handkerchiefs over their mouths to keep them quiet and locked the door on them. The girls are fuming and have some very memorable, and equally indecipherable conflabs through that tight cloth stretched over their lips. They rock around in their chairs, crossed and lashed ankles brought up sharply underneath them, to even further inconvenience! And it sure DOES inconvenience them. that is, until after some work they mange to get their wrists free!
The ladies are ecstatic as they pull their gags down from their mouths and get cracking untying the rest of their ropes. Once entirely freed, they creep downstairs, fully intending to exit through that front door. Of course, just as they arrive, they are immediately taken back into custody, and now it gets even more REAL!
Tied up again, we have two hopping bunnies at large in the house. They've been tightly ballgagged, their crotches are even roped, and they are expertly tied. It's retribution, these private knottings, for having the audacity to try to scupper the winning bandit's plans. He has no doubt that if this pair got loose, the first thing they'd do – after stealing some clothes – would be to call the cops on him. No underworld ethics at play with them! And so he has tied them like salamis, and now has to catch them, which he does!
Bringing the gag-raging babes to ground, he ensures they don't try it again by brutally pigroping each, as they squirm beneath him, grinding their arses up and down, in his face and almost poking his eyes out with their wild bare feet and toes. It's jolly hot, for sure, especially as the girls are starting to drool. With their thick boobs rammed into the hard floor, they bounce around as much as their ropes will allow, gag-fuming at one another.
The race is on to try to understand, through all of that gagging and juicing and spit and mayhem, just what these bimbos are saying. Nope, it's no good, we just can't! Eventually, and they are boob to boob, glaring into one another's' rage-filled eyes, playing the blame game once more.
The true bandit is offski, and the home owner, a Mr Ryan Pheasant, is arriving home. His reaction to finding two nude chicks bound and gagged on his kitchen floor is just as priceless as the surprise – with literal 'trimmings' – knowledge we are gonna lay on you when you think this one is over. Thanks to the custom requester, Guys! Check this out and you'll see what we mean!

Starring: Pandora, Skylar
Size: 1.1 GB
Duration: 00:18:51 min
Resolution: 1920×1080
Format video: mp4
Preview: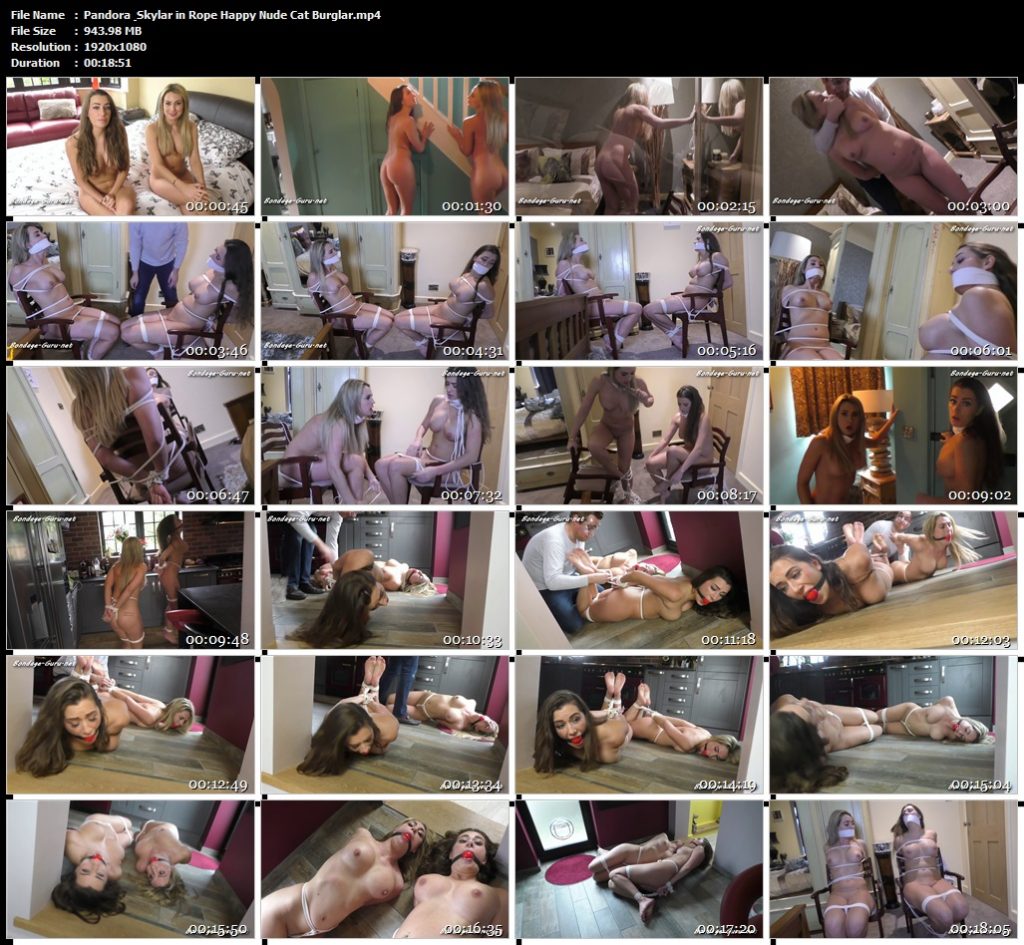 Download link:
Pandora_&_Skylar_in_Rope_Happy_Nude_Cat_Burglar.mp4