Pandora & Skylar in: Dangerous Thrills: "Break in While We Are Out, Then Take Us By Surprise During the Evening & Truss Us Up in Skylar's Bedroom!" – Borderland Bound
Pandora & Skylar in: Dangerous Thrills: "Break in While We Are Out, Then Take Us By Surprise During the Evening & Truss Us Up in Skylar's Bedroom!" – Borderland Bound
Sensational fashion model blonde Skylar, feeling a delicious chill, wondering if NOW will be the time he gets her, all alone and unaccompanied, heads for the kitchen, and the refrigerator, where a bottle of Rose awaits. No sign of him just yet though, maybe he's – "Mmmmppppphhhffftttt!" and he's upon her, his hand clamped firmly over her mouth. She can't scream, can barely move with his arm wrapped around hers. Both of hers, she breathes heavily into his palm and grinds against him with her tight little arse as he sets about binding and gagging her. Impossible to know if she's purring behind that hardcore handgagging. This is IT. He's got her. What a turn on!!
Later, they squirm side by side in their hot little dresses on a luxuriant big bed, completely helpless. Securely bound with strong silver tape, their sensuous mouths sealed with more of it, they are unable to speak or escape. And that's good. Exactly what they want, in fact. For they are thrill seekers. Beautiful, busty, perfect thrill seekers. Girls who love adventure and who want to be pushed to their limits. This guy they have on the case will do that for them, and it's going to be so real they can't help but react to it. Did he really have to bind them this tightly, however? Tape their mouths with such sticky, high tack tape? Apparently so. And they have been rendered truly powerless up here, while the man they have hired to rob them, robs them! Let's get straight into this.
Beautiful naked girls giggle deliciously, loving being bound and gagged by the ski-masked man standing before them. He's given them the hottest experience of their lives and they are very grateful. They'll show him how grateful when they are in the Jacuzzi but for now, they want to get hit hard by a man in a mask. They want him to actually tie them up. To actually gag them. To actually rob them (just don't take the big TVs, ok??) He's happy to oblige, but can't help but get carried away by how insanely hot the girls are. Yep, he can't keep his paws off of them throughout and although it wasn't part of the deal, they get off on the realism of it – in between becoming desperate by how tightly he has bound them, of course.
The arrangement then is to hit the clubs, where they will not be drinking – they want to stay clear-headed for this event, oh yes, but where they WILL tease a few buttwipes in the bar before leaving them empty-handed and walleted to return home. Here the plan is that at some point in the evening – they don't know when, adding to the excitement – they will be invaded by a villain, tied up and gagged. And robbed.
They enter the house and seat themselves in the living room, squeezing their thighs together as they chat about getting a bottle of wine going. As they would in reality. As we know, he jumps Skylar at the fridge, and soon has her mouth taped shut and her wrists and ankles well-bound. When he turns his back, the strappy-heeled goddess hops off as if in escape-mode. He catches her (he's good) and to her humiliation, shoves he into a coat-cupboard and shuts the door on her. Skylar has a great time writhing around in there, and for the most part we shoot it as though YOU are in there with her, up close and personal as she shakes rattles and rolls, 'cos we thought you might like that!
Later, long-legged Pandora hears her mmmmppphhhing and acts shocked to find her friend all tied up in there. Then she too gets pounced upon and the guy repeats the binding and gagging hotness of earlier. Again, the ladies, left to their own devices, hop away. Again they are caught and one by one, groped (Skylar topless, nipples at attention) and carried all the way up to her bedroom, where they are left struggling and straining (how much of this can you bear with these two stunners going at it.?) on her king-size.
As if this wasn't enough, the guy wraps a load more tape around them and assails their hot tits again. Yep, Skylar can't seem to keep her awesome boobies in her dress that much (or is this rather HIS fault??) and so swings her chest around as she busts shape after specular shape along with Pandora. Just when you can't get enough, the girls are felt up some more and allowed once again to wriggle around alone and passionate. They love this, though are so into their parts of the fantasy that you could be forgiven for thinking they are genuinely in jeopardy.
Lost in the ecstasy of it, the ladies twist about and mumble through their gags, penetrating each other with their very special eyes – and us too every once in a while – as though checking we are still able to function with all of their exciting moves seared into our brain-pans. They are so grateful to this dude for going hard on them. Initially they'd been concerned he'd gone over the top. But now they wouldn't have it any other way. They are gonna do this stuff a lot, and he's their man. Now, about that Jacuzzi. Enough; you'll need to go take a look for yourselves. Enjoy this. Impossible not to really. These gorgeous women are prime Borderland fodder and will engulf you with their every struggle and gag noise. You know they will too!

Starring: Skylar, Pandora
Size: 965.28 MB
Duration: 00:19:00 min
Resolution: 1280×720
Format video: mp4
Preview: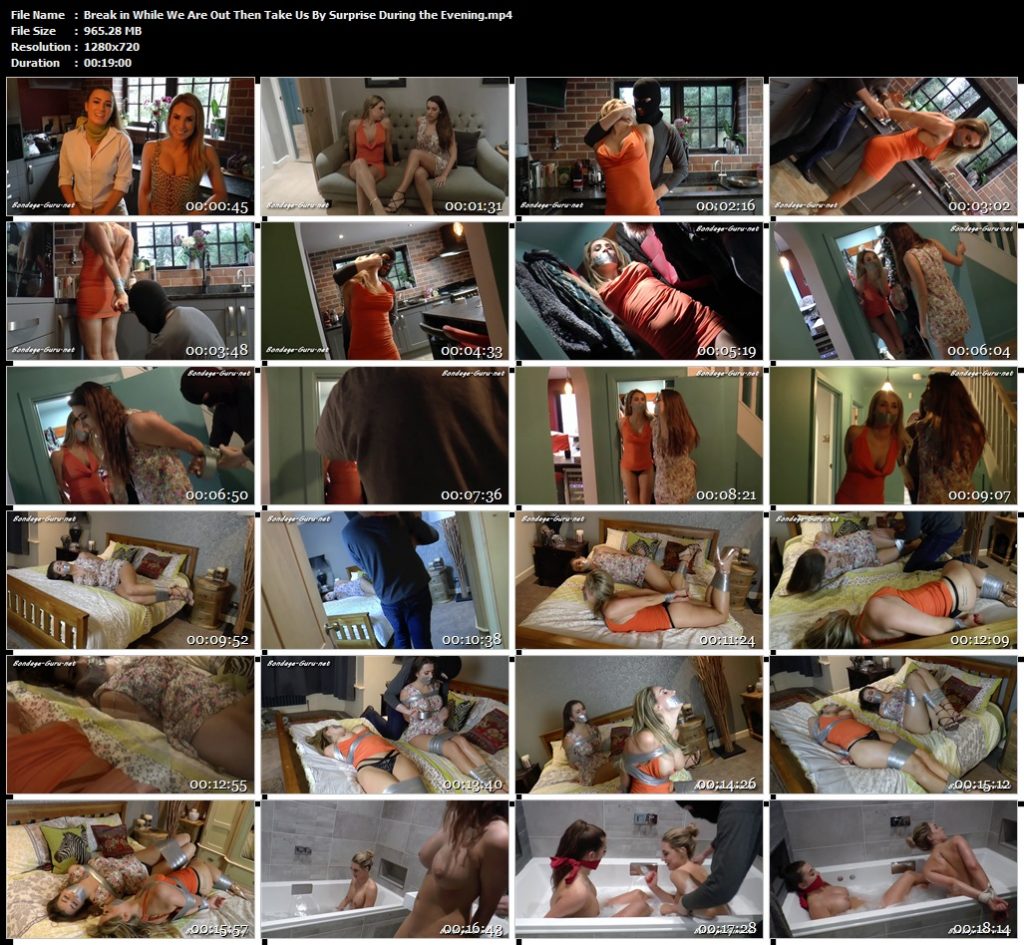 Download link:
Break_in_While_We_Are_Out_Then_Take_Us_By_Surprise_During_the_Evening.mp4