Pandora in: The Great DockYard Pilfering & the 'Get That NewsLady' Priority! (Full Caper) – Borderland Bound
Pandora in: The Great DockYard Pilfering & the 'Get That NewsLady' Priority! (Full Caper) – Borderland Bound
Oh Pandora, you WILL be gagged and restrained with the tightest, most remarkable tape at our disposal. You will be powerless to escape – even though you do, but we'll grab you again and make you pay for that, Dear One, won't we?
Stunning TV news anchor Pandora, from Borderland Action News (where else?) has just received a phone call from the Mayor of the city of PondSmere in the SouthWest of Blighty, regarding a curious happening over at the South Pier Loading Docks. He wants Pandora to look into the recent night-time activity of the supervisor at the docks… a Lyle Jerkman. The squirrely-looking bastard and his newly hired crew members were spotted last week loading up several boxes of unmarked cargo with what appears to be precious museum artefacts.
The Mayor's long-time neighbor caught a glimpse of the action during a late night jog along the Pier. The shipment is set to depart next week, along with the remaining freight out of the city. These artefacts appear to be the same ones that went missing last month at the local Borderland Museum town auction. Pandora covered that case closely with the police but ultimately no suspects were named and the case went unsolved. Before involving the authorities, she puts her skills to work and is able to persuade the ditzy secretary at the Pier to fax her a copy of next week's shipment report during a friendly phone interview. Pandora has found some discrepancies in the report regarding the unmarked cargo on the list and what's actually being shipped out. Itching to get some more dirt on this guy, she arranges an interview with Lyle at his house.
The long-legged totally gorgeous in her tight little business suit and heels Pandora is soon knocking right on Big on Lyle's door as he welcomes her in for the interview. Having seen her on TV before, he immediately starts to hit on her. We'll ignore that fact he has on a bright red gimpy mask if you will, ok? Pandora dismisses his advances and gets right to business. She shows him a copy of the report and demands answers for the unmarked "extra cargo" on the list. Lyle brushes this off as a simple typing error but Pandora counters with a threat to take this to the police to further investigate the matter.
Having heard enough of her sassy mouth, he gets the jump on her from behind as she starts to leave. Tightly handgagged and overpowered, she is forced onto the couch. Lyle tapes up her hands, then slaps a strip of sticky silver tape over her mouth… pressing it firmly over her lips. He tells her he is in fact responsible for the stolen artefacts last month (like she didn't already the fuck know) and he plans to ship them out to his buyer who also works the Pier Docks in another city, while he receives a big payout!! He then marches her upstairs into his private 'wine' room where he finishes taping up her feet and leaves her to struggle.
A short time later, Pandora manages to free herself with a trusty pair of spied scissors and is making a break downstairs for the front door. Lyle catches her off guard from behind and firmly clamps his hand over her gagged mouth as he swiftly forces her into his main office room. He securely tapes the beautiful news chick to the swivel chair in the room using LOTS of silver tape. When Pandora begins to protest, he stuffs her mouth with a thick chunk of cloth and wraps silver tape tightly around her face and head in the time-honoured style you love. He emphatically states that he will properly dispose of her once he returns from the Chinese takeout restaurant down the street … as all this work has made him hungry. Looks like this is one story Pandora definitely won't get the scoop on! But she will get to struggle massively, in anticipation of what bad stuff might come her way if she doesn't get out of this. Will she escape again?? Can she??

Starring: Pandora
Size: 1.19 GB
Duration: 00:27:08 min
Resolution: 1280×720
Format video: mp4
Preview: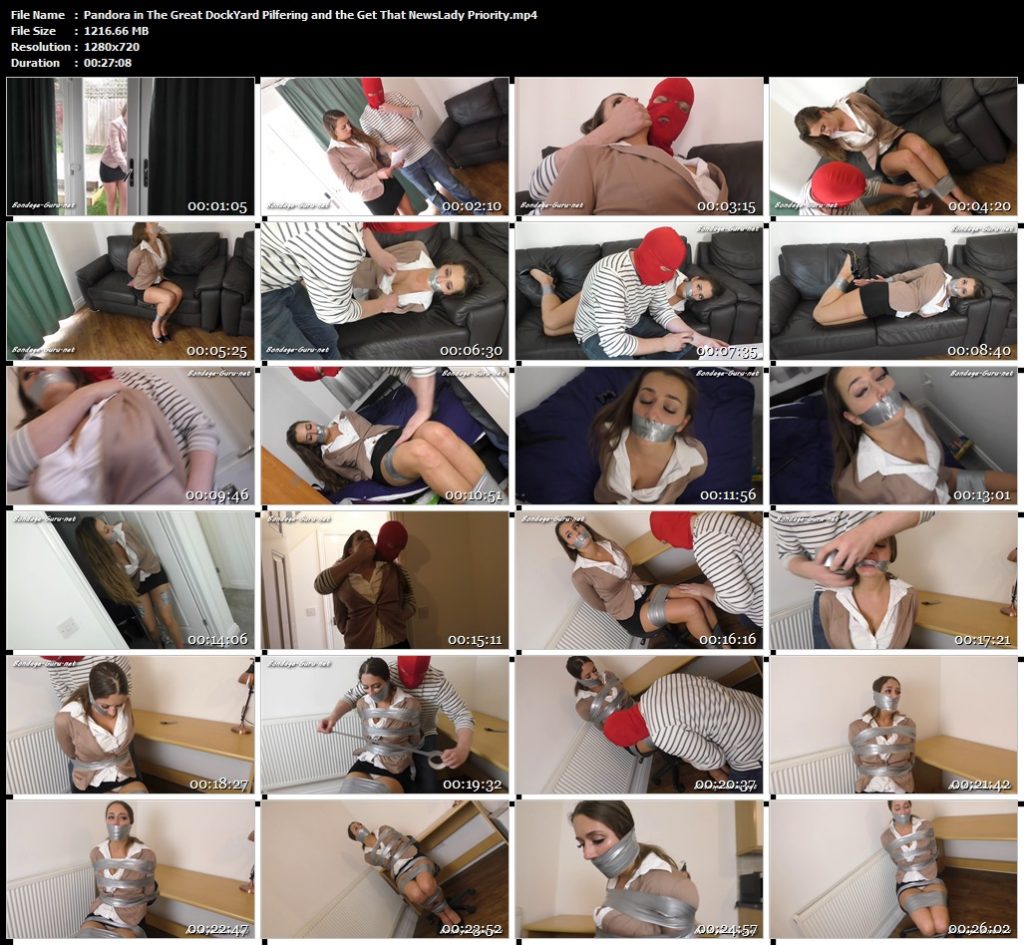 Download link:
Pandora_in_The_Great_DockYard_Pilfering.mp4