Pandora in: Big Burglary @ Lady P's Suite: Escaping the Bedroom Led to… Uncomfortably Tight, Knicker-Gagging Repercussions! – Borderland Bound
Pandora in: Big Burglary @ Lady P's Suite: Escaping the Bedroom Led to… Uncomfortably Tight, Knicker-Gagging Repercussions! – Borderland Bound
With her hot, feisty mouth stuffed effectively with her freshly peeled off workout socks and sealed with very sticky tape, latterly napkin gagged straight over the top, a hogbound, juicy, oiled and naked Pandora squirms as much as the hard rope biting deep into her crotch will allow before sending her dizzy. Her immaculate bare feet twitch, delicate, creamy soles wrinkling, painted toes pointing, and those EYES of hers throw us a knowing glance every once in a while, as it to ask if we are enjoying this? Enjoying HER, humiliated and helpless. No comment needed. This is the ravishing Pandora at her pulse-pounding best.
We begin with the beautiful fitness babe returning from a neat workout, ready for the shower, stripping off, stretching, she'll do some yoga in a mo too. She likes doing that naked. Then maybe she'll call her boyfriend, Larry. See if he wants to come over and get naughty with her. Yes, she'll do that, but first, to peel off those clothes, get soaped and oiled up. But if she thought that would be all this fair eve, she thought not that the Arctic Fox Bandit, a man grabbing a lot of headlines – and hot girls – of late, has targeted her for a robbery!
You see, this is a wealthy lady, and she IS a lady, with her smoky posh accent (incredible voice) and her parents' huge bank account at her constant disposal, she has been dubbed Lady P by her pals. For that is what she is, a right spoilt little lady, who loves to train at the gym. With a perfected figure like hers, it sure shows too. Tanned, clean skin, amazingly-sculpted form, luxuriant mane, she is a sight to behold, and behold her now that dastardly house-breaker is!
Having gagged and tied the big-boobed hottie nice and secure, he leaves her in a room while he starts his looting, but the feisty beauty is off and hopping like a mad hopper the moment he has left her alone. Man that's some hot hopping too. She is shocked to find his bizarre calling card facing her from the hall window sill and begins mmmmppphhhhing as loudly as her own damned socks will allow for, she still can barely get above a mumble. Lady P's gearing up to try again when suddenly she is seized from behind and bundled kicking and writhing back into that room!
The bandit is pissedoff, big-time, and decides to show the resistant beauty a thing or two. Roping her up some more, he ties a painfully secure crotch rope up on her ass and delights in tugging on it as he gags her again, this time with a pair of her knickers and a ton of silver tape. She gags and eyes him balefully as he keeps adding more strips of tape, even decking out her chin with the stuff. He seems pretty determined to keep all of that stuffed in her mouth. With that, he takes a lot of sexy photographs of the bound and gagged Lady P, all while groping and spanking her. These he sends to a pal in real time. One who deals in captured ladies, conveniently.
Photographing her amazing bare feet too, he leaves her to struggle around, first standing and then overpowered to the floor. Pandora, as you will know from past experience, does all of this VERY well, and just as you might be thinking this can't get any hotter, the fiend steps up and hogbinds the squirming stunner, all as she thrusts her hot feet under his nose and waves her perfect, chiseled arse in the air. Oh and how he spanks it, reddening her cheeks, humiliating her yet more. Confident she is well and secure, he leaves her like that and continues!
With him gone, Pandora gag rants and rages, totally powerless, big blue eyes scanning the room for a possible means of escape. There is none that she can see, and this only serves to frustrate her more. The girl is so hot when she's annoyed, and we milk her for all she is worth in this regard. Shortly before he leaves (there's some funny stuff with her boyfriend and a pervy neighbour – we'll leave that 'til you watch it) he binds a thick red napkin first under her nose and then later, as he really must be going, up over her nose. Beneath, she remains gagged with her panties and tape.
Muffled and hugely muzzled, the bandit gagged, hogtied beauty continues to drive us wild as she struggles on. And we have a nice little treat at the end, when freed by her neighbour (who no doubt has enough in the mental spankbank to last him 'til Christmas) releases her from her bondage. Or does he?? Might be her boyfriend instead. We think that neighbour preferred her bound and gagged actually. Yeah. But the nude captive is not shy in showing off her rope marks. And is also a bit frisky it seems. She beckons us towards the en suite, maybe for another hot shower? Who's coming?

Starring: Pandora
Size: 1.08 GB
Duration: 00:21:22 min
Resolution: 1280×720
Format video: mp4
Preview: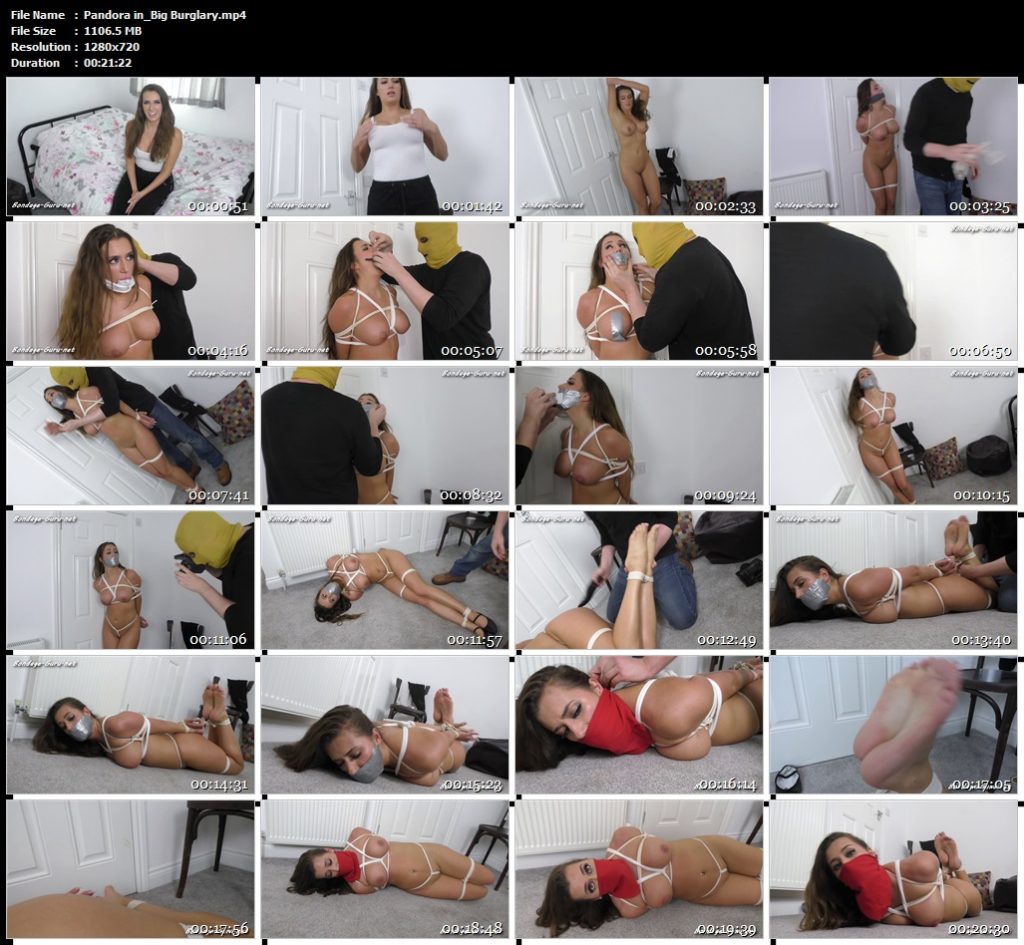 Download link:
Pandora_in_Big_Burglary.mp4