Nyxon and Luna Dawn.. Forced Spandex Scissoring – ShinyBound Productions
Nyxon and Luna Dawn.. Forced Spandex Scissoring – ShinyBound Productions
The Master of the manor has stepped out for the afternoon. Luna Dawn had made the mistake of spilling the Master's coffee this morning and was now being punished. Fully encased and ballgagged inside of a spandex zentai catsuit, straightjacketed, objectified, and tied down to the bed, she was supposed to spend the afternoon in some time out sensory deprivation..
Nyxon decides to mischievously snoop around the manor. She noticed that Luna skipped lunch today and decided to go looking for her. She comes into Luna's room and sees her sprawled out and tied down the way the Master has left her. She also sees the Master has left out the Hitachi wand vibrator.. With an evil grin Nyxon crawls up between poor Luna's helpless tied legs and begins teasing her and touching all of her sensitive parts.
Nyxon gets so carried away with her fun times tormenting poor Luna, that she doesn't hear Master's car pull up in the drive, nor his keys in the door…
Master flings open the door. Nyxon does her best to explain away what she was doing and apologize, but its too late. The Master has just the punishment for Nyxon..
Now fully encased and ballgagged in a matching spandex zentai suit and straightjacket, Nyxon is also fastened down to the bed, and nestled between Luna's legs in a "scissor" position. The girls moan and struggle, their spandex covered pussies grinding against each other.
The Master lets them know that the punishment time has been reset, and that both girls will remain tied down, hooded, and gagged like that till he returns the next morning. They are to sleep locked together and learn a valuable lesson about being mischievous.

Starring: Nyxon, Luna Dawn
Size: 745.61 MB
Duration: 00:20:34 min
Resolution: 1920×1080
Format video: mp4
Preview: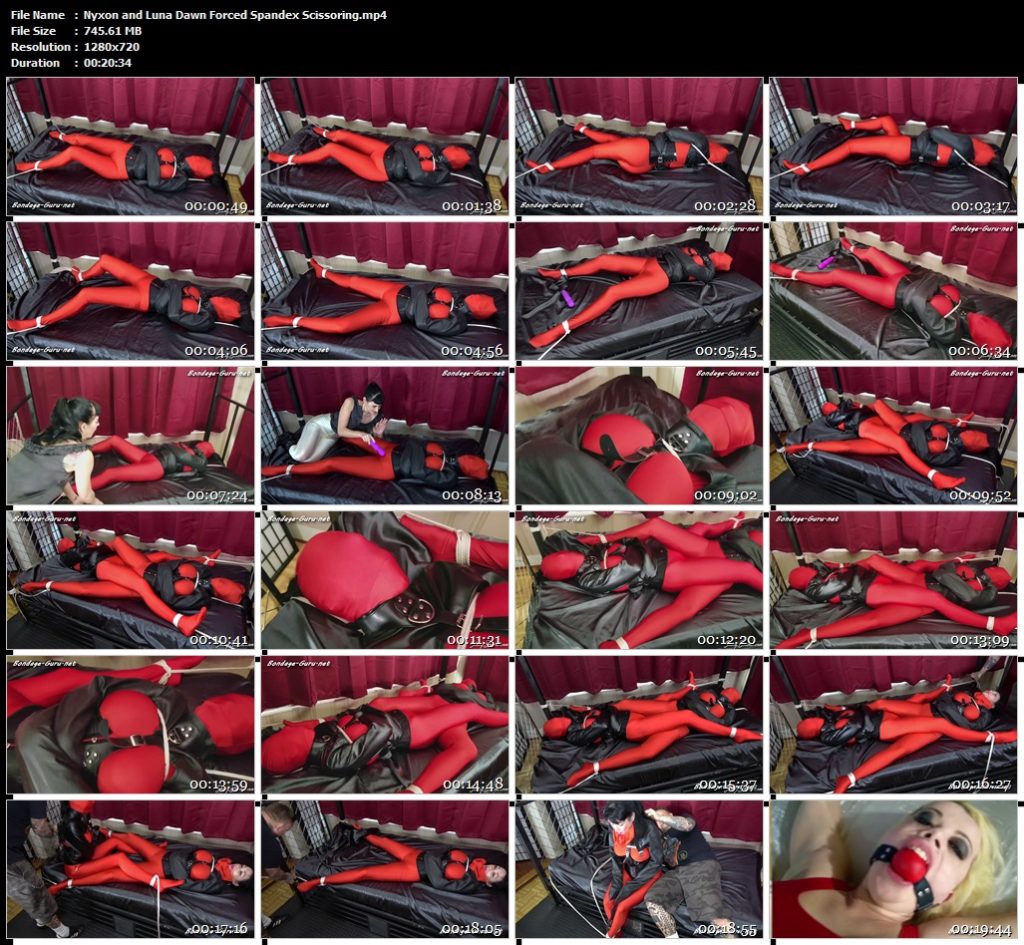 Download link:
Nyxon_and_Luna_Dawn_Forced_Spandex_Scissoring.mp4