Nikita in: Missing the Party: Concealing the Young Lady Upstairs & Continuing the 'Celebrations', With Fiendish Decorum! – Borderland Bound
Nikita in: Missing the Party: Concealing the Young Lady Upstairs & Continuing the 'Celebrations', With Fiendish Decorum! – Borderland Bound
The girl up on the third floor, bound and gagged to her seat, is something of a secret here up at Winchester Hall. A captive of the malign Colonel Hawthorne Himself – meaning that he was the one who personally concealed the beautiful maiden – she is unable to share the damning information she has uncovered. Now to decide a suitable fate for her.
Glasses clink, music plays. The party is in full sway. Some 60 guests stretch through the first floor of the Old Hall and out into the garden. It's a warm evening, perfect for a party. The Colonel's staff have sealed off the festivities, and there are facilities down near the summerhouse. No reason for anybody to stray of off the plot then. And yet somebody has.
. a stunning, Amazonian treasure in gleaming stiletto heels named Miss Casilda. She's been watching the Colonel's country stead for some time, and has noticed trucks laden with incredible stallions being delivered to his stables. Now, these horses bear uncanny resemblances – like Gertrude with her big white flank spot, and Nathan, with his distinctive thigh stripe – to those reported stolen from Haymarket earlier that month. Seems the evil Colonel is a rustler of sorts, and Miss Casilda has a few questions she'd like to ask him!
Biding her time, arms folded across her chest, ankles crossed prettily, the tall, raven-maned, tightly clad beauty takes her chance, following the Colonel out into the main hall and grabs him on the way back from the kitchen, bottle of wine in paw. The Colonel seems a little merry but he always did have an eye for the ladies, and so he stops and entertains her for a moment. When the subject of poaching comes up – a wheel steered towards the question of horse theft, the Colonel sees he has a live one here.
Rounding on the girl, suddenly and effectively, his silver 'Gunther' drawn, she is swiftly and silently spirited away upstairs, hands raised as per order. Of course, she thinks he'll never get away with this. He, in response, gags and ties her in a spare bedroom and shuts her away inside. The tight gag in her mouth prevents her from telling all, but she'll tell us just how deeply, deeply sexy she is, surging back and forth on the chair she is all tied up in, her amazing legs crossed and bound that way, for added discomfort and security. Yes, it will hold her well.
The bandana cleaved beauty continues to twist around, paid a visit by the Colonel, who it seems cannot resist feeling her up a bit, the rancid old goat. How dare he?! When he leaves, to return once more to his party, he forgets to shut the door behind him, and cue upcoming comedy gem when an inebriated party guest stumbles up the stairs and notices the bound woman in the room, but thinks it's a kinky game she is having! As Nikita desperately (and gag talking up to the max) tries to convey her sense of urgency, the guest actually shuts the door on her! Mmmmmrrrmmmppphhhhh!!!
Later, and the Colonel decides it's a little riskier having the girl back here, so he transports her to a second floor broom cupboard. As the feisty hostage back-chats him, he plugs her mouth – brutally, we must say – with a thick red rubber ballgag. Hogtying the bucking young madam, he leaves her to struggle. Struggle she does – and drool. In equal measure. It's the very pinnacle of how a good, juicy ballgagged hogtie can be, and the out-of-this-word damsel blasts it.
Pressing her big, sweater clad tits into the closet floor, enraged and humiliated, breathing dust from a nearby vacuum cleaner, the heeled beauty gives us all a LOT to think about. It's mighty good times in that closet, we'll tell you. Be our 'guests', quickly, before the Colonel returns! Poor, sweet Nikita, bound, gagged, and very, very helpless. Yeah, some things are just meant to be!

Starring: Nikita Casilda
Size: 1.1 GB
Duration: 00:23:02 min
Resolution: 1920×1080
Format video: mp4
Preview: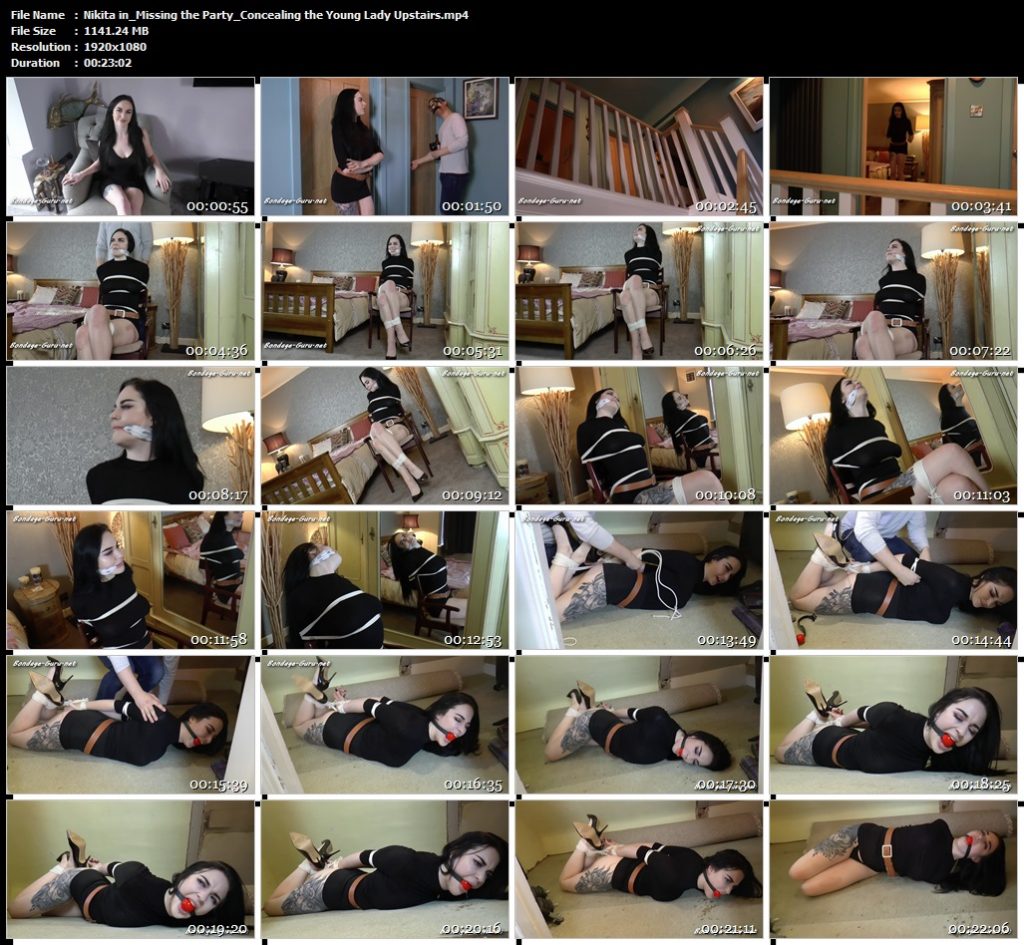 Download link:
Nikita_in_Missing_the_Party_Concealing_the_Young_Lady_Upstairs.mp4