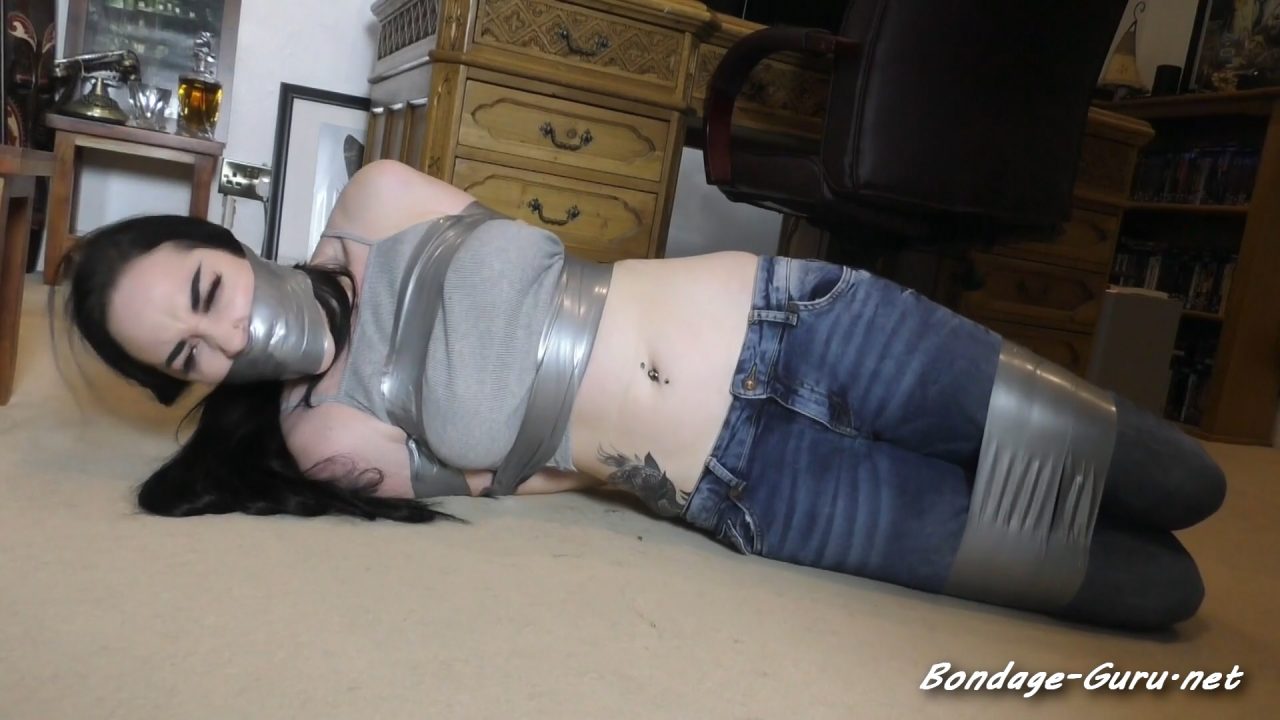 Nikita Casilda in: The Sinister CornFlower Connection: Keeping the Meddlesome Girl Quiet & Strongly Contained! – Borderland Bound
Nikita Casilda in: The Sinister CornFlower Connection: Keeping the Meddlesome Girl Quiet & Strongly Contained! – Borderland Bound
Gagging powerfully on her own socks, jammed rudely into her mouth, her face bent all outta shape by the might of the most severe tape known to man, wrapped without mercy around her mouth and head, her glorious body restricted heavily with same, snooping sleuth Nikita is in world of trouble. Barefoot (those feet.. Mmmmmm) and vulnerable, the dark-haired beauty has been concealed up near the top of the house. What is the freak planning on doing with her though??
If ONLY she had left her sinister neighbour, Mr Edward Chaffinch, well alone, she wouldn't presently be in sure peril. But she didn't. How could she have though, when she has linked his shadowy hide to the infamous Cornflower Connection Robberies? So-called because the thieves always leave a cornflower head as a calling card at the scene of their armoured truck heists (a regular thing in the criminal underworld, we are reliably informed, by criminals) and the busty maiden thinks she knows who just might be responsible!
Her strange neighbour was watching her bathing in the sun a couple of days ago. Nothing new there. The perv likes to look at his neighbour three doors down, but it was what she saw on his front porch when jogging by the other morning which aroused her attention. A bundle of cornflowers, their heads neatly sheared from the stems. It has to be him! No other maniac would behave this way, surely. To cap it off, Mr Chaffinch matches the E-fit of one of the heist ring leaders featured on the monthly TV crime program 'Don't You Just Hate Grasses?', where nosy members of the public are encouraged to call in and help get people they know potential lifetimes in prison.
Now the budding (get it?) detective girl is in her suspect's garden, looking up at the house. She is startled by the form of someone up in one of the windows so she disappears back through the privet hedge. She'll return later that night, when she knows Mr Chaffinch will be out playing Gin Rummy with his pals. What she didn't reckon on was one of his gang members, Johnny 'Richards' Richards, a creatively nicknamed asswipe and serial offender, being in the house. He knows just what to do with a snoopy chick like this too.
Having accessed the house, the gorgeous, tight blue jeans-clad raven-temptress is taken prisoner in an upstairs passage. Hands up, she is marched off, then hand gagged into a back room, bound up and stuffed in a closet. Her mouth is gagged with a thick hiking sock, secured in place by a cruelly cinched a zip tie. With that, the gagged and restrained lady is locked away to struggle!
After a time, Nikita (can't get that Paul Young song out of our head) manages to bust the door open and spills out, kicking and grunting onto the floor beyond, but her relative freedom is short-lived, when the goon returns, having heard the loud bang as the door flew wide. Raging, he rips off Nikita's sneakers and peels away her sweaty socks, much to her protest, as you might imagine. He'll teach the little bitch! In they both go, and our heroine, shocked, gags a treat on them. He pays no mind and plasters her face and head the fuck up with a ton of silver tape. He then gropes her juicy boobies through her tight tank-top and mocks the heavily subdued beauty before shutting her away.
With the girl bound and gagged good and secure again, the villains plot her disposal. She fancies she can hear voices, buts she's so busy mumbling and stuff-jabbering, its' hard to tell. What she knows for sure is that she has get out of this damnable pickle. And what this basically then entails is the sock-stifled vixen rolling around all over the face and jamming her amazing wrinkled soles into the camera lens a lot. Sound alright with you? Hope so, because there is plenty of it going down.
Nikita's truly epic take on the huge tape wrap phenomenon is a most welcome one. Always super-sexy seeing how the different beauty's we ensnare deal with our true face-huggers. Why don't you step right up, and find out now? And be warned, this serious stunner will be taking you to dark waters. Let's hope she escapes from these fuckers, right? We want to breath in many, many more epics boasting this little pocket rocket! But for now, let this serve as a lesson to all: If your neighbours appear to be violent criminals – leave 'em to it!

Starring: Nikita Casilda
Size: 1.05 GB
Duration: 00:18:52 min
Resolution: 1920×1080
Format video: mp4
Preview:


Download link:
Nikita_Casilda_in_The_Sinister_CornFlower_Connection.mp4