Miss Scarlett & Ali in: Hot Treasure Seeking Crime Solvers in Extreme Jeopardy – These Are Gags They WON'T Be Getting Off! (The Complete Story) – Borderland Bound
Miss Scarlett & Ali in: Hot Treasure Seeking Crime Solvers in Extreme Jeopardy – These Are Gags They WON'T Be Getting Off! (The Complete Story) – Borderland Bound
Miss Scarlett & Ali in: Hot Treasure Seekers Beaten to the Finish & Unable to do a Damned Thing About it!
It's late afternoon and avid girl sleuths Ali (stunning petite blondie with massive boobs) and Scarlett (beautiful tall redhead firecracker) have just snuck in through a strangely left unlocked back door. They are here to investigate a report they have overheard down at the Lamb & Frigate public house. Apparently, a Mr SausagePot, an eccentric and somewhat forgetful, archaeologist, has stored some very interesting finds at an old house on the outskirts of town. These two drunken fucks down the boozer are saying that someone should get in there and see what can be stolen. The girls overhear the conversation and decide to get over there themselves and see if the claims are real. With imminent criminality looming, these two goody two shoes want in.
Unfortunately for the girls, somebody else has overheard this conversation and just so happens to represent the dark criminality in question. He leaves fast, on his motorcycle, and gets round there. Our intrepid babes, in their tight blue jeans, t-shirts and sockless sneakers are soon at the scene. The door has been left open deliberately, because the masked bad guy ahead of them has a plan. After the two beauties have split up, he swings into action. Gorgeous Ali is swept up in a monolithic handgag and is bundled off into a shadowy room. Scarlett is picked off upstairs and after a tremendous struggle, both young ladies are quickly bound hand and foot.
The crook decides to gag the pair to keep them nice and quiet up here while he hunts around at his leisure. With that, the babes have their mouths roughly stuffed up with rags and colossal, ultra-tight tape wrapping again and again bound across their jammed up mouths and heads silences them amazingly. With that, they are felt up and left simmering in outrage on the floor of a small back room. And do these two lovelies ever struggle! Wow. Don't blow a gasket, girls! After much hot and deeply muzzled gag talking, Scarlett eventually gains her feet and at the excited encouragement of Ali, is soon off hoping down the corridor.
Evidently the tightly bound and gagged Scarlett does not like what she sees at the end of that hall and after some more fiery hopping, rejoins her squirming companion in that back room, where she desperately begins looking for something which they might be able to use to cut themselves free with. She manages to get a sliding door to a wardrobe open and practically falls inside. She moans and surges around while a very wriggly Ali joins her. Such hot wriggling from both by the way. But things are not over yet!
All happy with himself for finding a secret compartment under the kitchen sink, filled with precious stones and trinkets (the treasure, we should think) the hockey mask-wearing brute binds the heavily mmmppphhhing stunners firmly back to back. Their chests taped so tightly their bobbing heads bounce with every breath. That should hold them. And it DOES. But what (you will no doubt be delighted to note) it does not do is prevent them from going hogwild in their restraints. Their massively gagged mouths a clear centre point to this incredible tight restraint tale. It is just balls out like this from start to finish and we welcome such a fierce tape bondage experience. Make no mistake, you have to be tough to be bound up and facially screwed like this. Just look at those bulging cheeks and eyes! Serious gags, sillyass old school tale. What a combo! Ali and Miss Scarlett truly rock! Literally. Gagged and bound together in this tiny upstairs room, nobody will find them for hours. If only they had told somebody where they were going! Ha!
Ali & Miss Scarlett's Scene from: Steamy Perils of 'The Girl Crime Solving Squad': Curtailed HideOut Escape Attempts!
We have the delectable duo of Miss Scarlett and busty blonde stunner Ali sneaking around on the trail of dark treasure purloined! They have their story prepared, which is that they know where more is, should they fall under questioning, and believe this will act as a bargaining chip. They believe wrong. The nutter who grabs them is not interested in their talk of cutting him in on more and shuts down their act by tightly cleave gagging them with bandanas. They are powerless to stop this most decisive speech deprivation, bound hand and foot as they are with strong tape.
The girls are locked away struggling hard and gag talking with all of their usual flair. It is rather hot indeed and watching them grunt and strain, rolling about like human salamis bound each end is very sexy. Especially with those thick, tight gags in their mouths.
Later, having managed to remove their own tight gags (that is a moment and a half) the triumph and Scarlett and Ali believe this is the first important step to freedom. then they have their gags put back in by their captor so go to Plan B! Hop. Like Frogs! They make it as far as the bathroom, where Scarlett apparently believes she can break a window and call down into the street below, but before they get too far, they are run to ground by the crook and bundled one by one over his shoulder into a back bedroom, where, gag raging and twisting about like crazy, they are dumped into a walk-in closet and shut-in!
As soon as his back is turned, they boot that open with sneakered feet and are having a brilliant little gag convo before ultimately wriggling out into the room. Here they thrash around on the carpet, fall over, writhing around, gag chewing and communing with intensity. All of that amazing stuff you need in your life!

Starring: Miss Scarlett, Ali
Size: 1.73 GB
Duration: 00:39:58 min
Resolution: 1920×1080
Format video: mp4
Preview: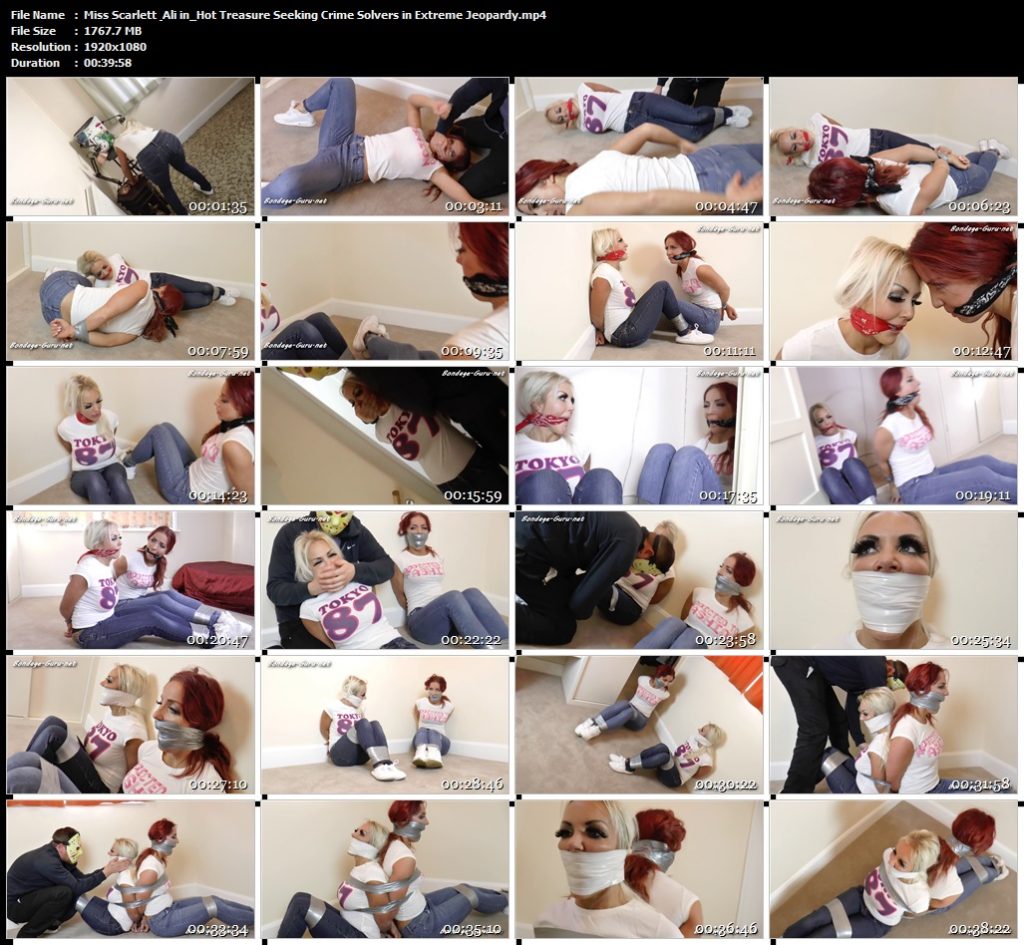 Download link:
Miss_Scarlett_&_Ali_in_Hot_Treasure_Seeking_Crime_Solvers_in_Extreme_Jeopardy.mp4