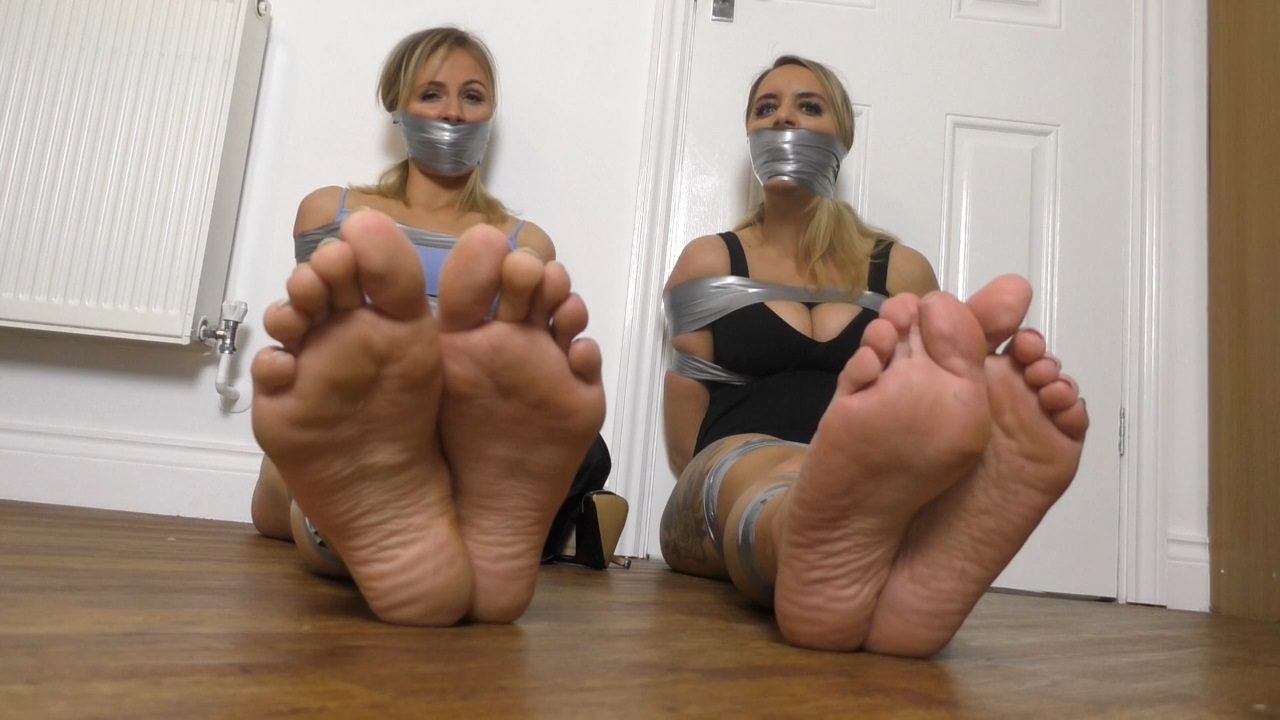 Melissa & Brook in: Striking at the Heart of the Vanilla Girl Dynasty: Knicker-Stifled Super-Blonde Hard GagUp Eruption! (Full Adventure)
Melissa & Brook in: Striking at the Heart of the Vanilla Girl Dynasty: Knicker-Stifled Super-Blonde Hard GagUp Eruption! (Full Adventure)
Are we nuts, getting gags as extreme as this on such stunning girls? What if we scare them off and they never come back?? You know what – it's a chance we take for you guys out there who love these excessive facial stuff tape ups of ours. And the latest cutie-pie (she WILL be back, by the way – we are very charming) is the lovely and never-before-trussed up (standard) Melissa, who could be an actress with her intense prettiness and utterly-damsel way. Paired up here with deeply sexy firebrand Brook, rapidly becoming a customer fav, we've noted, we have an explosion of blonde hotness. We can't wait to get all of that tape on them, and fuck them over in one of our typical plots! Join us.
We commence with the ladies, both wealthy recipients of their late billionaire father's nude centrefold 'Vanilla Girls' empire, returning home from an afternoon visiting the Roman Baths. They have a ton of cash and get bored quickly, you see, and are always doing new things – like where they have been this afternoon. But one thing they will always return to is a heady night out on the tiles. They own one of several nightclubs and this evening have arranged a swanky shindig (try saying that after slinging a few scotches down your nut) at their favourite; MayFly's. Lots of pretentious shitwipes will be in attendance and the girls are looking forward to being worshipped. Daddy and his dynasty have seen to it that their lives are hugely magnified, bless him.
But they aren't the only ones enjoying basking in his wealth. Their cousin, Jacob, has also been left a substantial sum as the sometime photographer to his uncle. But the greedy pig still thinks he has been short-changed. He has decided to enlist the aid of a notorious home raider, Chet 'Garden' Shears, to turn the girls' place over in pursuit of whatever treasures might be there. The ruffian readily agrees for a nice cut and the evil pair plan multiple takedowns of the duo over the coming months. They won't know what hit them, the spoilt bitches! And, though very mean and karma-loaded for the miscreants, they are still about to give us a seriously hot tape bondage show. Let's get into it!
The girls are accosted as they enter their living room, with the thief lying in wait. At persuader-point they are ordered to submit, getting their hands up until he can ready some tape to bind them behind their backs. With the chicks getting mouthier with each ticking second, he whips off their own worn knickers hard and fast enough to make their bum cheeks tremble and thrusts them into their mouths. Then he bodily hauls them to the ground and binds their kicking legs, feeling them up and enjoying their muffled gag exclamations rather too much. Then, after powerfully sealing their entire lower faces (just watch their eyes, they are seriously struggling with these tape powerhouses) he wraps their straining bodies up, gropes and humiliates them, and sets off to do some robbing on behalf of his avarice-ridden paymaster.
Meanwhile, the helpless beauties, writhing around on the floor, manage to slip their shoes, revealing their gorgeous bare feet, and try to use their probing toes to work at one another's tapings. Unlucky, Girls, the stuff he has used is just too superior against your dainty painted toes. But you keep trying at it, won't you? We like that. More rolling around on the floor it is then! And the discovery that they can't even turn the volume up! With their mouths well-panty-plugged, all they can do is mumble and gag on what is jammed in their traps. They begin raging, becoming ever-furious as they find they will never escape from this stuff.
Elsewhere, the sounds of their place being turned over remind them of the pickle they are in – that and the severe way in which they have both been restricted. So what are they going to do now?? Carry on going wild, of course! Twisting across the hardwood floor, gag talking the whole while, they make it to the door, which they bang about at in total fury, finding it won't even begin to offer a way out. He has them parceled so thoroughly, they can't get enough reach to make contact with the handle. Guess, they'll be staying? And giving us one very special foot show as they buck and squirm and go mad into their brutal wrap gags.
That'll do us, as they wait for rescue. And to think, this might happen again to the poor dears, in a different time, a different space!! Unless the guy gets caught first. And then he'll undoubtedly squeal on their evil cousin.. But all of that is speculative. The FACTS are here in their incredible tape up odyssey. We gave to say, we were amazed by how Young Melissa took to the ol' Borderland Special. Find out for yourselves, at the expense of these two mind blowing cuties struggling gagged and bound.

Starring: Melissa, Brook
Size: 1 GB
Duration: 00:17:50 min
Resolution: 1280×720
Format video: mp4
Preview:


Download link:
Striking_at_the_Heart_of_the_Vanilla_Girl_Dynasty.mp4