Megan & Holly in: The McGuire Sisters Investigate: The Girls Lose Contact & Are Bound & Gagged! (Full Clip) – Borderland Bound
Megan & Holly in: The McGuire Sisters Investigate: The Girls Lose Contact & Are Bound & Gagged! (Full Clip) – Borderland Bound
Those ravishing soon to be mercilessly tightly packaged McGuire babes are back, presently snooping, investigating, and getting themselves into dire damsel peril. Casually attired in leggings, hoodies and booties, the babes are primed to solve the riddle of the Montiglio Jewels, a stolen set of valuables believed to be worth more than three quarters of a million, uh, dollars, yeah, DOLLARS. A nomadic gang of thieving miscreants known as the Double Deckers are believed to be behind it all, and its up to the curvy, firm titted lady detectives here to rein the shitbags in. Now, these two know a thing or two about martial arts and are more than confident that they can handle these buffoons. And so, the prospect of splitting up upon arrival fazes them not one jot.
However, its hot busty Megan who is first to go down while so split. Dragged off, tightly handgagged to a murky bathroom, there is a phenomenally intense scene while she tries hard, against that tight palm clapped over her kisser, to make enough noise for her sis to hear. But Holly is too absorbed in her search it seems. Calling out to her fellow detective, she evidently does not note the desperation occurring on the floor below. Megan is spirited off via a secret passageway as the minion elected to guard the stolen booty, doubles back and later takes out a heavily struggling Holly in much the same vein.
Both feisty ladies, colourfully portending much penal reform in the dudes future, are swiftly bound with tape, have socks jammed into their mushes and their entire lower faces ruthlessly walled up in the traditional fashion. Two eye poppingly tight gags later and the heavily trussed ladies are locked in this gloomy back bedroom to wriggle and strain away mightily while the crooks continue with business. Now, lets get to grips with these amazing looking fillies in serious bondage. Squirming tape lashed gymnastics, heavy, sensual gag talk attempts and more wriggling and floorbound twisting than can possibly good for our health. Holly and Megan thrill us all with their typical powerhouse performances. Hopping, slithering on the deck on their tummies, mmmmmppppphhhhhing and grunting aplenty, the bound detectives are totally powerless.
Their martial arts evidently have not helped them here, through the energised captives are clearly still very much able to turn us all on no end with heir breathtaking gagged up theatrics. This extended, tape bound nightmare for the girls is just what you all wanted and acutely satisfying tape bondage guaranteed. Epic old school detective girl mayhem, coming at ya!

Starring: Megan, Holly
Size: 537.43 MB
Duration: 00:17:01 min
Resolution: 1280×720
Format video: mp4
Preview: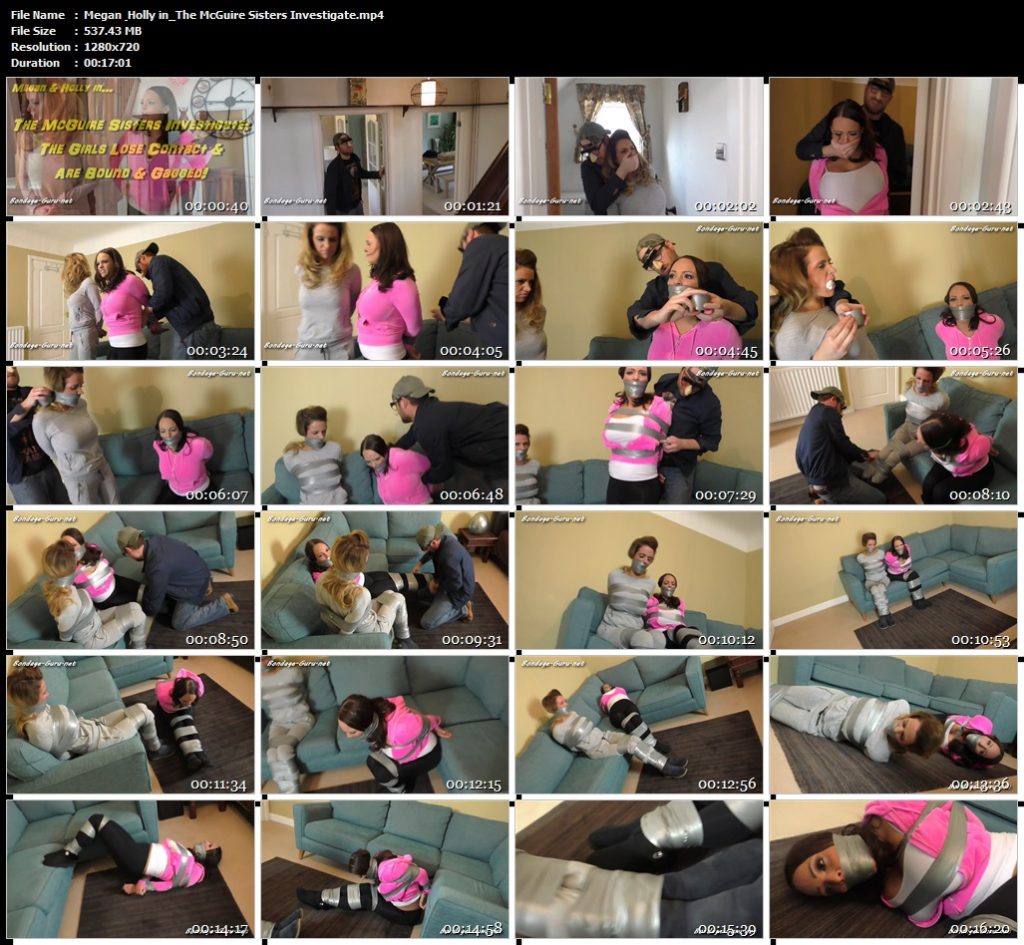 Download link:
Megan_&_Holly_in_The_McGuire_Sisters_Investigate.mp4