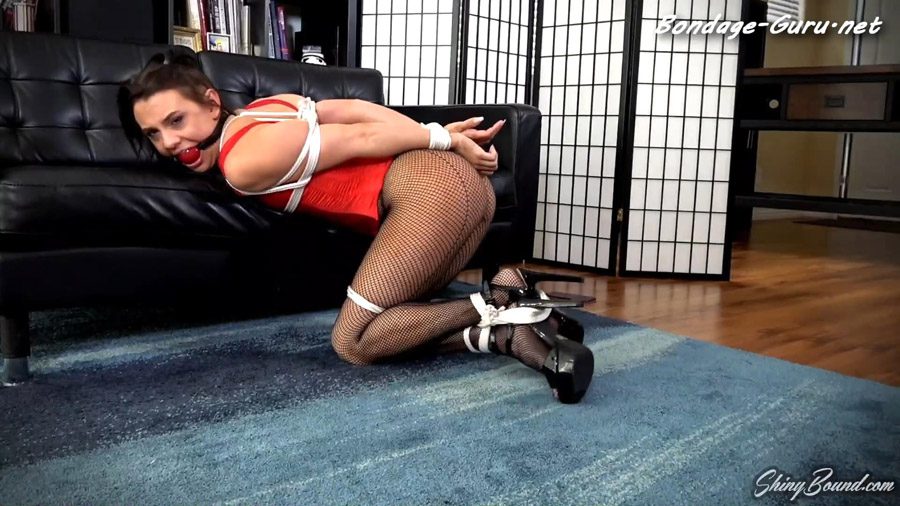 Maria Jade- Tricked By Her Boyfriend Part 1 – ShinyBound Productions
Maria Jade- Tricked By Her Boyfriend Part 1 – ShinyBound Productions
Maria is excited to give her boyfriend his Valentines Day present. She calls him on the phone and tells him that she is wearing is favorite outfit. The red satin corset, panties, fishnets, and high heels.. She can't wait for him to come over after work..
After a little bit, the doorbell rings. "Come in!" Maria yells, not bothering to look up from her phone. He comes in and sits behind her on the couch, pulling her arms back and tying her wrists behind her. "Ooo I guess we're gonna play kinky today.." she smiles as she lets him tie. "Oh yeah thats nice and tight.. But baby, you didn't even give me a kiss first!" she says as she turns around to look at him… "WHO THE FUCK ARE YOU?!?!"
Without answering he grabs more rope and ties up her chest and upper arms. She struggles hard, but he overpowers her and puts her on her knees, bent over the couch. As he begins tying her crossed ankles he tells her "I'm your neighbor! I was just coming over to borrow a cup of sugar when I saw you there all sexy in your underwear and decided to tie you up!" She tries to scream, but just as she opens her mouth, her shoves in a giant ballgag. He ties her knees together and then he stands back to admire his handywork. She growls and hisses at him as she furiously tried to get free.
After a few moments of watching her thrash around, he grabs her and rolls her over onto her side. He grabs another piece of rope and wraps it around her waist. He pulls it down between her legs and up the crack of her ass, nearly splitting her in two. He pushes her onto her belly and pulls the crotchrope up the back, thru her tied wrists, down between her tied ankles, and the pulls it back up and ties it to her chest harness. Now she is hogtied and any movement she makes struggling instantly transfers to the painful rope digging into her satin covered pussy.
"There you go!" he says quite triumphantly. He leaves her there for a few moments to toss and turn. "MMPPHHFFF!! MMM….MMMMFFFFFPPPHHHH!!" She screams at him through her gag to untie her! He looks down with a smile. "Maria calm down. Your boyfriend called me and told me to come tie you all up and scare you for Valentines Day. He said that your fantasy was to be taken and tied by a stranger. I was only too happy to help him out.. Haha." She growls at him.. "I am going to leave you tied up like this. He should be here in about 10 minutes. I'll see you later!" He walks out and shuts the door behind him. Maria sinks into her helpless predicament. She is going to have some words with her boyfriend when he gets home..

Starring: Maria Jade
Size: 856.98 MB
Duration: 00:20:36 min
Resolution: 1920×1080
Format video: mp4
Preview: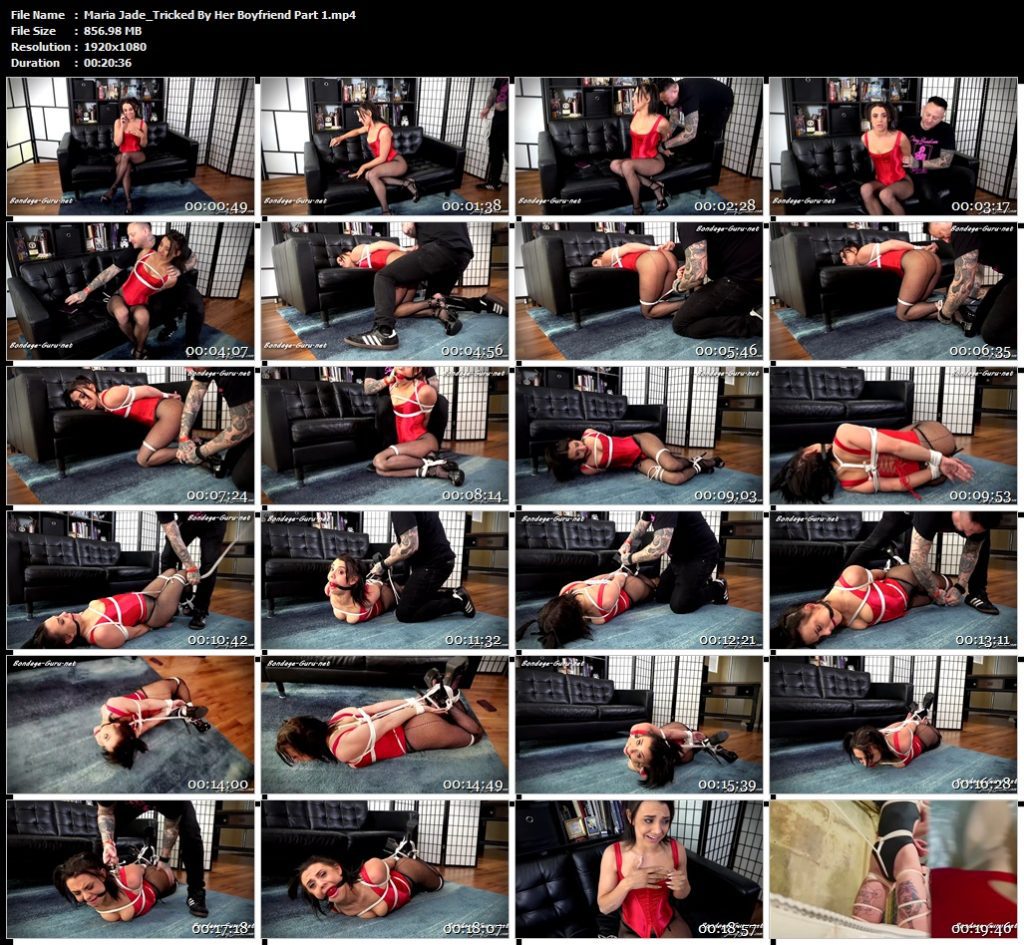 Download link:
Maria_Jade_Tricked_By_Her_Boyfriend_Part_1.mp4