Lynzi in: Scorching Busty Fitness-Milf Shocker: Opportunist Home-Invader Stops By Instead of Her Personal Trainer! – Borderland Bound
Lynzi in: Scorching Busty Fitness-Milf Shocker: Opportunist Home-Invader Stops By Instead of Her Personal Trainer! – Borderland Bound
Introducing muscular, busty amazon hottie Lynzi, who loves to work out and compete. She's a strong lass to be sure, and it was very, very satisfying to get her under the big ropes. She's never been bound and gagged before, and so, of course, we are giving out zero mercy. Sorry Lynzi, when you fuck with Borderland Bound, you are placing yourself into the hands of the real villains! Her sexy gob is variously crammed with thick knotted cleaves, and cloths, all to ensure that she is at her most stifled and orally suppressed. And damn, can this fine lady fight those ropes. But fear not, we keep her secured throughout! Call it self-preservation. You don't want this chick getting loose on you!
We begin with the amazing blonde decked out big-style in the finest of silk underwear, stockings and suspenders. Her shoes are off and she is getting very comfortable indeed in her sexy nylon feet. She's on the phone to her boyfriend, a personal trainer who she's been rumping for a few weeks now. The pair are infatuated and constantly experimenting with new and kinky filth. Lynzi wants to try out a fantasy she's had for years but has been unable to convince any of the butt-stenches' she's been with to play out for her.
Unleashing, in torrid detail, her desire to be overpowered by a burly burglar, the amazon beaut shares with her love interest exactly what she would like done. He agrees to mask up and get round there, pretend to be a home invader, bind, gag her, get ROUGH with her. Lynzi is just so turned on by it all that she whips out a slice of black cloth and ties it over her eyes! She wants to be blindfolded and lying ready for him when he 'breaks in' later.
We join the comely maiden writhing around on her bed, blindfolded and actually pretending already to be tied up. She just can't wait. But what is this? Somebody sure is showing up in a mask, but we don't think it's her boyfriend! Yes, as coincidence would have it (just the kind of wacky thing that happens around here) a real bugler has shown up. He's brought with him restraints and gags with which to silence and subdue the victim, but finding her like this, he is delighted. It'll make his job so much easier!
Silly Lynzi thinks it's her beau the whole time, tying her up and gagging her and feeling her up and banging his hand over her mouth and all of the gold stuff – that is until he removes her blindfold! Shocked that this cretin is not who she thought it was, she freaks out, and he of course mauls the big beauty around, paying close attention to her big tits and arse, slipping his hand into her bra, having a good time, spanking her cheeks red too.
The blonde babe is left trussed and gagged on her bed, struggling now not for pleasure, but in sheer desperation. She eventually manages to sit up and catches sight of herself in the mirror. She's amazed by how good she looks, but this isn't the time for getting all hot and bothered (well, it kind of is). But she has to get free somehow! She hops around a lot, tries to get to her phone. You know the drill. But that that burglar is back – with more cloth!
Forcing the helpless Lynzi to remove her bra – after first untying her hands and giving her a sip of water, he binds her wrists 'in back' again and slams a cloth into her mouth to shut off her noise, then cleave gags her, then OVER gags her. Content that the mumpphhhing woman is seriously gagged up and dampened down, he fondles her glistening tits some more and leaves her bouncing around on the bed. Later still and he hogbinds her into further submission while he calls to mock her P.T lover. And he sure does too, Priceless. Lynzi angrily gag rants, helpless on her back, pigbound beside him. Then he duly leaves, having looted her place good and proper. Now, we can describe the muscular vixen's struggles, or you can just imagine them. We think you'll do this very accurately, looking at this hot milf dynamo. She holds NOTHING back, and you'll get to discover this to your absolute delight. Lynzi. Just whoa, Girl!

Starring: Lynzi
Size: 1.42 GB
Duration: 00:28:57 min
Resolution: 1920×1080
Format video: mp4
Preview: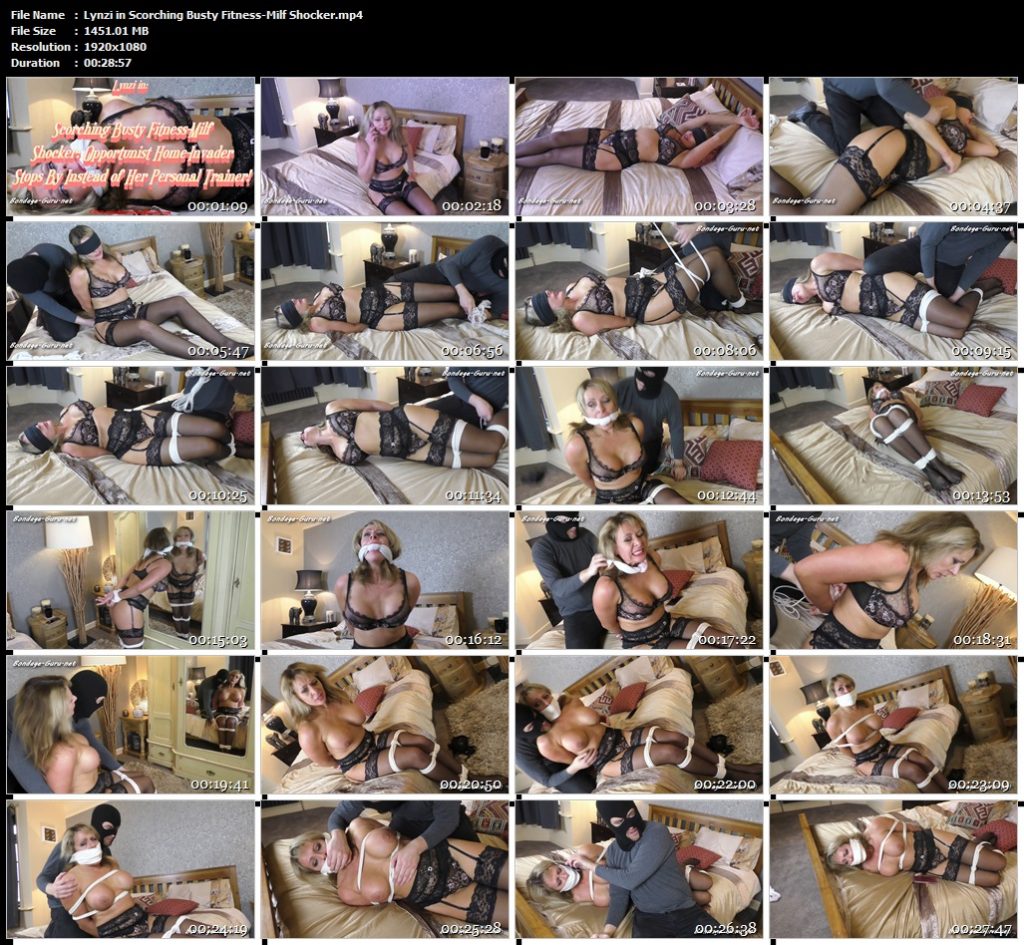 Download link:
Lynzi_in_Scorching_Busty_Fitness-Milf_Shocker.mp4