Lydia Black – Girlfriend Wants To Get Tied Up – ShinyBound Productions
Lydia Black – Girlfriend Wants To Get Tied Up – ShinyBound Productions
Lydia decides that she is finally comfortable enough with her new boyfriend to tell him that she wants to try some bondage. She orders a fancy ball gag off of the internet, and when it comes in the mail, she decides it's time. She is a little nervous.. She really likes this guy and doesn't want him to think that she's weird or something. She musters up her courage, grabs the gag and a piece of nylon rope out of the garage, and heads into the living room to talk to him..
She is very relieved when he agrees. He looks happy to try it out. He ties her wrists tightly behind her back and asks her if it feels ok. She loves the feeling of the strict ropes. He gets a little sparkle in his eye and tells her he will be right back. He goes to the garage and gets more of the rope. She smiles with excitement and asks him to tie her legs next, which he happily does. He grabs more rope and ties her elbows behind her. Now this is getting to be a little too much and too tight for poor Lydia.. She starts to ask if he can loosen it up a bit, but he stuffs her new shiny ballgag into her mouth and buckles it. Next he wraps her face over the gag with a piece of latex. Lydia can't get out any words of protest now! He pulls her off of the couch and onto her knees. He lifts her skirt and pulls a crotch rope over her satin panties. He pulls it up behind her and uses the loose end to hogtie her wrists to her ankles.. Now any struggling at all pulls the tight crotch rope agonizingly deep into her pussy!
"There we go babe! I am so happy you wanted to try this. I was wanting to approach you about trying this as well! Let me know when you want to be untied babe. I'll be in the garage if you need me."
See struggles and yelps to be let out, but he doesn't understand her and walks out the door. Poor helpless Lydia is stuck there on the floor.. Now really regretting her decision.

Starring: Lydia Black
Size: 906.98 MB
Duration: 00:18:04 min
Resolution: 1920×1080
Format video: mp4
Preview: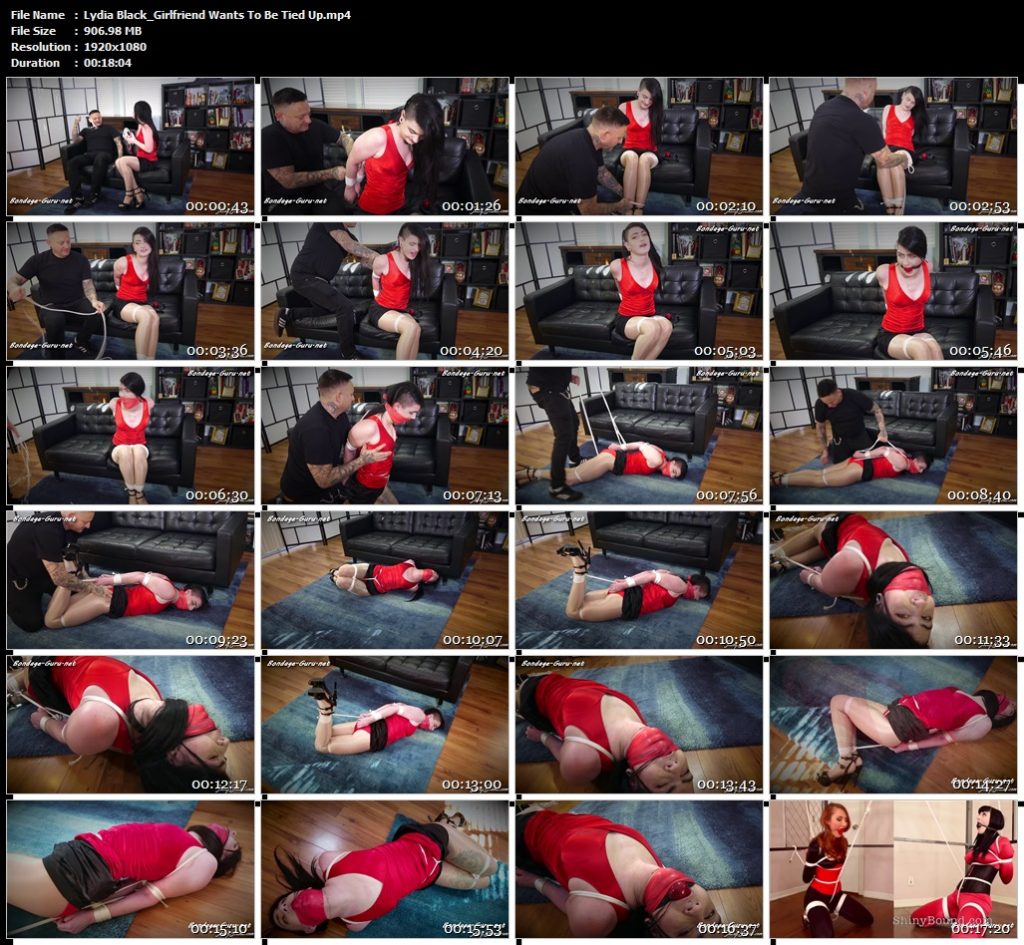 Download link:
Lydia_Black_Girlfriend_Wants_To_Be_Tied_Up.mp4