Lucy & Brook in: Captured Reporters Struggle With True Barefoot Intensity: "If We Could Just Get This Tape Off Of Our Mouths!" – Borderland Bound
Lucy & Brook in: Captured Reporters Struggle With True Barefoot Intensity: "If We Could Just Get This Tape Off Of Our Mouths!" – Borderland Bound
A dazzling duo of sexy blonde captives put their awesome bare feet to various exciting uses in this remarkable energy tape gag tie up romp! Overpowered by a demented villain, sticky tape locks their sweet lips down, and they can all but mumble, lashed up securely with ropes, they can only hope to get loose. But it won't be easy, which is what makes watching them try so much delicious fun!
Busty Brook's equally-endowed reporter colleague Lucy has gone missing while investigating a house in the suburbs. The guy who lives there is said to have stolen two Bengal tigers from PusVille zoo and had the things on chains in the backyard. When Lucy arrived at the residence, she found nobody home, and no tigers out back. Just a couple of huge chains and a rather large food bowl – empty. Hmmmmmmmm! Well, from 'hmmmmmmmmm' she is now going 'mmmmmmmmm!' Readied to be used as bait with which to distract her soon-to-be arriving colleague.
We find the comely Brook seated, cross-legged, in the parlour, actually waiting for Lucy. She doesn't have to wait too long until the lovely hostage is shoved rudely into the room with her wrists tied behind her and a tight gag over her mouth. Forced to 'give-in', Brook is ordered to lay face down on the deck and soon enough both ladies are securely roped up and unable to cause further mischief. Brook's scoop is that she is now having her feisty mouth taped up with very sticky silver stuff. Trussed up Lucy is done the same way. Both try to resist their gagging with haughty enthusiasm, which you'll love.
The villain leaves the barefoot beauties squirming acutely, satisfied that they are unable to call out for help. The Evans's are at home two doors down, and Mrs Evans is out pruning her primroses. Though all of the windows are closed, a decently raised yelp could summon attention. But all stuck up orally as they are, the girls are unable to produce!
With both bound women on the floor, they struggle up to a sitting position which we promise is in absolutely no way whatsoever designed simply to showcase the under soles of their immaculate, juicy bare feet. We promise!! Toes splaying, smooth soles arching, the tied up reporters are in NO way trying to turn YOU on. Believe it. Yes, please do. But they are fighting it all pretty hard now. After attempting to use their toes as scissors (not sharp enough) the frustrated captives roll around on the floor for a while – because we like it when they do that!
Eventually, gorgeous Lucy makes it up onto the sofa, initially using the soft leather furniture as a perch from which to extend her amazing, toned legs and pointing toes, toward Brook and her sticky tape gag. With a heavily mumbled bit of encouragement from the hot, long-legged Brook, Lucy goes at her gag with her feet, again and again. It's no use at all though. Sealed to perfection as the tape is! Nope. Brook is staying gagged. And it appears as though the same will apply for the heavily writhing Lucy!
The girls continue to struggle to devastating levels of sexiness, bending upward, extending their legs and feet, much grinding into that sofa with the brilliant bare feet of lovely Lucy while Brooke gag talks heatedly from the carpet. They are stuck, in more ways than one, and require urgent assistance. Bound and gagged in the parlour, the big story will now be their overpowering and capture. Who knows, this could win them some kind of scoop prize. The guy who has done this to them, clearly having much to hide, has actually secured for them a forthcoming career boost!
The tapegagged damsels, mercilessly trussed up and down with ropes don't let up for a second, and seem oh so sure they can get those gags off and shriek their way to liberty. But after many tries, they just aren't cutting it! The epic villain responsible knows how to incapacitate and render speechless his captives. As keen as she is to prevent the ladies from spilling any beans until he has gone, he's proven how efficient he can be at covering his tracks. The tigers are already gone. So soon enough will he be. And all that shall remain are two tied up girls. Not bad!

Starring: Lucy, Brook
Size: 948.4 MB
Duration: 00:18:55 min
Resolution: 1920×1080
Format video: mp4
Preview: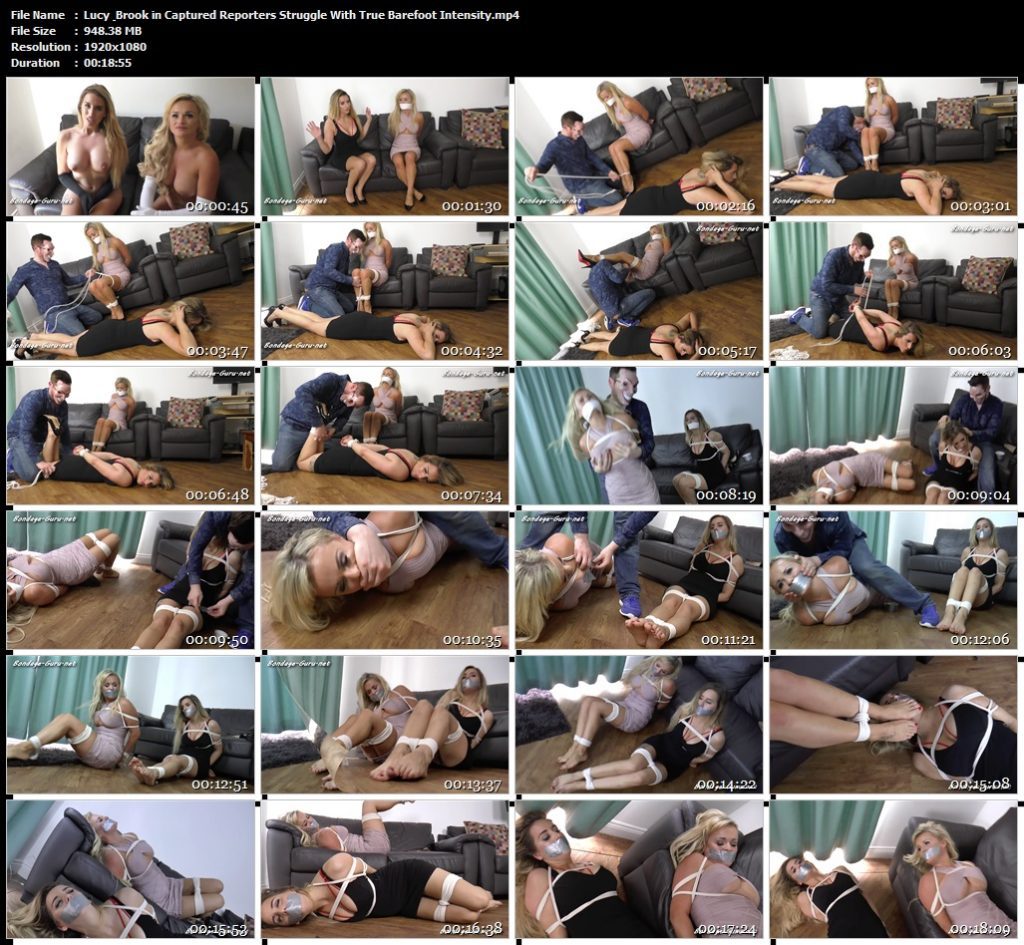 Download link:
Lucy_&_Brook_in_Captured_Reporters_Struggle_With_True_Barefoot_Intensity.mp4