Kendra Lynn.. Mesmerized Escort Strapped Up – ShinyBound Productions
Kendra Lynn.. Mesmerized Escort Strapped Up – ShinyBound Productions
Kendra shows up at the clients house. Its a nice place and in a nice neighborhood. The client answers the door quickly and ushers her inside. He tells her that he's never hired an escort before and asks what the normal routine is. She tells him they can go out on the town, maybe a club or 2, or they can stay in and have some fun if he'd rather do that as well. He is very straight forward and tells her that he is into kinky play, like bondage. He has a box full of belts and he would like to strap her all up in them. She tells him thats not really her thing and that she would be happy to go hit the clubs instead.
He pulls his phone out of his pocket and tells her to check out this app he downloaded. When Kendra looks at the screen, the pattern mesmerizes her. She becomes transfixed by the sound frequencies and highly suggestible.. He tells her that she is under his control now and that she must do what he says. She agrees. He tells her that when he snaps his fingers, that the spell will wear off and asks her if she understands. Again she agrees. He tells her to stand up. He grabs his belts from the box and begins strapping her up tightly with them. She stands there motionless with a blank stare as he wraps strap after strap around her torso and body. He tells her to sit down on the couch, where he straps her legs together. Finally he puts a gag on her and stands back to admire his work. She sits there motionless, now tightly bound and gagged.
He snaps his fingers.. And she comes back to herself. She lunges and shakes and begins panicking in the ties. She screams at him to let her go through the gag. He stands back and watches her fierce struggles and attempts to break free. She throws herself onto the floor, trying desperately to escape. After a few moments, he comes over and pulls her into a hogtie position with another strap. She shakes and yells at him some more. He leans over and adds a blindfold. He is really enjoying this real bondage struggle. He had tied his girlfriend up a time or two, but she always just laid there motionless on the bed. No fun at all.. But THIS girl.. She was really bucking and fighting with everything she had! Screaming and drooling through her gag and thrashing all over the place.. This was quite a show!
After a while she is getting tired and her fight is slowing. He decides he has had his fun and is going to let her go. He removes her blindfold and again shows her his phone screen. Again she is under his control. He tells her that he is going to let her go now, and that when he snaps his fingers, the only memory she will have is of a fun night out on the town. Also, she will conveniently forget to charge him for tonite's visit.. He asks her if she understands and she agrees.
Again she sits there motionless as he removes all of the bindings and sits her on the couch. Once she is free, he snaps his fingers. Kendra bounces back and thanks him for such an amazing night out on the town. She tells him to keep her number in case he ever wants to do this again!

Starring: Kendra Lynn
Size: 775.1 MB
Duration: 00:18:58 min
Resolution: 1920×1080
Format video: mp4
Preview: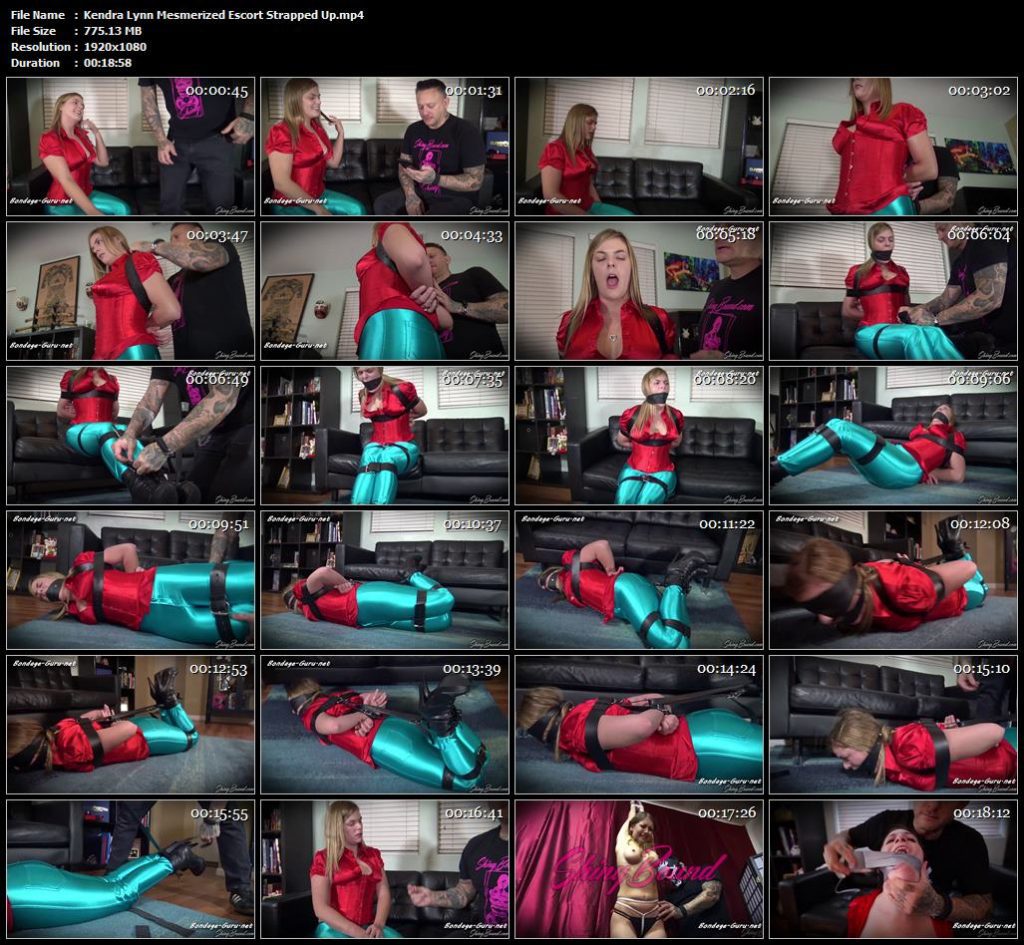 Download link:
Kendra_Lynn_Mesmerized_Escort_Strapped_Up.mp4