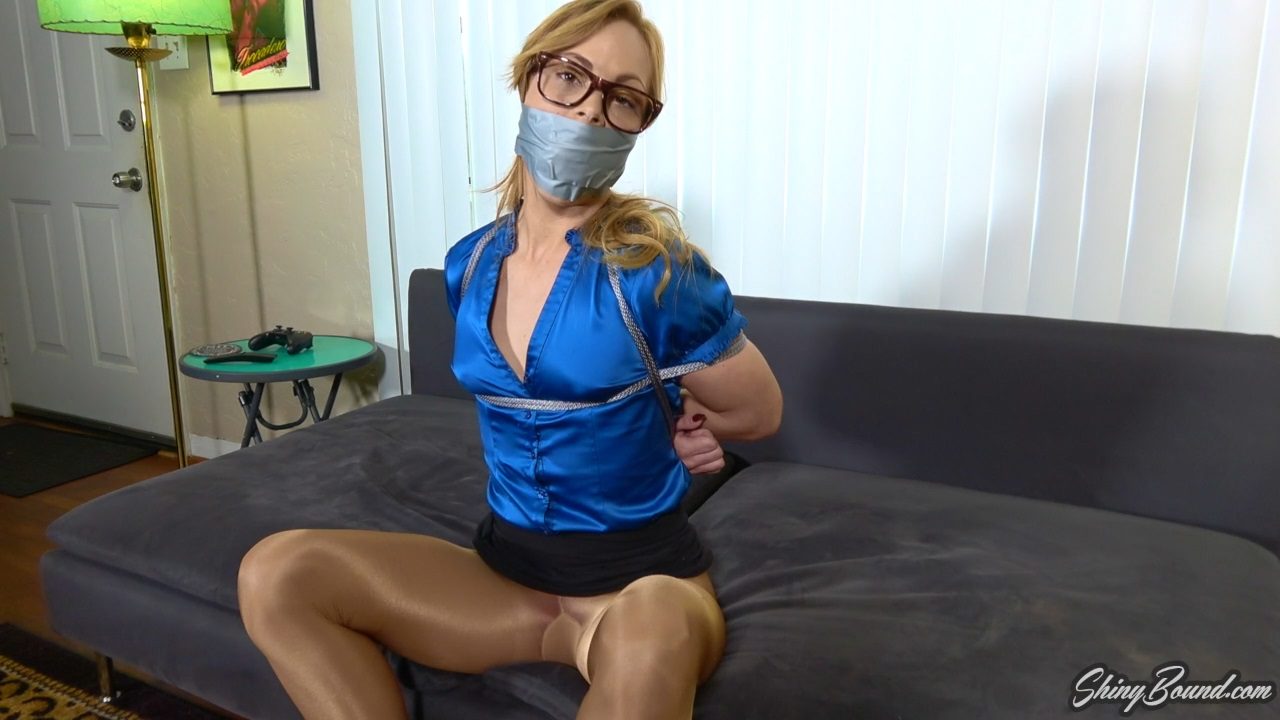 Jenny Jett.. Tied and Spread Wide in Pantyhose – ShinyBound Productions
Jenny Jett.. Tied and Spread Wide in Pantyhose – ShinyBound Productions
Jenny has been talking to this new guy online for a month. She knows he is kinky and into bondage, which is something she has always wanted to try.
The time has com for the first meeting. She takes a long hot shower and then dresses up in a sext satin top, skirt, and thick shiny pantyhose. She knows he has a satin panty fetish, so she pulls on a pair of bright blue full bottomed satin panties over the top of her nylons. She finishes the outfit of with a smart pencil skirt and heels. Now looking in the mirror, she applies some light lip gloss and smacks her lips.
Just then the doorbell rings. He's here! She excitedly opens the door. "Hi I'm Jenny, nice to meet you." She invites him in. He enters and pulls out some soft silver nylon rope and a roll of duct tape. Her heart races with excitement. She is happy that he's not wasting any time or ruining anything with small talk.
He runs his hands over her satin shirt and feels up her hips and ass as she pants softly. He pulls her arms behind her and begins to boxtie them behind her. The ropes feel better then she had anticipated. Soft, yet very firm and confining when pulled tight around her torso. He sits her on the couch and spreads her legs. She can tell he is very pleased by her bright satin panties that were waiting under that skirt.
He pulls the panties off of her silky nylon legs and wads them up. She thinks she know where this is going.. Yep. He asks her to open her mouth and then stuffs them deep into her mouth, filling her cheeks. He picks up the duct tape and wraps her face several times tightly to hold them in place.
Now he relaxes her back against the sofa and begins to frogtie her legs and tie them spread wide apart. He runs his hands up the inside of her thighs as he does this and she melts back into some warm and wet thoughts.

Starring: Jenny Jett
Size: 943.52 MB
Duration: 00:20:46 min
Resolution: 1280×720
Format video: mp4
Preview:


Download link:
Jenny_Jett_Tied_and_Spread_Wide_in_Pantyhose.mp4