Jenna & Katie in: The Monumental Stripper in Distress Caper: Engineered by the Monstrous Mr Echinacea! (Extended Story & Beyond) – Borderland Bound
Jenna & Katie in: The Monumental Stripper in Distress Caper: Engineered by the Monstrous Mr Echinacea! (Extended Story & Beyond) – Borderland Bound
In this jaw-dropping pure gaggage extravaganza we feature two busty stunners you will know and love a lot. THE Jenna Hoskins is back in the fold (we had to drag her into our truck, but hey, we do what we have to here at Borderland Vineyard) and teamed up with the simply awesome tit-machine that is Katie Thornton. The duo are about to get a whole lot of binding, groping and spanking, but that's cool, right? So then, to our fireside tale.
Jenna and Katie (aka Agents Thornton and Hoskins) are deep undercover and working one of those nefarious cases involving missing models. The agency has sent in two of their hottest to pose as nude dancers at the home of one Bran Echinacea, the prime suspect in the disappearances, and apparently, a University lecturer in his salad days. The dude is clearly in this up to his armpits and the ladies are going in hard.
After stripping for the joker while he scoffs and mews, the big-boobied treasures twine their amazing bodies this way and that, bantering and biding their time until the twit leaves the room to visit the little lads' room. Then they slip a little something into his Special Brew and wait. It doesn't take long until he is away with the fairies and they can search his house for clues, unmolested (this'll change soon). However, this chap has a titanium constitution, and he isn't away with anybody!
Downstairs, while the naked beauties (oh and they are) trot about in their wonderful strappy heels, Echinacea silently stalks them. First to be jumped is Jenna. Man that is a TERRIFIC strong handgagging she is on the receiving end of. Then he rinses and repeats with Katie. Soon enough both women are cuffed up and gagged with tight cloth strips, cleave style. Fondling the bitterly protesting duo and repeatedly handgagging them for his fun, Echinacea spirits them away upstairs where he hides them in a closet and ties their feet.
The girls struggle mightily and are soon face planting into the room at large, straining at their gags and working their cuffs. Unable to speak, they nevertheless communicate that they need to get over to that door. Of course, before they make it, they are revisited by their captor, who, as punishment, cuffs them up, arms drawn painfully overhead to full extension, to a bar in the closet. He then slaps their feisty mouths up with sticky black tape and leaves them arcing their tits about as they wriggle and twist. Man, hot ain't the word. Well, it IS, but you know the score.
After much boob-jiggling and with their arms feeling light a bad fortnight in Madrid, the beauties are bound stringently with white rope and tightly, face-bustingly tightly buckled up to the head, ballgag-style. As they gurgle and drool, rolling around on their backs, Echinacea manhandles them into super pigties as they buck around, grunting angrily and gurgling into the rubber which gags them so.
The girls have had their handbags rifled and the dude knows who they are. He's already talking some bad shiz and promises to show these two captured law makers exactly what he has done with the other models. Their destination, it seems, will be similar. Indignantly, the huge-mammed hotties buck and grind, repeatedly drooling while trying to speak. Oh and those TITS, man. Do they ever get many a mauling at the perverted hands of their crazed captor.
The downed agents knew this guy was bad, but could never have envisioned being so thoroughly bound and gagged again and again while in his clutches. Those poor missing models too. They didn't stand a chance against scum like this. But then, despite their bluster, neither did they much! Now, enough of this. You can see exactly what these delightful girls go through here, so we will shut it. For there are two enraged, rubber gag fizzing damsels going berserk all pigroped and helpless for your consideration. Oh yeah, and did we mention this is Jenna Hoskings back and in some of the hottest action ever? If not, take heed, and dally not! We got two bound and gagged undercoiver strippers here grinding around and trying to talk with us! Mmmmbbblllmmm!!!

Starring: Jenna Hoskins, Katie Thornton
Size: 1.7 GB
Duration: 00:45:10 min
Resolution: 1280×720
Format video: mp4
Preview: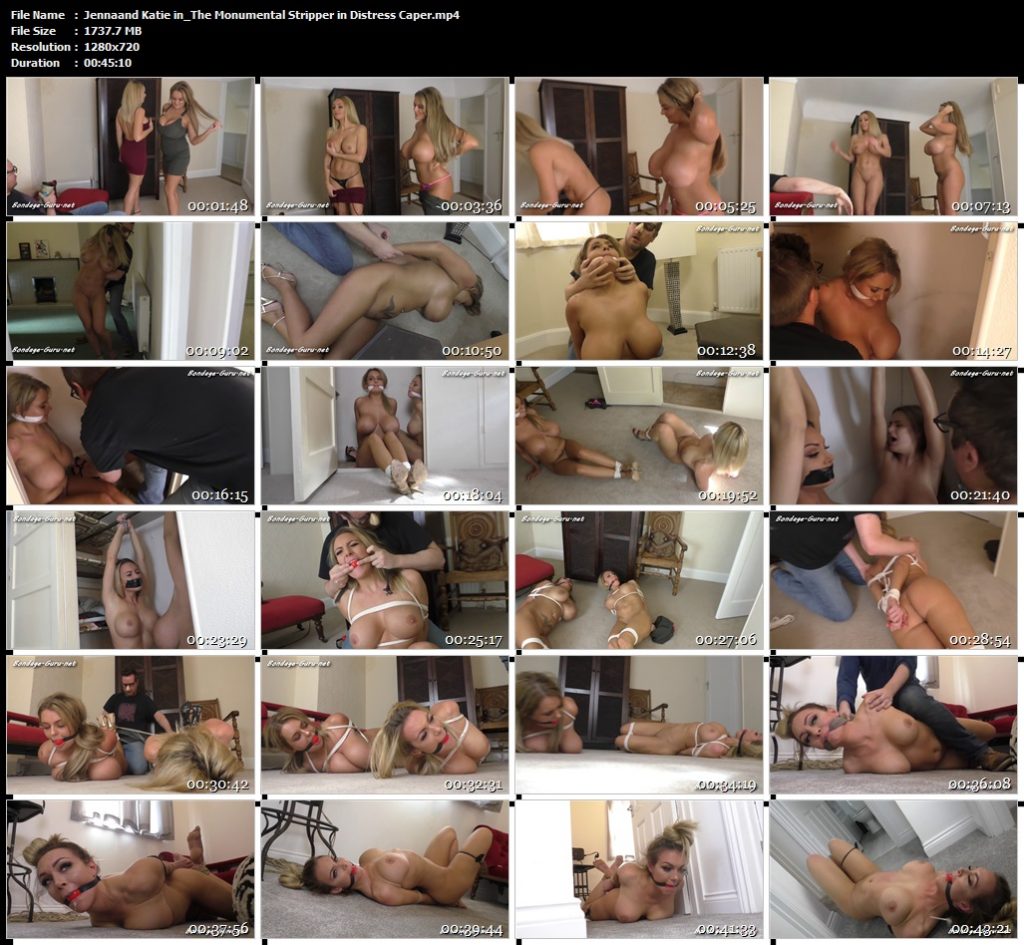 Download link:
Jenna_and_Katie_in_The_Monumental_Stripper_in_Distress_Caper.mp4