Gypsy Bae.. Stepdaughter Taught A Lesson – ShinyBound Productions
Gypsy Bae.. Stepdaughter Taught A Lesson
Bratty Gypsy comes home extremely late from her college Halloween costume party and she is very hungover the next morning. She lays there on the couch, still in her halloween costume from the night before. Her stepfather was worried when she didn't come home or call, so he decides to teach her a lesson she won't forget.
He grabs some rope and pulls her arms behind her.
"What are you doing to me? What's with the rope? Do all stepdad's do this to their stepdaughters?".. All questions she playfully asks as she gradually comes to and finds herself getting progressively tied up. She goes along with it. She thinks her mom's new husband is very cute and doesn't mind at all that he's putting his strong hands all over her.
After he has her hogtied tightly, he straps a ballgag into her smiling mouth. He rolls her over and unzips her costume, exposing her tits. She shrieks with joy as he gropes and twists on her little titties.He leaves her there to struggle for a few moments, and she topples of the couch onto the floor. He comes over to check on her, but one of her titties is now covered and she wants it out and exposed. He laughs and fixes her costume for her, and then tightens the tie and the ballgag some more.
Now the tie is very tight and she pleads to be released. He tells her he is going to leave her like this for the rest of the morning so she can learn her lesson about coming home late. Poor Gypsy struggles and whines, but it's no use. She is helplessly bound on and gagged on the floor, but she is more upset that he left the room and is no longer touching her more than anything!

Starring: Gypsy Bae
Size: 547.4 MB
Duration: 00:13:50 min
Resolution: 1920×1080
Format video: mp4
Preview: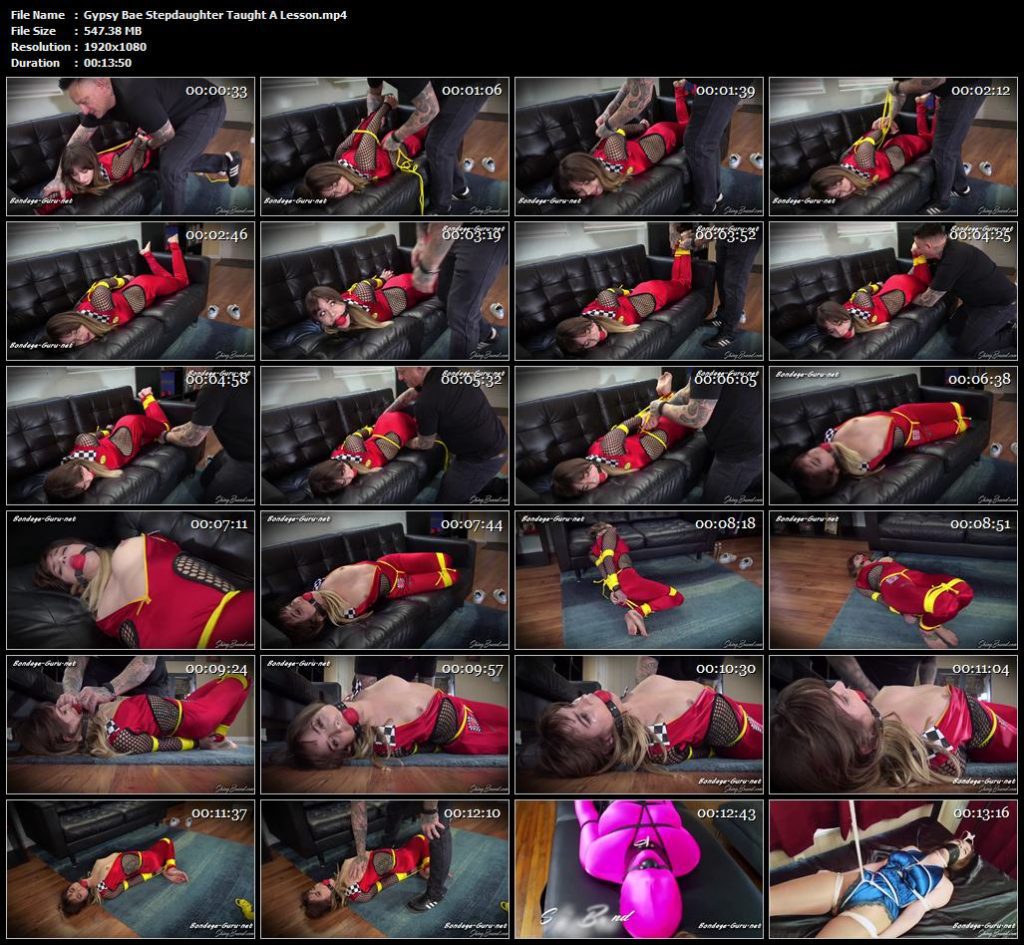 Download link:
Gypsy_Bae_Stepdaughter_Taught_A_Lesson.mp4