Georgie & Roxi in: Their GirlSquad Were in the Forest Beyond This House! Now, if They Could Just Slip Their Gags & Alert Them to Their Captivity – Borderland Bound
Georgie & Roxi in: Their GirlSquad Were in the Forest Beyond This House! Now, if They Could Just Slip Their Gags & Alert Them to Their Captivity – Borderland Bound
Two extremely hot women with big boobs, bound and gagged repeatedly in an effort to keep them quiet, contained, and unable to alert their gang of naked bad girls from discovering their location as secret prisoners of a deranged copycat gagger with designs on becoming The Psycho Chef Mark II!
Two naked sisters of the notorious Naked GirlSquad, a pack of beautiful women with ample jugs and no clothes who like to rove through the English countryside solving crimes, vigilante style, have ended up in an old house in BadgerNeck Forest. The problem for them is that the bad man in their sights is REALLY bad, and will make short work of them. They should have increased their number before tackling him, is all we can say. But they didn't, and so read on.
Stunning Miss Lloyd slinks through a dimly lit dining area and into a kitchen. This is where her leads have, well, led, and she is waiting for back up in the form of delicious blonde Georgie. But the guy lurking here knows a thing or two about taking advantage and while she is alone, this is just what he does, biffing her with a frying pan and dragging her away. Tightly bound and gagged right up at the top of the house, she will be unable to do him further harm. Now, to wait for the next one.
Later, and Georgie, just as naked, just as edible, slinks through the house. When she hits the second floor, she is drawn to a strange mmmmppphhhhing sound from up top. Wonder what that could be. As this perfect girl rushes a final flight of stairs and to Roxi's side, she notices not the foul individual coming up hard behind her. Handgagged and cocked out, she two is bound hand and foot. While the ladies wiggle, scrumptious bare feet fully accentuated, Georgie gets a very, very tight gagging with a white handkerchief. That will shut HER up! With that, she is groped along with her witless pal and the duo are left struggling passionately. You know they will be too.
After a most rewarding (for us) time of hot wriggling personified, the ladies struggle in back to back and side to side and begin working on their gags. After some effort, they mange to chew off one another's cloth cleaves out of their pie guzzlers and are frantically trying to figure a plan, when a shadow falls over them. Not so fast, Ladies! You should have screamed while you had the chance. Now it's too late.
Squirming heatedly, all trussed up and with more tight cleave gags in their mouths, the babes again are struggling for their freedom. Those knots he's pulled are way too tight though and this time the gags are even more severe. They'll have a job getting them off again. And now, they find themselves being lashed up like damned hogs, making things even more difficult. They are totally helpless up here as they are fondled and mocked, hogbound and in urgent need of a good rescue. But this guy, like his idol, knows how to keep the girls!
Later, and after much insanely sexy barefoot hogtied action, the ladies buck up and down on their floor-pressed, gorgeous boobs and wince at their tight gags biting into their cheeks. This is no use. They know their buddies are not far away, no doubt searching for them. We'll have to wonder on how good they really are that they can't locate them in this old house which has Bad News practically emblazoned across it, but we'll suspend our disbelief and enjoy these bound and gagged amazons, right? Now, what's next? Dinner!
Bound up good and secure on stools, the captured stunners strain at super tight handkerchief over the mouth gags. They stand not a chance of loosening these. They have been knotted mega-hard and their cheeks bulge hotly. The Cook here believes in doing things properly. Unable to budge their lips, the girls watch helplessly as the creep emulates his dark hero, and stars cooking! Some excellent 'in the background' stuff as the ladies protest and wiggle. Then they are groped and titty-pinched some more and left to it. 'It' Being tons of saucy chairbound struggling.

Starring: Georgie, Roxi Lloyd
Size: 1.11 GB
Duration: 00:24:43 min
Resolution: 960×540
Format video: mp4
Preview: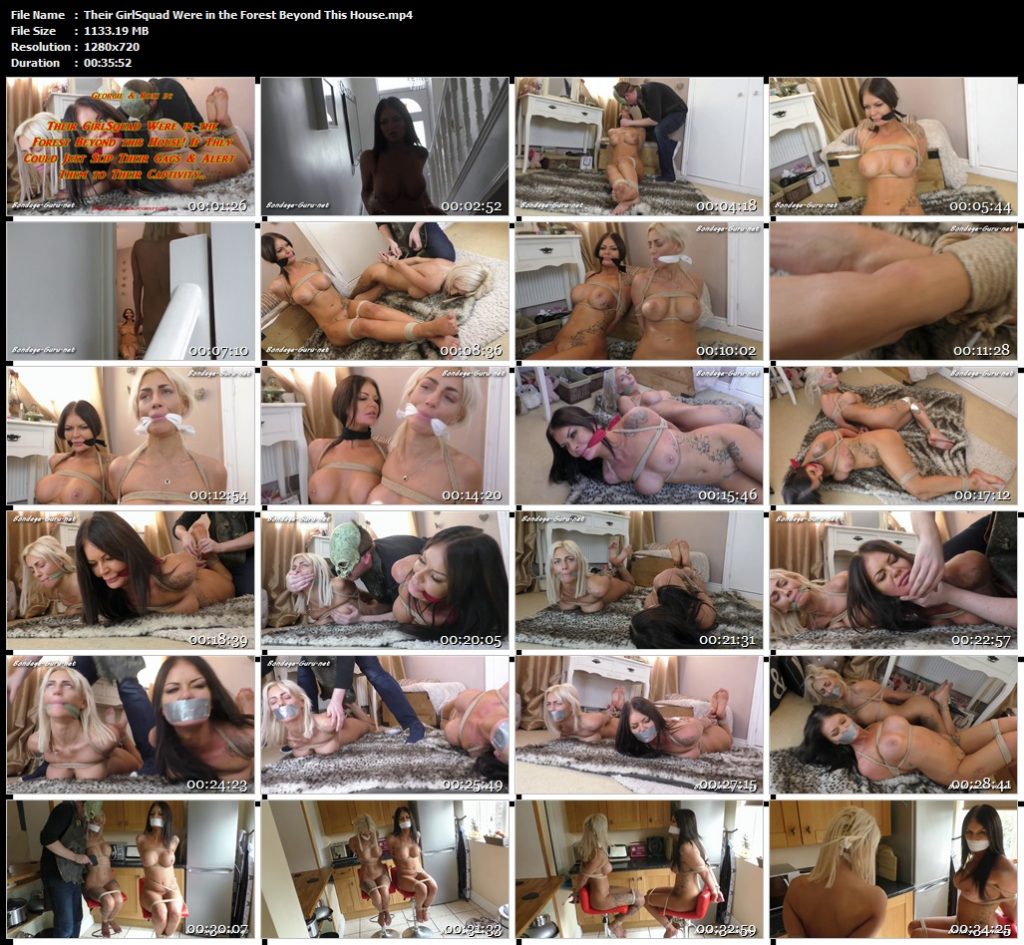 Download link:
Their_GirlSquad_Were_in_the_Forest_Beyond_This_House.mp4