Gag Attack – Rachel Adams – Catsuit Burglar Taped HD
Gag Attack – Rachel Adams – Catsuit Burglar Taped HD
Rachel is a captured catburglar she is tied heavily with duct tape. When her captor enters the room he starts immediately with stuffing her mouth with a black sponge and tightly wraps around duct tape as a wrap around gag. He leaves Rachel alone to struggle and she does that as much as she can in her tape bondage. She looks around while MMMMMPPPPPHING giving you a good side profile view on the tightly wrapped gag. Rachel's situation is helpless but she doesn't give up and struggles as much as she can. Her gag is slowly removed layer for layer.
The tight wrap around gag makes place for a thin black stuffed cleave gag. Rachel tries to speak again through the gag resulting in very muffled gag talk. She continues to struggle without getting any of her ties loosened up. Rachel bounces on the sofa while trying to talk as much as she can through the tightly secured cleave gag. She hopes someone will hear her and release her.
Unfortunate for Rachel the only one that comes to her "rescue" is her captor he unknots the cleave gag and replaces it for a stuffed black PVC tape gag with a much bigger pack of black sock stuffing. Rachel tries to protest against this but all her attempts result in MMMMMMPPPHING. She furiously continues struggling knowing that her captor won't let her go. You get a closer view on her gag and how tight it is wrapped around her head. When her captor is done with her he removes the black PVC tape gag slowly layer for layer and leaves her alone.

Starring: Rachel Adams
Size: 751.9 MB
Duration: 00:15:15 min
Resolution: 1920×1080
Format video: mp4
Preview: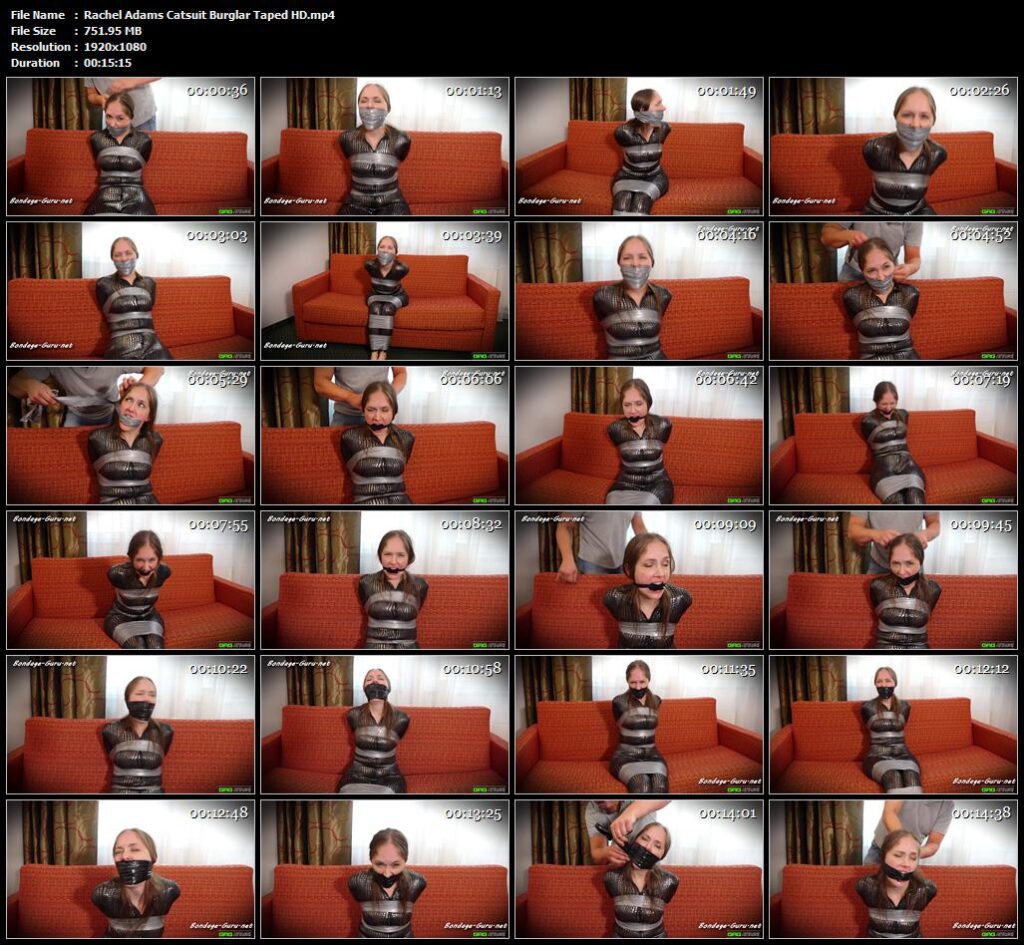 Download link:
Rachel_Adams_Catsuit_Burglar_Taped_HD.mp4