Gag Attack – Penny Lee – Multi Layered Gag FULL 3 Layer Video HD
Gag Attack – Penny Lee – Multi Layered Gag FULL 3 Layer Video HD
Gag 1
Penny is captured and put on a chair with her arms tied behind her back and her ankles tied together. Her captor comes in and starts stuffing her mouth with a big pack of white socks and tightly wraps around very narrow PVC tape as a tight wrap cleave gag. Penny tries to protest but her muffled protest don't have the effect she want to achieve her captor won't let her go. Penny tries working the gag off with her lips that are tightly around the pack of socks that are stuffed inside of her mouth but it is of no use the sticky tape keeps the pack of socks perfectly in place. She gets angry and MMMMMPPPHHSSS a lot through her gag while moving her head and giving you multiple views on the tightly secured gag. All her attempts to talk through the gag end up in MMMMPPPHING she can only wait till her gag is taken off.
Gag 2
Now that she has MMMMPPPPHHDD a lot through her gag she thinks her captor will let her go. But the oppisite is true he comes to add another layer to her gag. There is a big piece of Tegaderm added on top of the already tight wrap cleave gag to keep her lips perfectly in place around the cleave gag. The 2 layered gag looks like it is welded together and onto her face. Penny tries to speak a much as possible through the gag but all that is coming outside of her mouth is loud MMMMPPPHING. You can see her lips trying to work the gag off and you get a good side view on the complete layered gag through the clear tape. Penny doesn't give up easily and gets mad about her situation making all muffled MMMMMPPPHHH sounds while making a lot of angry and DID eye/face expressions.
Gag 3
Penny is now done with being bound and gagged by her captor when he returns to her only to add a bright shiny bandage wrap around gag to her heavily stuffed & gagged mouth. You get a very close up look at the tight wrap gag showing her cleave gagged lips through it while she MMMMMPPPPPHHSSS a lot through it. Penny moves her head around a lot while MMMPPPPHING showing you all sides of the tightly wrapped multi layered gag. She tries to gag talk through the gag but all that is coming out of her mouth are muffled sounds. Penny plays a lot with her eyes while she MMMMPPPPHHSSS through her gag. When her captor returns he is finally going to remove the tight multi layered gag. He starts by slowly unwrapping the pink shiny bandage layer by layer. When he is finished with removing the bandage around Penny's head he slowly pulls off the Tegaderm that is welded to her face and to the wrap cleave gag. When the top 2 layers are almost completly removed it is time to remove the tight cleave wrap gag layer for layer Penny hates this and her captor pulls out a few hairs in the process of removing it. When the last layer is removed the pack of wet socks is shown to Penny and she gives a disgusted look at it and tells her captor to let her go.

Featuring: Penny Lee
Size: 715.5 MB
Duration: 00:14:20 min
Resolution: 1920×1080
Format video: mp4
Preview: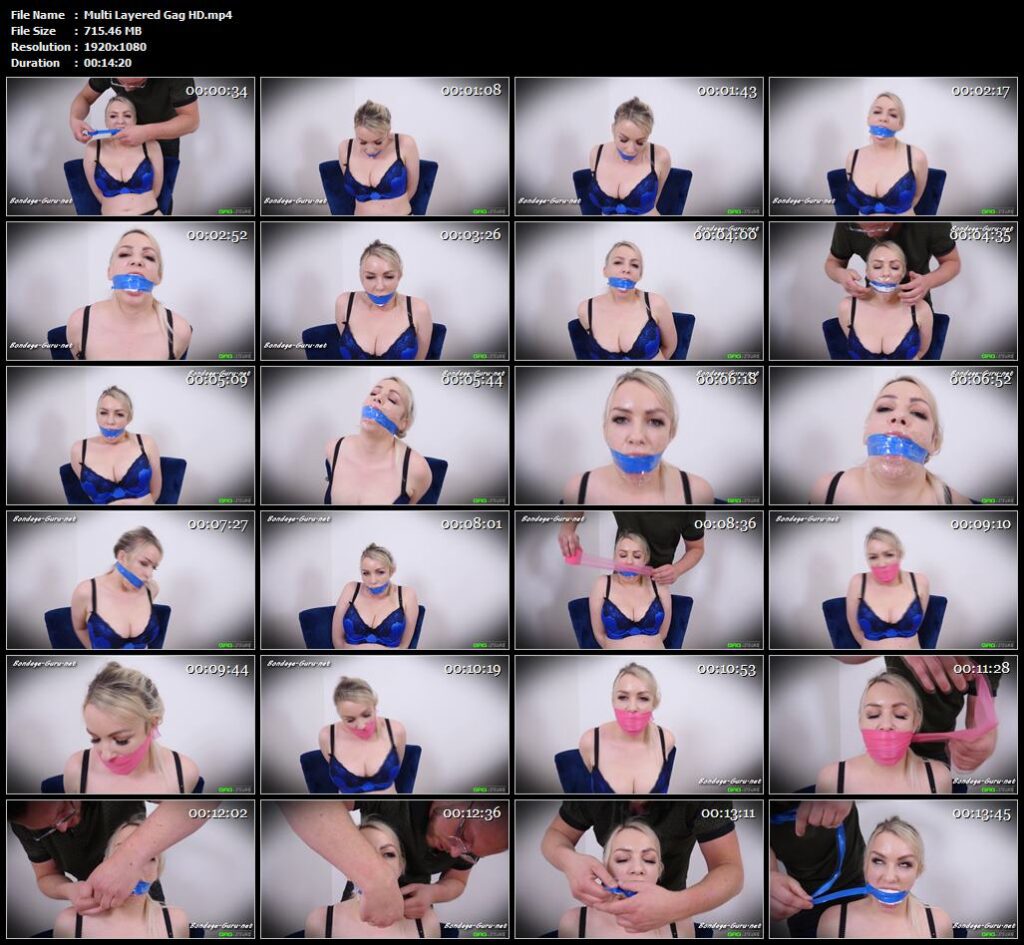 Download link:
Multi_Layered_Gag_HD.mp4