Gag Attack – Danielle Maye – Tegaderm Tape Gagged FULL 3 Gag Video HD
Gag Attack – Danielle Maye – Tegaderm Tape Gagged FULL 3 Gag Video HD
Gag 1
Danielle is captured and tied with her arms behind her back and her legs together. She pleads her captor to let her go but he doesn't listen to her. He packs a white sock inside of her mouth and commands her to close her lips together and keep them together. After that he puts a big piece of Tegaderm on her face covering her lower part of her face. Now that Danielle is gagged her captor leaves her alone to gag talk through her stuffed clear Tegaderm gag. You can see all lip movements of Danielle and her attempts to get the very sticky clear tape off. She does this all as an helpless DID MMMMMPPPPHING through her sticky gag. She can only hope that her captor will let her go soon.
Gag 2
Danielle is done with being gagged and let's her captor know. He is still not listening to her and decides to put a big black rubber ball in her mouth and puts a big piece of Tegaderm on top of it. All gag talk of Danielle is very muffled now and there is no way she can get this big ball out of her mouth with the sticky tape on top. She tries hard to talk through her very heavily stuffed mouth giving a lot of helpless looks. Danielle tries to work the gag out someway but all her attempts are futile. You see her beautiful lips stretched over the big rubber ball while she is MMMMPPPPHING the whole time.
Gag 3
Danielle's captor comes back and she hopes he will take the big ball out of her taped mouth. But he isn't planning on doing so. He grabs a roll of narrow black PVC tape and wraps the sticky tape tightly around her head. She switches to being panicked about the double layered heavily gag and starts MMMMMMPPPHING a lot through her wrap gag. Danielle does her best talking through her gag but there is only muffled gag talk coming outside of her gagged mouth. The black tape is wrapped so tightly that you can see the imprint of the ball and her lips tightly closed around it. Her captor comes back to remove the tightly secured ball by slowly unwrapping the black PVC tape. Danielle's Tegaderm tape gag is slowly removed as well and she has to spit out the ball before her captor takes off to leave her helplessly bound.

Starring: Danielle Maye
Size: 736.6 MB
Duration: 00:14:54 min
Resolution: 1920×1080
Format video: mp4
Preview: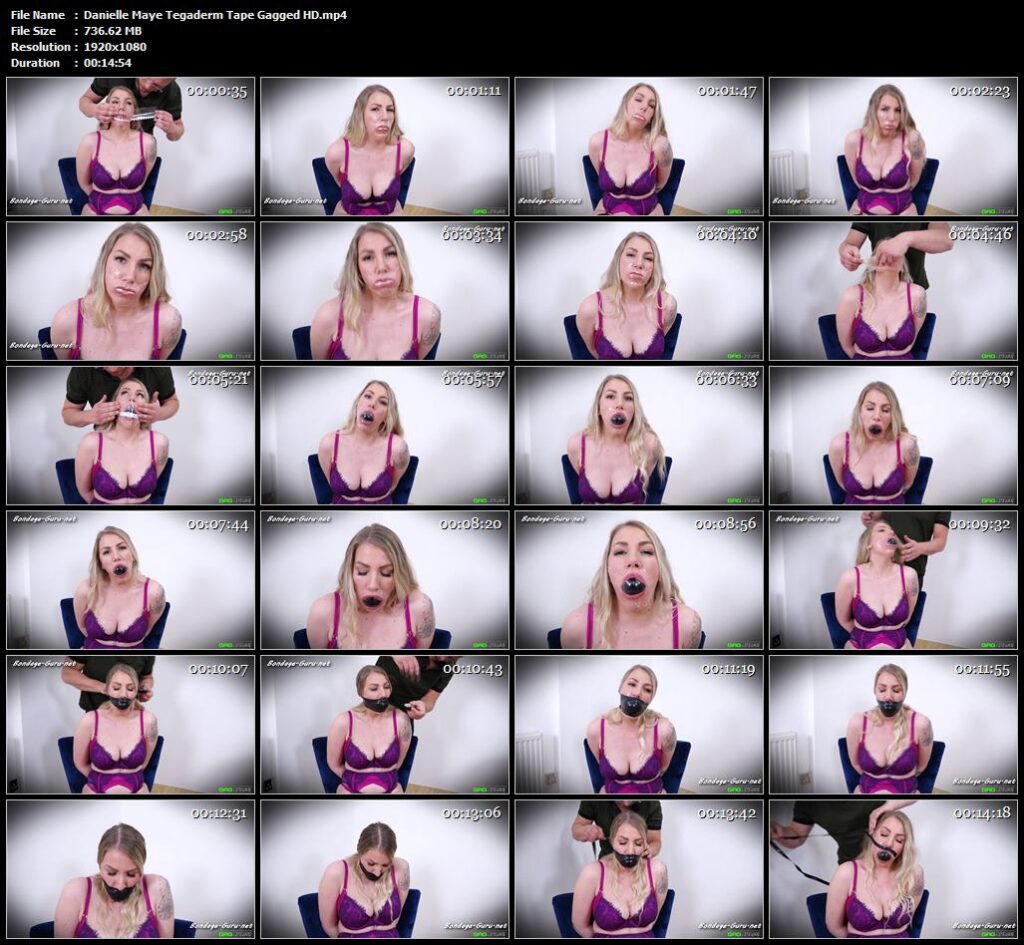 Download link:
Danielle_Maye_Tegaderm_Tape_Gagged_HD.mp4