Gag Attack – Chloe Toy – PVC Tape Gagged HD
Gag Attack – Chloe Toy – PVC Tape Gagged HD
Chloe starts off with an already applied tight stuffed black PVC tape wrap. She tries to speak through the gag but is unable to do so. Chloe struggles on the chair trying to loosen her wrists but all her attempts are futile. you get a closer look on the tightly applied cleave wrap gag before it is removed by Chloe's captor.
Her mouth is stuffed with a huge pack of socks her mouth open and making it already unable to speak for her. There is a duct tape wrap gag added to keep the packing secured in her mouth. Chloe does her best speaking through the tightly secured gag but all her attempts result in MMMMPPPPHING. While not being able to get out of her ties or get the tight sticky gag off Chloe turns even more helpless. Her gag is slowly removed and the mouth packing is taken out.
Chloe is about to get her third and final gag. There is a huge pack of socks stuffed inside of her mouth and there is clear PVC tape wrapped around her head as a tight wrap gag. Chloe tries to get out of the ties even more without any succes. All her gag talk results in mmmmpppphing while you get a good look at her gag. Chloe is really unable to do anything at all besides muffled gag talking and struggling till her captor returns… When he returns he removes the wrap around gag slowly and leaves Chloe tied on the chair.

Starring: Chloe Toy
Size: 742.5 MB
Duration: 00:14:52 min
Resolution: 1920×1080
Format video: mp4
Preview: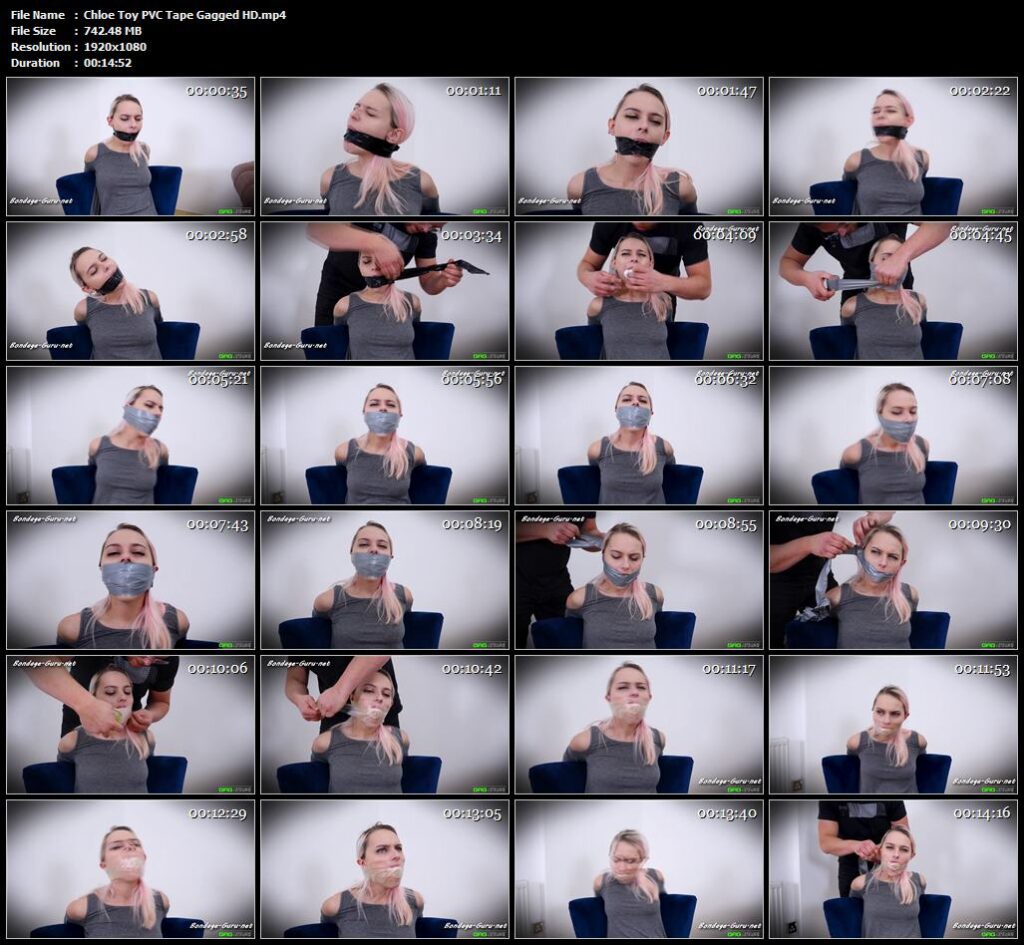 Download link:
Chloe_Toy_PVC_Tape_Gagged_HD.mp4