Felicia's Mandatory Exercise Program – Felicias Best Fetish Friends
Felicia's Mandatory Exercise Program – Felicias Best Fetish Friends
I guess I did a great job with the gags because my employer, Gagme, Please, Inc., promoted me! With my yoga experience I now manage their employee exercise programs, & love it!
But as a Manager, it's harder for me to do the yoga I enjoy, so my bosses wisely require me to do an Advanced Compulsory Yoga class, every day at 3pm.
Whatever else I'm doing, I have to stop & make myself ready in time to be bound & gagged at exactly 3 pm. I tie my own ankles & gag myself, then wait, in the proper position, for the staff binders &riggers to make it to my room & finish the job. They have to tie up several of us in the program, so I wait my turn.
This gives me a great opportunity to relax, reflect on the day & get my thoughts together, on company time! I love it.
This day, the "time bell" sounded, but then I realized… it was a fire alarm! I struggled with everything I had, the hogtie ropes wouldn't budge, not even my elbow bindings that framed my chest. I was stuck good! Since I had a latex penis gag in my mouth, I couldn't eject it to call for help. I could hear the other girls in the building evacuating. I struggled fiercely, rolling around, fighting the ropes & gag. It was awful!
Then they announced it was just a drill. Since I wasn't able to escape, I guess more practice is in store for me!
I'm in my business suit with super short tennis skirt, true 5″ stiletto sandle-strap, heels, & white blouse. I strip off my jacket so the ropes are tighter on my body.
I really really couldn't escape, & I really really tried!!

Starring: Felicia
Size: 1.12 GB
Duration: 00:30:28 min
Resolution: 1280×720
Format video: mp4
Preview: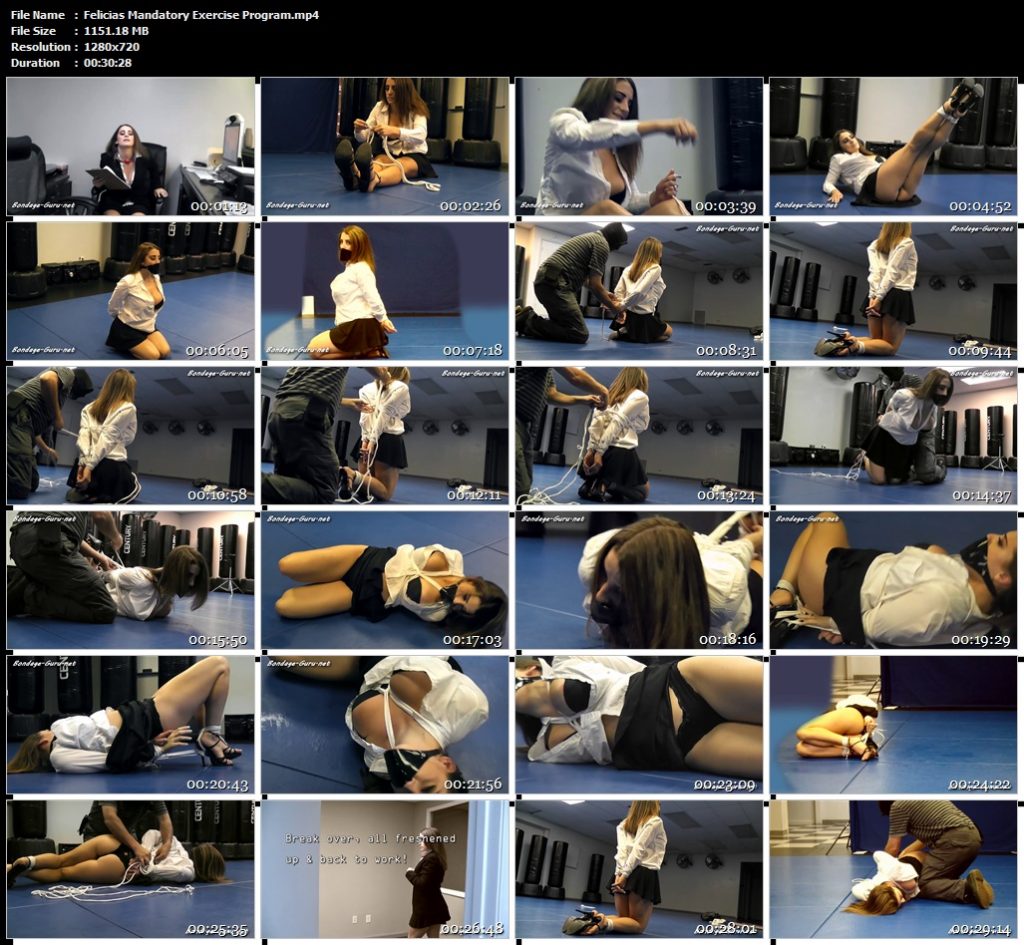 Download link:
Felicias_Mandatory_Exercise_Program.mp4