Felicias Best Fetish Friends – Lucia's Mandatory Exercize in Room 3 – Complete HD version
Felicias Best Fetish Friends – Lucia's Mandatory Exercize in Room 3 – Complete HD version
Now I manage Gagme's "Mandatory Exercise Program" of the girls here. Some businesses have mandatory sabbaticals so employees don't burn out. We do the same, on a daily basis. Burned out girls are no fun at all. We keep them live & perky this way.
We proudly put our girls, like Lucia here, through some exercise to let them contemplate the day, to relax, to refresh themselves from the stress of their jobs.
She doesn't really have a choice in the matter, of course, as you can see, but that utter helplessness just seems to add to the therapeutic benefit.
This is a rare "insider" view of our Exercise Room #3, padded so as not to hurt the girls as we thrash about.
For Lucia's exercise session that day, I had her wear her denim shorts that were essentially painted on her, a cut off, under-boob t-shirt top, 6″ stilettos, & had our professional riggers finish her off with a leather head harness ballgag (with the additional Gagme-tighter ball strap in front), a blindfold, arm-binder (armbinder), & her ankles are cross-tied with electrical tape & her head pulled back to her ankles (because she was complaining, ha!)
I make the girls dress this way because it makes them uncomfortable – it takes them out of their business suit comfort zone. And I've found that the under-boob tops add a little "edgy" concentration to us when we're bound this way. We don't want nipples popping out, but what can we do? It really takes a girl's mind off the world. And talk about live & perky.
All of us enjoy the daily experience. We're more focused this way & able to do our jobs even better. In fact, in this clip, Lucia even asks us (through her gag) to go pick up a cheeseburger for her while she's bound tightly in exercise.

Starring: Lucia
Size: 1.1 GB
Duration: 00:29:54 min
Resolution: 1280×720
Format video: mp4
Preview: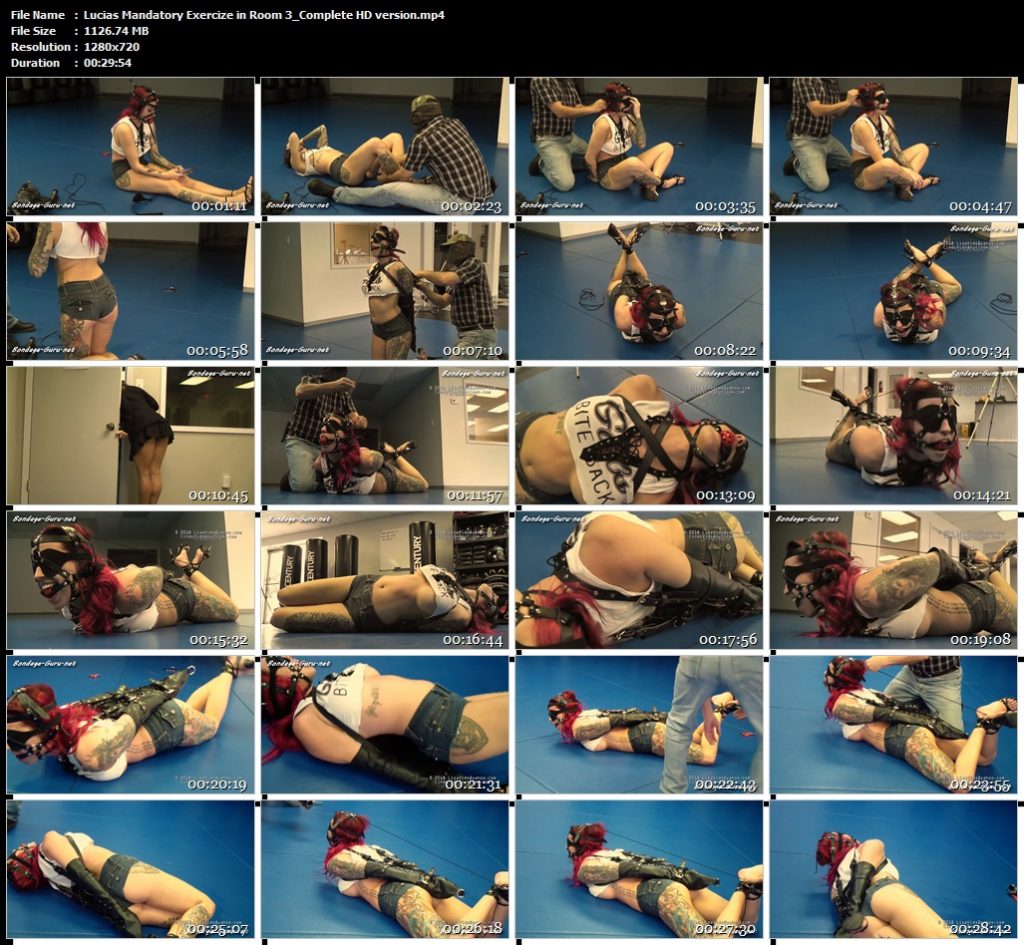 Download link:
Lucias_Mandatory_Exercize_in_Room_3_Complete_HD_version.mp4