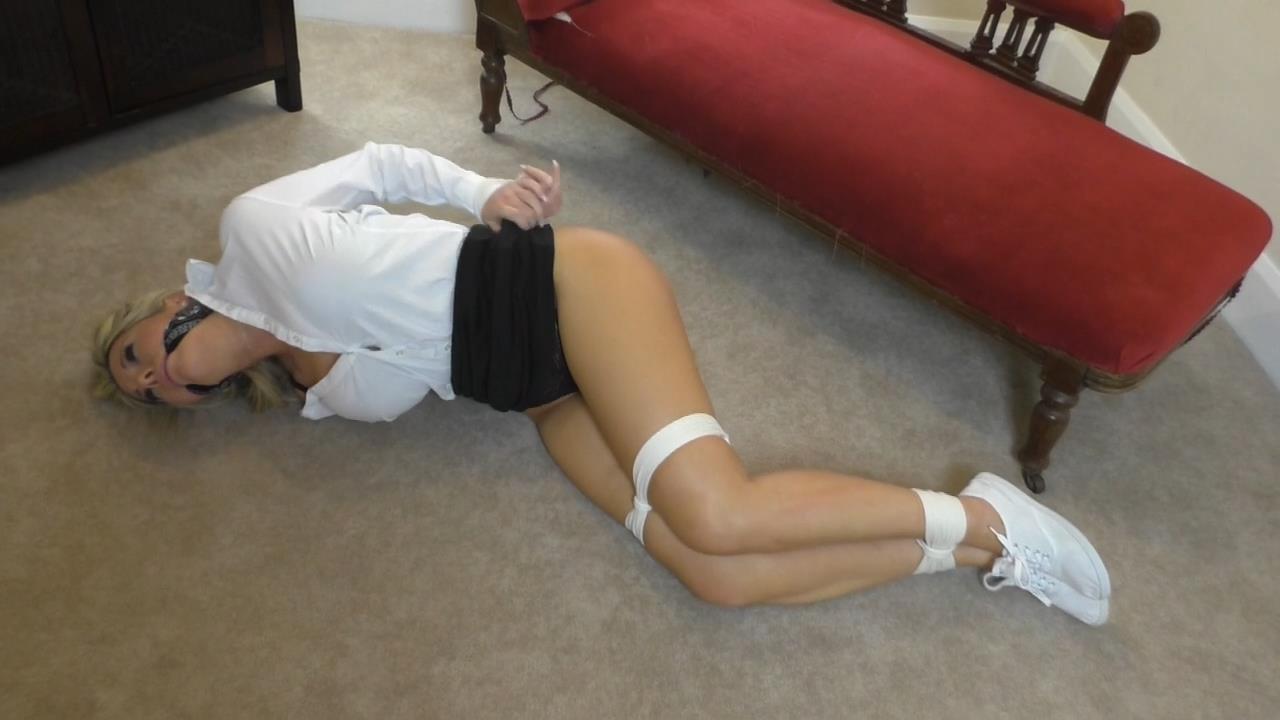 Emma in: The Ill-Fortuned Hairy Arms Hotel is Back in Business… But So is a Shadowy Thief Intent on Subduing any Sexy Snoops Who Might Stray into His Path! (Full Adventure)
Emma in: The Ill-Fortuned Hairy Arms Hotel is Back in Business… But So is a Shadowy Thief Intent on Subduing any Sexy Snoops Who Might Stray into His Path! (Full Adventure)
Parishioners of the church of Borderland may remember several thrilling adventures revolving around a gloomy old hotel on the outskirts of town known as the Hairy Arms. Having spent the past few years trying to rebuild their reputation after a bizarre series of robberies that seemed to target attractive female guests of the hotel. In each instance the unsuspecting beauties were grabbed by a weird man in a mask (with a bad sense of humour we may add), bound and gagged with lengths of cloth pulled tight in their mouths. The strange man then made off with any valuables, such as cash, jewellery, panties etc.
The lovely ladies unable to stop him were left to be found by the maid service the following morning. Unfortunately for management, these brazen acts have begun once again, with three in the past week alone. Believing it to be an inside job, and not wanting any negative media attention, they place a call to a local all girl detective agency. The agency dispatches one of their finest detectives, striking, hugely busty blonde Emma C to the hotel. Arriving at the hotel, undercover, dressed as one of the hostesses, consisting of a crisp white blouse, tight black skirt and gleaming white canvas pumps on her feet, Emma begins to have a look around. Normally the agency would send at least two girls on such a dangerous mission, but due to budget cuts etc. Emma will have to go in alone.
Sexily moving through the dark halls (can't someone replace a light bulb around here?), the lovely Emma is well aware of the fact that several of the other girls from the agency, who tried to crack this case ended up tied and gagged similar to the ladies who were robbed!! Hell it even happened to her a few years back!!! Finding a room, cordoned off for renovations at the top of the stairs (Room 1313 to be exact), Emma cautiously enters. Inside the room she finds several coils of rope along with lengths of cloth and bandanas. She is positive this is where the crook is running his operation.
Picking up one of the bandanas Emma checks its effectiveness by pulling it between her teeth, yes this would definitely keep a girl quiet in one of these almost soundproof rooms (they are built this way to dull the noise of squeaky bed springs and such). Before she can even turn around the masked man is upon her clamping a clammy hand over her warm full mouth!!
Within what seems like seconds pretty Emma is tied hand and foot on the floor! Emma launches a verbal barrage at the crook, who is none other than the shady contractor Gerald Galapagos (of Galapagos & Son), who has been hired to perform renovations at the hotel. Old double G is not going to allow this tough talking little beauty to foil his rather lucrative operation so he grabs the very black bandana which Emma had tried on for size a minute ago, and pulls it tight between her teeth, knotting it behind her head! Emma is furious! Once Gerald leaves the room, our brave girl detective struggles wildly. She must get free and stop this fiend…
Emma mmmppphs and struggles biting hard on the tight bandana desperately trying to free herself. After a bit Gerald returns. He needs to spirit the wildcat off to a more secluded area of the hotel, so he unties her feet and marches her off to a musty old storage room where she will remain until his crime spree is complete.
Now Emma is back on the floor. Gerald pulls the tight gag from her mouth, but quickly replaces it with a band of white cloth pulled tight across her mouth detective style! How fitting…
Emma struggles and fights and after a few minutes or so manages to slip the cloth from her mouth and immediately begins calling for help!! Old Gerald hearing the commotion rushes back into the room. He takes the white cloth from around Emma's neck and rolls it into a tight band and pulls it cleave gag style between her teeth! That ought to hold our little spitfire! With that done he heads off to complete his tasks… Now, you might want to complete YOURS, courtesy of the stunning Emma C. She never disappoints.

Starring: Emma C
Size: 1.19 GB
Duration: 00:28:22 min
Resolution: 1280×720
Format video: mp4
Preview:


Download link:
The_Ill_Fortuned_Hairy_Arms_Hotel_is_Back_in_Business.mp4 – 1.19 GB