Daisy in: The Deeply Sexy Trussed Up Dominatrix Robbery Caper: Gag Me Harder, You Pathetic Loser!! – Borderland Bound
Daisy in: The Deeply Sexy Trussed Up Dominatrix Robbery Caper: Gag Me Harder, You Pathetic Loser!! – Borderland Bound
Perfectly-chiseled goddess Miss Daisy Dillon is bound, gagged and humiliated, drooling helplessly all over her big tits. but the really hard stuff is coming later, in her bedroom. Can she handle it?? She certainly knows how to talk tough. Let's see how she does with a seriously tight gag or several in her fat sexy mouth. Her busty, immaculate body bound with ropes, she is used to wielding the whip, but today, at the hands of a depraved punter who likes to think of himself as the Bondage King, she is about to discover how it is to be the captive! Buckle up for this. It's pretty damned epic!
We commence with the beautiful dominatrix in thigh high black velvet boots, thighs crossed, glancing at her watch. MuttonFace (her slave nickname for this latest prick) has thus far failed to show. She is getting more and more annoyed when he finally (and airily) breezes in through the door and apologises for his tardiness. It isn't good enough, of course, and the mistress reams his sad little ass out, but she notices he is far from caving. In fact, he is sassing her right back!
Daisy goes into a controlled rage at his insolence, and then promptly discovers the wrath this has incurred. A persuader is leveled at her, and she is forced to submit, hands the fuck up. Now he's gonna tell her how it's gonna be! Daisy, far from fearful, actually encourages the bastard to do his worst – and he does! With the buxom, thonged-up topless stunner all roped on a chair, he violently gags her with a thick knotted cleave. Daisy dares him and he goes for it.
The hot goddess is outraged by his malevolence but kind of gets into it too. Anger often turns to smugness. Yeah, she can take this! Then, again raging through the thick, overpowering gag, she rocks that chair. Next up is a juicy rubber bit gag, which she bites into repeatedly and oh how that drool flows, all over her massive titties. Next, it's a ballgag, and you can safely assume more of the same. But this bitch is fuming and she WILL get free.
Eventually, Mistress Dillon slips a hand free and the rest is cream cheese! Removing her wrist restraints, she sets about untying her legs, and seemingly enjoying having that thick rubber ball between her teeth, leaves it in as she head downstairs to try and escape. But guess who joins her in the vestibule? At persuader-point once more, Daisy is forced to remove her panties and gag herself with them. She is then marched upstairs.
Crotch-roped for her impertinence and bound up, the beauty is tossed onto a big bed and hogbound, all the while gagging on her stuffed in undies. She bucks and twists as the King controls her ass. Speaking of which, you can be sure that THAT peach pumps around out of control! Mmmmmmm. He then leaves her for a moment while he fetches something else from his bag of tricks.
Daisy, all gagged up, helpless and confused, wonders just what it might be. Soon enough, he returns with a big reel of ultra-sticky silver tape. Fuck, she thinks. What does he plan on doing now?? He shows her. Seizing the struggling girl, he massively cleave wrap gags her, wrapping that fucker around her mouth and head again and again. The naked women, all crotch-roped and booted into a prize hogtie indeed, squirms ferociously., But it is no use. He is gagging her harder than ever. Just as she dared him to!
Daisy is left pigbound and severely gagged, and she spends some time going for it, trying to swear at him, furious. She is so effectively muzzled, however, we can understand not a syllable! She is even more outraged by this, and continues at pace. To further inconvenience the buxom bitch, the King here blindfolds her and leaves her like that, after utterly robbing her pad! Insane with anger, Daisy bucks hard, disbelieving of his audacity, and swearing she'll get even. She'll have a bit of a wait on that though, we think. Serves her right for being such a curse-happy witch? YOU decide when you can make it back up off of the floor. Whoa, Daisy. You are special!

Starring: Daisy Dillon
Size: 1.5 GB
Duration: 00:30:15 min
Resolution: 1920×1080
Format video: mp4
Preview: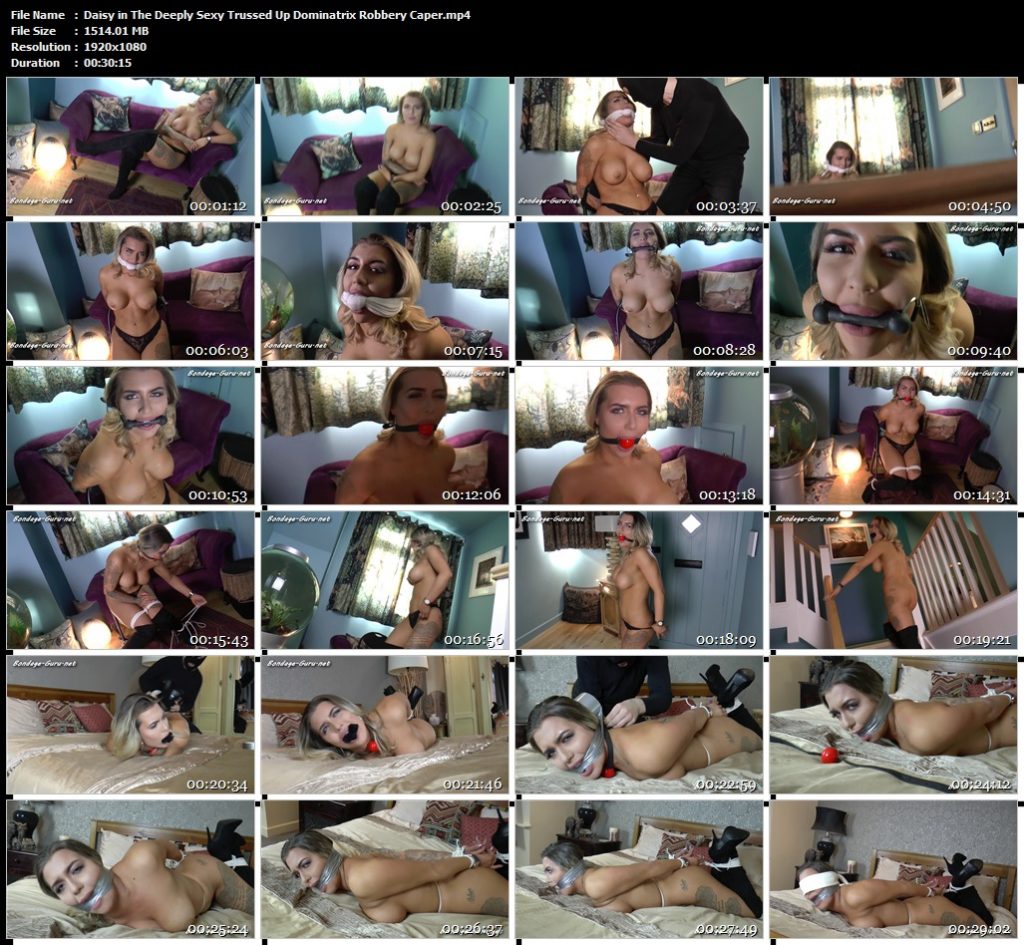 Download link:
Daisy_in_The_Deeply_Sexy_Trussed_Up_Dominatrix_Robbery_Caper.mp4