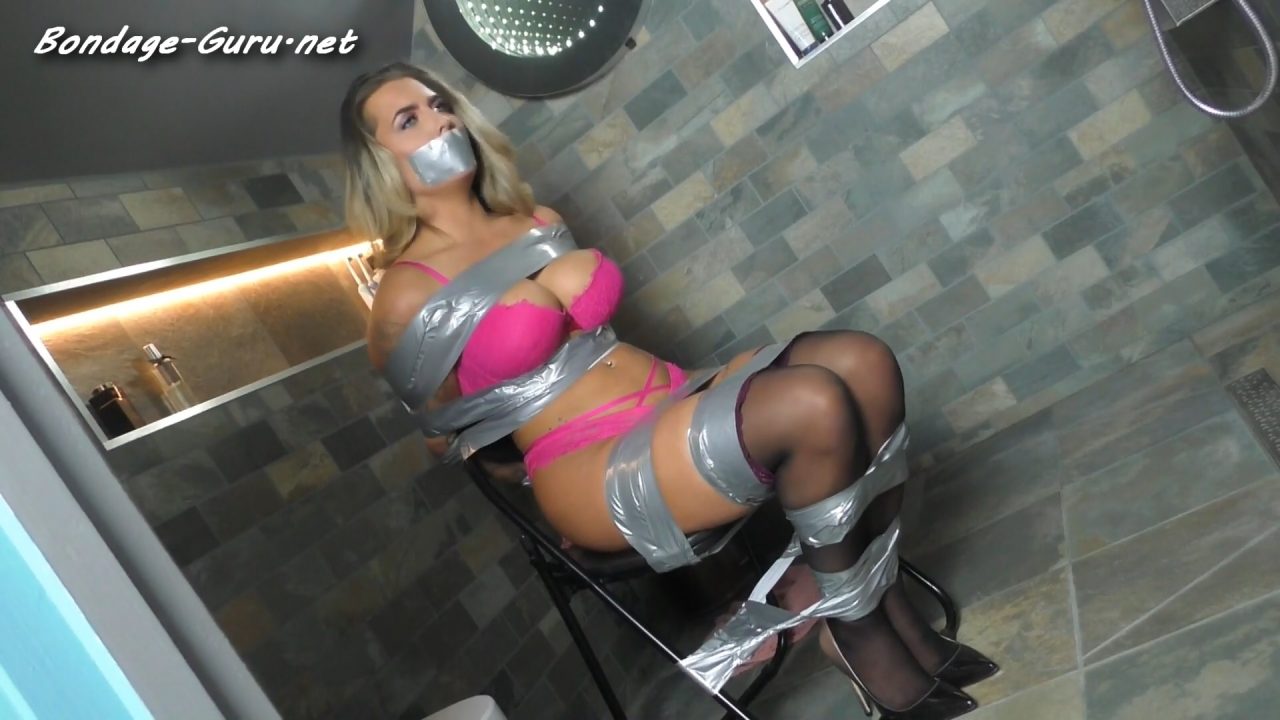 Daisy in: Hot Humiliated Big-Boobied HouseWife Discovered All Taped Up in Her Underwear, Her Jewellery & Jaguar Stolen! – Borderland Bound
Daisy in: Hot Humiliated Big-Boobied HouseWife Discovered All Taped Up in Her Underwear, Her Jewellery & Jaguar Stolen! – Borderland Bound
Struggling urgently, securely wrapped up on a chair with silver tape, even more slapped over her mouth to keep her ass quiet, feisty forced to strip housewife Miss Dillon is on epic form. That face says it all, but that body talks just as loudly, which is more than can be said for her hot, sassy mouth right now. Yes, well-gagged she is, helpless and on show for us all to enjoy!
Magnificent, well-endowed Daisy returns in this latest kinky Borderland crime caper. We kick straight in as she enters her residence after a morning's shopping at Selfridge's. She's a wealthy accounts manager and has also just purchased herself a new Jag, parked, motor cooling, out on the driveway. She intends to make herself some dinner and then head back out for a meeting with a client. A desperate house burglar on the run from the cops, but who now wants to make several last scores before he flees the area, is going to change her plans!
With the beauty overpowered from behind, the fiend zip ties her wrists behind her back and gags her mouth with several strips of tape. Daisy pouts – something she does all too well, as he herds her quickly up the main stair case and shoves her into her bathroom. Mmmmmppphhhing into the tape over her mouth, the incensed beauty hears the sound of tearing tape from nearby and knows he means to bind her some more, but first she must strip!
Ah yes, the ol' forced to strip routine. We love that here t Borderland Bound. Something very exciting about an apparently unwilling maiden humbling herself upon demand, stripped to either her undies or nothing at all. At least this guy lets her keep her knickers and bra on in this instance – oh, and those stockings and heels – he likes those, so she gets to keep them too. With her hands up in surrender, as ordered once more, Miss Dillon must sit and be bound up to her seat.
The burglar mocks her helplessness and muses over what a fox he has caught in this particular henhouse. The, he leaves, closing the door behind him! Daisy stays, and so do we. The statuesque stunner wriggles and writhes all taped up to a chair. She tries to mumble her dissent frequently, at times desperate, at others just plain enraged. We can't blame her either. This fucker is going through her bedroom up there on the third floor, clearly after her big jewellery box!
Later, and the struggling Daisy glares at him as he returns to mess with her. Why won't the creep just leave? He's got what he wants! Turns out he wants more though – like her car keys! Outraged and mmmmmpppphhhhing, Daisy sits powerless and the bastard nicks her Jag. She is all trussed up and nowhere near help, so it looks like it might be quite the stay up here, hidden in her own deluxe bathroom!
How demeaning for the busty Miss Dillon, to be found in a predicament such as this. But WHO is going to find her? Though she has just been speaking with her husband, he is golfing for the weekend at St Andrews. He'll be calling, for sure, but she won't be answering like this! Bound and gagged then until Sunday afternoon?? Harrrummmmpppphhhh!!! She thinks not. But we'll see, eh Cutie-Pie? Ahh, Big-boobied Miss Daisy Dillon wrapped up like a present. Don't we spoil you?

Starring: Daisy Dillon
Size: 954.53 MB
Duration: 00:16:50 min
Resolution: 1920×1080
Format video: mp4
Preview:


Download link:
Daisy_in_Hot_Humiliated_Big_Boobied_HouseWife.mp4