Daisy (Feat Taylor) in: Obsessive Fiction: Dreaming of Her Gorgeous Feet, He Wrote Tales in Which She Was Bound & Gagged! – Borderland Bound
Daisy (Feat Taylor) in: Obsessive Fiction: Dreaming of Her Gorgeous Feet, He Wrote Tales in Which She Was Bound & Gagged! – Borderland Bound
Incredible big-boobed naked beauty Daisy has a tight cloth gag in her mouth. She's confused, unable to speak, bound hand and foot with coarse hemp; her beautiful bare toes lashed together with twine. She's helpless, and it's almost as though SOMEBODY is controlling a thrilling bondage script for her.
A suspicious cloth around her throat, stripped naked Daisy Dillon is confused. What has happened to her?? She must cover her dignity and find out! But before she gets this far, a hefty hand covers her mouth and she is dragged away kicking and struggling. And so it has been written! Mr Ronald 'Pancake' Higgins is the one doing the writing too, which means that Daisy's sensual bare feet and waggling, painted toes are gonna be a BIG focus.
In his fevered imaginings, the pretty girl down the street not only talks to him, but allows him to watch her naked, and to admire, with his tongue sticking out, her unfettered feet. In reality, she has barely glanced at him and his mind is working overtime at the perceived rebuffing. There has to be some way he can restrain her, and then enjoy her feet. He knows what he'll do. He'll get it all down on paper, and thus Daisy becomes his star!
Higgins takes up with the busty siren being hogtied and toe tied in a back room by a burglar. The guy wears a mask, and threatens her, just as Higgins himself would like to if he had any fucking heart at all. But instead, he lives through this fantasy, which is really how it should be, naturally. Daisy squirms and tries to remonstrate with him, but he has her gagged up good. A white cloth has been tied super tightly between her teeth and she is well taken care of. Good. For this guy wants not just her stuff, but to have fun with those succulent feet!
Tying her two big toes together as she wriggles against him, mumbling around her gag, he leaves the bound and gagged girl for us to admire through the pages of his mini-movie transcript – and admire we will, thank you! As the amazing Daisy's bare, bound feet fill our minds, we know that there will be even more to follow. But right now, she is alone, squirming that perfect – just perfect – body around, all tied up and silenced. She knows we are watching, we think, because she glances at us in between mmmmppphhhs, perhaps wondering if we like her feet?
While the bound and gagged beauty surges back and forth on her big tits, the next tale is being woven. This one involves huge-knockered blonde Taylor. She's naked too, surprise surprise, and she is presently being hauled by her ankles into a darkened cupboard. So this time the fictional crook has caught himself a second hot girl. And now, back to the first! SHE is trussed and gagged in a wet room. A thick fuchsia-coloured scarf is tied in her mouth, shutting her up nicely. She watches helplessly as Taylor is roughly hogtied at her twitching toes. Taylor is deliberately positioned right beside those sweet feet, and the pervert tying them up likes that. So does Ronald Higgins, of course. And, so do we.?
Later, and the nude native types are hogtied together, bouncing around, humiliated and gnashing at their tight gags. Cleave gagged into incomprehension, the baffled beauties again wonder what is going on. Daisy and Taylor share an office at work and are the best of pals, but they never could have dreamt they'd be tied up naked together, with feathers in their hair, as some kind of tribal sleuth deal. But Mr Higgins can imagine it. Oh yes. And now, so can we. So as our helplessly bound hotties struggle hog trussed and very tightly silenced with different colour 'hot gags', we believe that Ronald Higgins should write many more stories. Yes, he has a promising career in the kind of literature we want in our lives!

Starring: Daisy Dillon
Size: 1.00 GB
Duration: 00:20:53 min
Resolution: 1920×1080
Format video: mp4
Preview: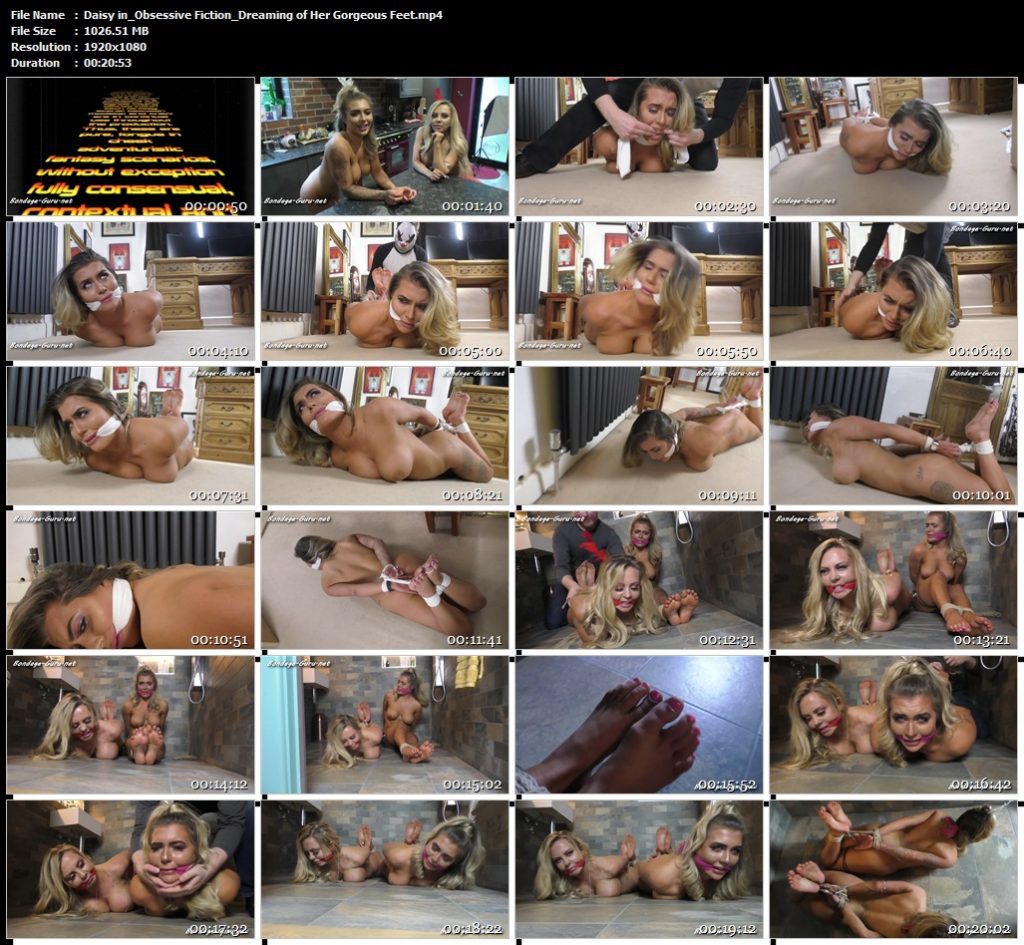 Download link:
Daisy_in_Obsessive_Fiction_Dreaming_of_Her_Gorgeous_Feet.mp4