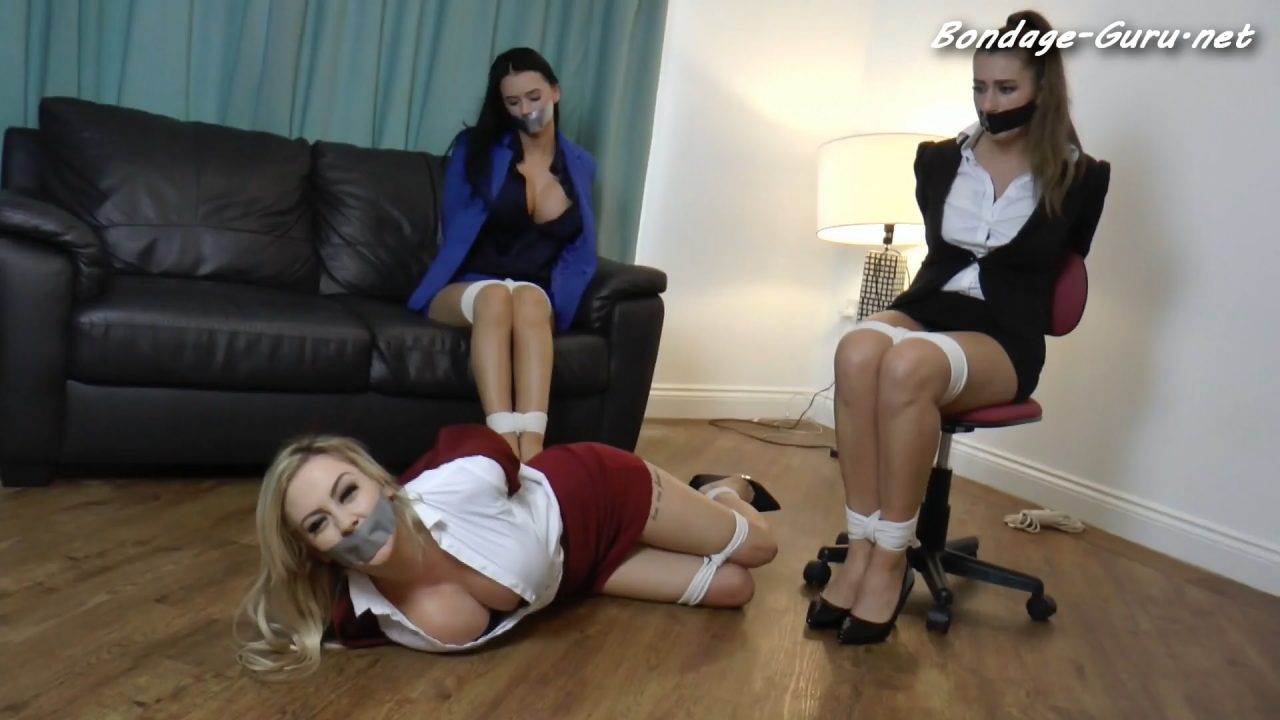 Chloe, Taylor & Pandora in: SpiritFile Ultimate Sexy Lady Reporter Distress ShowDown & A Plan For Young Chloe! – Borderland Bound
Chloe, Taylor & Pandora in: SpiritFile Ultimate Sexy Lady Reporter Distress ShowDown & A Plan For Young Chloe! – Borderland Bound
It's a spirited struggle going on in this bedroom, for sure. Three amazing-looking girls twisting around, variously on a bed and restrained in chairs. All bound. All gagged. Mouths stuffed with old socks. Helpless. In a lot of peril. Especially ultra-buxom Chloe, who the fiend plans on snatching later and taking to a hideout he has in the hills. As the newest reporter on the scene, he believes she'll fetch the most attention. Become the new story… But now, we have THIS story, involving things that go 'mmmmmmmmpppphhhh' in the night…
When last we left the babes, they had been overpowered while on a scoop and a half, involving alleged spooks and a truly haunted house, with the addition of a depraved villain who likes to think he could take Jason out on any given day if provoked. So he's full of himself, and aside from scaring people out of their wits in order to keep them away from the 'SpiritFiles' he knows he cannot scare away these three hot young ladies. So he decides to truss them all up and give himself time to think. He's onto a good thing in this place, and now he's gotta reassess. The girls are summarily gagged and bound in an upstairs bedroom while he does so…
Right now, he's dragging awesome blonde Taylor and remarkable Pandora (oh, Girls, why are you so gorgeous…??) off of the bed by their high-heeled ankles. Both feisty tartlets wriggle and resist, even trying to kick out at him, but they are no match, and are soon struggling in chairs, both having their sticky tape gags ripped from their lips and thick socks plunged deep into their gobs. Concerned Chloe watches all from the bed, helplessly gagged and bound herself, while her friends mouths are bunged up and walled in with a load of even harder tape around their faces and heads. Their cheeks bulge under the intense pressure of these most serious of wrap gags.
The villain then leaps onto the bed with Chloe and roughly gags her the same way. Taking his pleasure with the girls' heaving tits, he leaves them to mumble and buck around in their bonds. They actually tried to escape earlier tonight, and he'll not be allowing that again. Punished by these extreme (oh and they are that) face-bending gags, the ladies, no closer to solving the riddle of The SpiritFiles (neither are we) are part of the story, squirming around most passionately within this eerie house of madness.
The roped up captives frequently attempt to talk with those severe things in their mouths and the results are tremendous. They are gagged harder than ever, and the pressure sure shows. But still, their energy levels are peaking and they kick and twist around some more; especially Chloe, knowing she will be being 'taken' later. The other two gag talk, acutely muffled, from their chairs. They HAVE to save the rookie somehow, but all tied up like this, their mouths fiercely gagged, their chances at being effective are somewhat reduced.
With Taylor and Pandora, struggling tied up on their seats, Chloe is revisited by the crook. He immediately releases her enormous baps and kneads them like big, warm dough. She glares at him, utterly humiliated and grunts her dissent into her tight gag. Then he repeats with Pandora and Taylor, who both look equally unimpressed. If only we could make out what they were saying. Something about how they don't believe in ghosts perhaps? Well they believe in one thing: This guy has got them all good, and now he plans to make off with Chloe. Whether he did or not is neither here nor there. The HERE is going on right now in this back bedroom, where three beautiful women in sexy reporter uniform wriggle and roll and bounce and squirm, totally helpless before the evil glare of their ghost-playing villainous captor… Yes, the scoop on the SpiritFile is now receiving it's own new twist – a trio of stunning tied up ladies, and not many spirits or files!

Starring: Chloe Love, Taylor Rose, Pandora
Size: 1.55 GB
Duration: 00:42:07 min
Resolution: 1920×1080
Format video: mp4
Preview: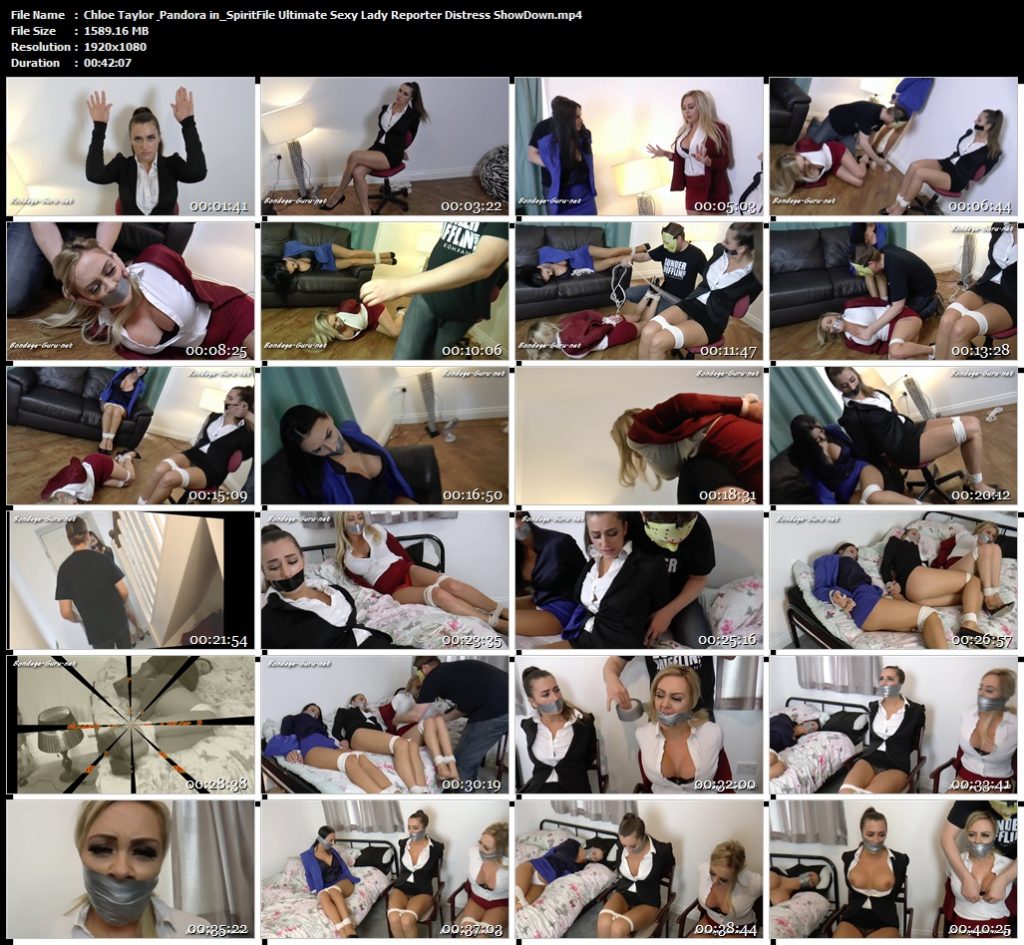 Download link:
Chloe_Taylor_&_Pandora_in_SpiritFile_Ultimate_Sexy_Lady_Reporter_Distress_ShowDown.mp4