Chloe & Rebecca in: So Which One is the Heiress?? Better Take Them Both – We'll Deal With it When We Get to the HideOut! – Borderland Bound
Chloe & Rebecca in: So Which One is the Heiress?? Better Take Them Both – We'll Deal With it When We Get to the HideOut! – Borderland Bound
Two beautiful blonde girls are gagged and tied naked on their beds. Bemused and panicking, their mouths crammed with socks and taped the fuck shut; they squirm helplessly, knowing that they will soon be taken. The only thing is, are their dumb 'takers' aware of exactly which one is the Topaz Heiress?? No, they are not, which is why they are spiriting away both!
That afternoon, stunning Lady Lawyers Chloe and Rebecca, immaculately-sculpted cuties who know every inch how good they look, are lying around on Chloe's big soft bed. Showered and discussing their latest potentially dangerous case – and heading out to the new bistro bar in the City – they first believe they'll have a little nap! Yes, that will be a good idea. They're tackling a big one at the moment which may or may not be connected to what is about to transpire.
Gorgeous Rebecca saunters off, gracing us with her tight little ass as she heads up to the third floor, where she is staying. But both chicks are being watched, and are in clear and present danger. And, after they are asleep, they'll soon discover this!
Stealing first into Chloe's room, two miscreants on a mission carefully bind the dozing beauty hand and foot. When she stirs, they quickly gag her moth. Stuff. Tape. Done. "Ggggrrrmmmm!!" Unable to resist feeling the captured babe up, they leave her writhing around on her bed and creep up to deal with snoozy Rebecca. She too is almost completely tied by the time she realises what is going on. She too is stuffed and gagged up, her hot little titties mauled and pawed by the perverts. So now they have both babes bound and gagged, before they even asked which one they should be taking with them!! In the confusion, the crooks decide to take both – they also take some pictures, to show to the tycoon father of whoever they are after here!
Rebecca twists and strains gagged and trussed on her bed. Shocked and powerless, she mumbles into her gag and hopes that they haven't hurt Chloe! Then they are back for her. Picking the wriggling beauty up under the arms and at the ankles, they bundle her off to their waiting van. Chloe is similarly snatched, carried away kicking and squirming, and now it's time to get back to the hideout!
Once in the crooks' lair, both babes are dragged by their feet into a back room and heavily restrained on the couch and floor respectively as they gag talk and try to resist. They are both swiftly overpowered and soon find themselves extra roped – and groped. Then they are locked inside while the takers here stalk off to start making their demands. They now want cash for BOTH blondes. And if it ain't paid, there'll be big trouble!
Meanwhile, the ladies buck and grind all tied up and sealed up. Gagging on the socks piled into their mouths, they stare at one another, wide eyed and shocked. What do these creeps mean to do to them?? While they mull it over, they sure do seem to be enjoying pumping their crotches about as they struggle. They seem a little aroused by this tight tie up, we have to say, or is that just wishful thinking on our parts? Either way, its seriously, seriously hot and our two tight little cuties know just how to pleasure us with their efforts. Oh yes.
Later, and the pair are in for another surprise. The bad guys enter the room and immediately seize beautiful Rebecca. They are convinced, due to her description as being nice and tall, that SHE is the heiress. They haul her off to another room where they gag her again, with a thick white handkerchief, and prepare to take more shots of her. They'll surely receive an absolute fortune for her safe return. As for the other chick tied up back here, well, she too is BOUND to fetch a pretty penny herself, right? Like that? Witty aren't we. Now, enough out of us. You really, really need to get right on this one, don't you? We gladly step aside for you. Come on in. We have two.. bound young ladies waiting to be meet you.

Starring: Chloe Toy, Rebecca Leah
Size: 1.47 GB
Duration: 00:26:29 min
Resolution: 1920×1080
Format video: mp4
Preview: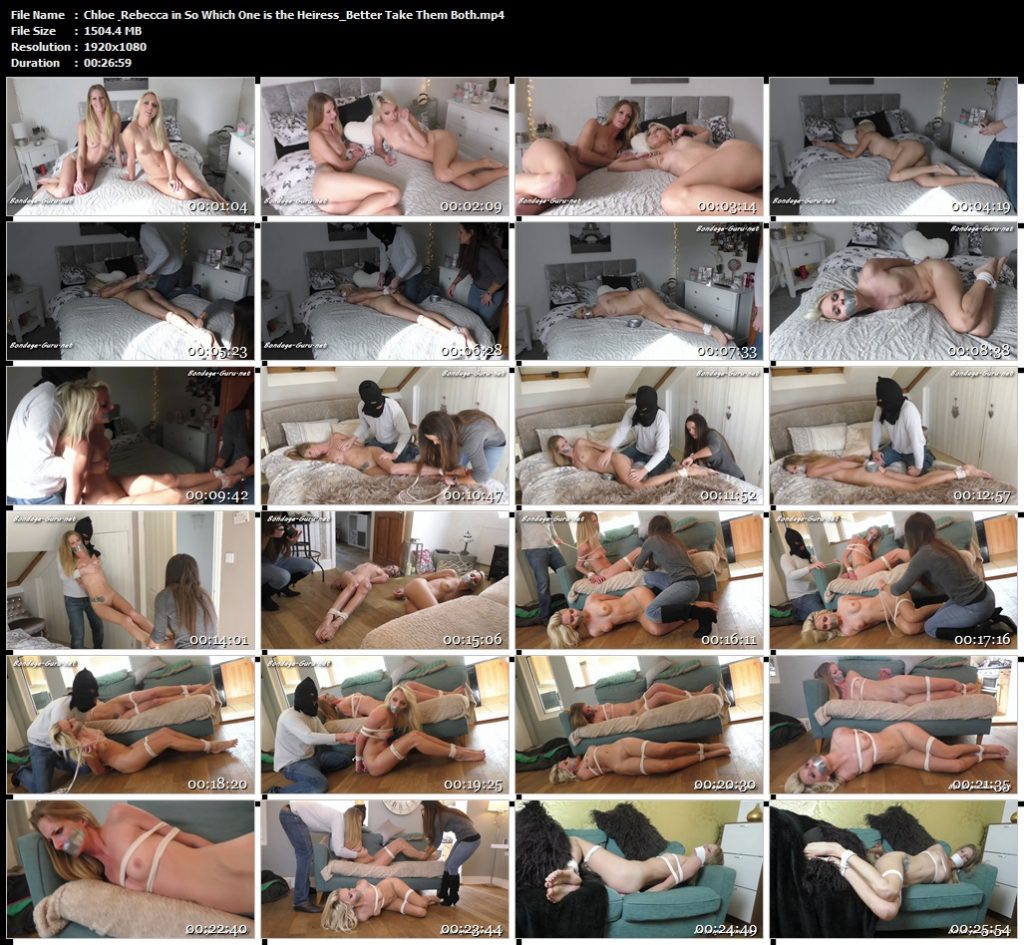 Download link:
Chloe_&_Rebecca_in_So_Which_One_is_the_Heiress_Better_Take_Them_Both.mp4