Chloe & Rebecca in: Defiant Pageant Contestants Viciously Trussed & Kept Away From the Comp, Squirm Heavily in Sheer Outrage! – Borderland Bound
Chloe & Rebecca in: Defiant Pageant Contestants Viciously Trussed & Kept Away From the Comp, Squirm Heavily in Sheer Outrage! – Borderland Bound
You just KNOW these two are going for it. Electric wrigglers, we had to wrap them both up extra tight to stand even a fighting chance of keeping them still. Feisty, smartass yappers are PLUGGED with cloth and their faces bound tighter than the skin on a bongo drum! Indeed, if bulging, ultra-tense faces were having a competition, these ones might just win, all wide-eyed and pathos-rich. Yep, this is going to be special.
We open up with the incredible Rebecca Leah in fire engine red lace bra and knickers set, including nude stockings and suspender belt. She wears a pair of white, strappy stilettos, and they look GREAT, but so do her pantyhose feet, so we'll have some of that soon enough. As the blonde beauty admires herself in the bathroom mirror, she allows as to how she and her stunning team-mate (they do it in teams these days, honestly) Chloe, are going to win the Stoke BarleyCorn Beauty Pageant. But somebody, wouldn't you know it, has other ideas!
Stalking up on the unaware chick is a masked basement-window-breaking interloper who has a devious design. Rebecca catches a glimpse of him in her mirror as he enters the room, but it's too late, he seizes her and clamps a hand firmly over her mouth. Unable to alert Chloe downstairs, the lovely girl is wrestled into subjugation and this whole handgagging sequence is pretty immense if we dare say. Enjoy it!
Next up, little firecracker Miss Toy gets a similar accosting, dragged off to an uncertain (ok, so we are pretty certain, actually) fate! Back in the girls' home dressing room, both are bound hand and foot with silver tape and brought down to a seldom-visited bedroom to be hidden from view. They try to mouth off, and you know what's gonna happen when they do it. Boom, in those sentence-off-cutting gags go and it's around and around HE goes with that serious, super tape.
Stifled and bewildered by the ferocity of it, the sexy girl packages are left struggling on the floor. But this dude has gotten their dander up, and having been told they are being kept restrained so that his girlfriend and her team-mate can win instead adds huge levels of fuel to their fire! Squirming around and trying to talk though their severe face-gags, the babes eventually make it up onto the bed, where the passion for freedom ratchets up even farther.
Bending around on that bed, showing off their amazing hosed feet, the helpless hotties arc and grind, humiliated and enraged that they are missing out on what would clearly have been a sure win! The BarelyCorn Trophy was theirs for the taking, and the big cash prize of 1000 pounds sterling, would have paid for their rent for next month. DAMN this scumbag cheat and his bitch girlfriend. How DARE he!
He's leaving now – not that we care. The girls are forced to stay, and stay they do, surging around bound and gagged in their undies on the big bed. What other amazing struggle-moves do they have? Find out right now, and know this: These girls will take you over the hill and into the forests with their amazing, high energy genuine freedom endeavours. Believe us, if Miss Leah and Toy had a way out of this ferocious tape – they'd take it. But doesn't kook as though they will fare too successfully, judging from the outraged mess they are making thrashing around on that bed. Bravo, Girls. You certainly deserve some sort of prize for this one! Mmmbbblllmmm!!!

Starring: Chloe Toy, Rebecca Leah
Size: 897.55 MB
Duration: 00:18:01 min
Resolution: 1920×1080
Format video: mp4
Preview: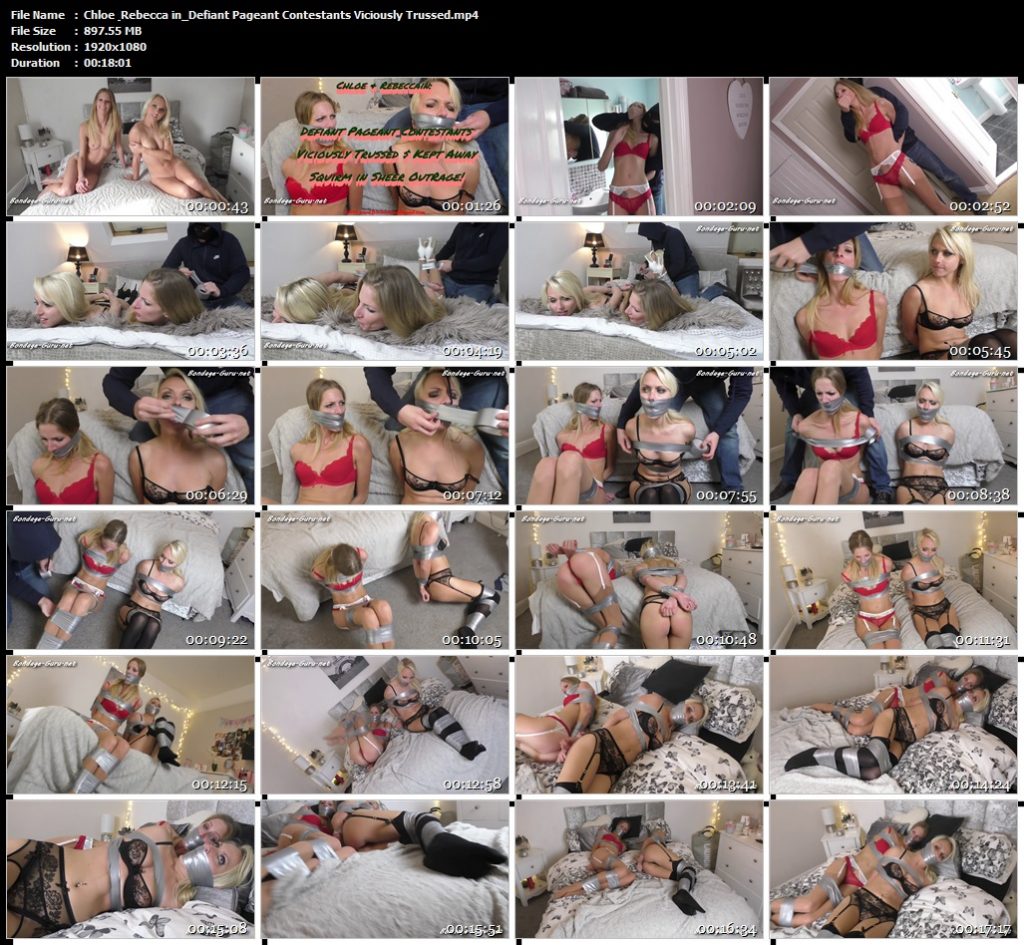 Download link:
Chloe_&_Rebecca_in_Defiant_Pageant_Contestants_Viciously_Trussed.mp4