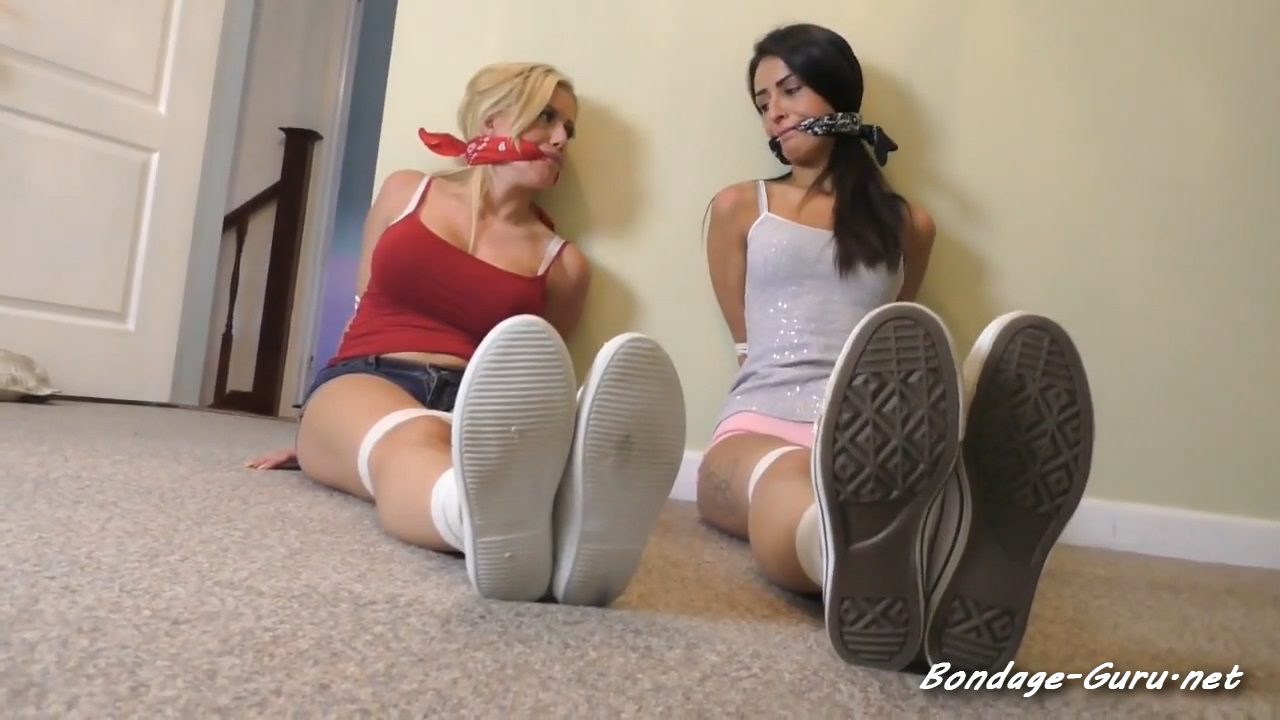 Chloe, Carla & Lissa in: From the Journal of Secret Agent Love: The Creepy Case of the Bandanna Gagged Snoops! (Full Clip) – Borderland Bound
Chloe, Carla & Lissa in: From the Journal of Secret Agent Love: The Creepy Case of the Bandanna Gagged Snoops! (Full Clip) – Borderland Bound
A true cleave gag fan's dream, we have three beautiful girls in diabolical situations up at Winegum Hall. We may recall that fearsome blonde secret agent (until she gets bound and gagged) Lissa is the one The Agency send in when there is a sudden disappearance of one of their lady agents. Lissa has a propensity for getting to the bottom of things, and then kicking arse. What a chick! And we recall that she may have been somewhat less than successful in her last mission but relish the opportunity now to trawl back through her journal and find out what befell her and two other young hotties, also now missing!
Busty blonde favourite Chloe is joined by fitness babe supreme Carla. The girls are in tightass denim shorts and form-accentuating t-shirts. On their feet, Carla sports Converse and Chloe some sexy canvas pumps. Sockless (begging for those soft feet to come out later) the intrepid cuties wend their way through the house, looking (snooping, if you prefer, which you do) for clues re the evil Count Winegums activities. Like once-probing, now trussed up, Lissa, they are of course, taken out, and by different minions of the Count. These two are assaulted and handgagged, then bound and very tightly bandanna gagged in an upstairs room. Struggling and gag talking to one another, the sexy little bitches squirm and try to loosen their gags. Will they succeed?
While we mull that one over (or watch the clip) we find out how their colleague, the buxom, intensely sexy Lissa, is getting on. Bound and gagged tightly again (always tightly, dear viewers) on a sofa, the dazed and confused babe is soon hauled off over the bad guys shoulder and left all tied up in a sinister (it IS) hallway. Struggling away and chewing hotly on her tight black bandanna gag (they do like bandannas in this vid) the enraged beauty is perfectly helpless. Tight jeans, ankle boots and a slinky turtle neck and jean jacket complete her ensemble, and she looks so damned tasty rolling around on the floor in it all. Soon putting a stop to that with a meaty hogtie from the badass, a gag fuming Lissa bounces around on her ample chest, groaning and grunting wonderfully.
As she strains away down there, her cruelly bound gag yanking her mouth back, we take a look at what is going on again upstairs. The gagged and bound beauties up HERE are still twisting and gag-communicating face down on the floor, and now they manage to sit up, after some sexy gymnastics, and continue struggling in vain. Then they are revisited and questioned by the Counts shady cohort. Neither babe will tak and so both are brutally gagged again, their sexy shoes forcible removed. kLeft wincing and mmmmmpppphhhhhing around their new and even tighter gags, the now barefoot hotties splay those toes and arch those soles as they repeatedly wrestle with their ropes, elbows cruelly knotted behind them. Their arms are going numb, and so must be their lovely mouths be, trussed so hard are they with those gags and restraints. Can anybody save this little lot? Certainly Lissa, expertly corralled hogbound downstairs, is in no position to do so. WE say, just kick back and enjoy heartily all three gorgeous models showing us again and again how well they can handle tight bandanna gags. Kinky, old school, very much fun to do this tale. And whether you have a strong liking of bandannas tied tightly around beautiful womens mouths, or not, you shall get a prime kick out of their engaging restraint in another babe-bulging entry from the Journal of Secret Agent Love!
Included in this story: bondage, tape bondage, tan bodies, brunettes, damsel in distress, female desperation, denim shorts, jeans fetish, boot fetish, handgagged, cleave gagged, gagging, gag talk, sweater fetish, gag ranting, big tits, snooping, subterfuge, bandanna gagged, struggling, big tits, hogtied, sneaker fetish, foot fetish, barefoot, snooping

Starring: Chloe Toy, Carla, Lissa
Size: 523.26 MB
Duration: 00:20:51 min
Resolution: 1280×720
Format video: mp4
Preview:
Download link:
From_the_Journal_of_Secret_Agent_Love.mp4