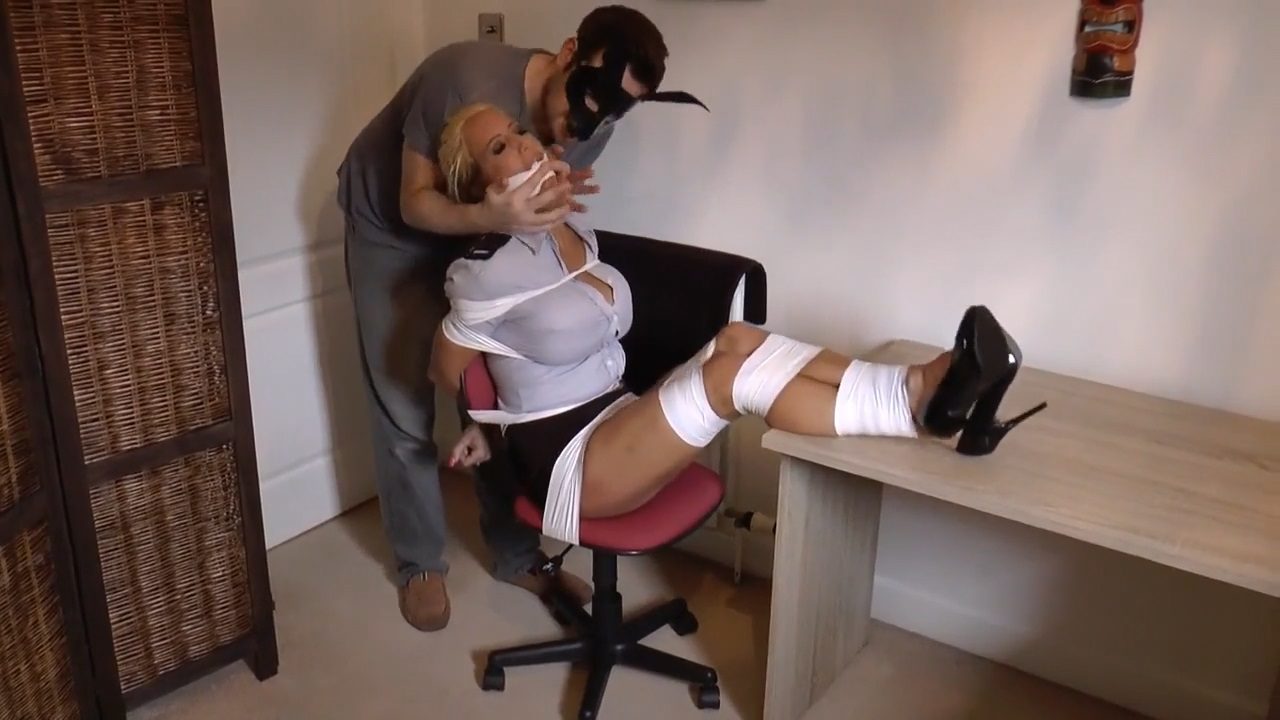 Charlie in: Hot Footed Security Beauty Jumped & Heavily Restrained By the Relic Bandit! (Full Adventure) – Borderland Bound
Now, we all know that beautiful Charlie Monaco can take some tightass bondage and mondo gaggage. So why not seriously punish her again with a huge, wide cleave gob stopper the likes of which will leave you reeling for more (look no further than our Store for tons more of these beastly gags). And just HOW tight did we need to tape her up?? TIGHT. This one be a true wiggler, captains! Check her OUT!
Busty babe extraordinaire Charlie has taken on the responsibility of looking after the storied Leopard People tribes relic collection. All are being held in storage up at the Old Lionel Harcross Estate. A wealthy chicken giblets magnate with a dubious connection to the Leopards Peoples tribe, it seems they trust the old guy to have the shiz looked after while they prepare to showcase their treasure at an exhibition at the Sudbury Town Hall on Sunday, for no discernible reason. Sound like a load of old twaddle? Well, you might well be right, but what crazed padding for what is about to become a mind firing tight bondage meltdown, and then some!
Resting her hot and sweaty (not to mention exceptionally shapely) heel clad feet, a much sanguine Charlie the Security Guard, eventually slips said heels off to let them tootsies of hers breeeeaaathe. Ahh, and much toe pointing and sole arching later, she is in for quite the surprise. Simon (The CakeSmith) Yardstick, a local armed raider with a roving eye for rare treasures to nick, invades the estate and only Charlie is standing in his way, alone as she is on her nightshift. Forced to surrender, she tells him he does not need to tie her up. She will be good and her shift will finish soon. He can just come back after she is gone. Can you BELIEVE this?? Needless to say, the dude ties her up with hardcore tape, jams a sock straight in her kisser and brutally cleave tape wraps the chesty mare. Then he leaves her all taped up to quite trouser inflatingly indeed rock it in all that mega bondage. On and on this goes as our sheer beauty attempts again and again to articulate full sentences through her gargantuan gaggeroo!
Later, the mercilessly muzzled and bound security hottie is revisited and must endure having her already painfully trussed legs and ankles lashed further to her chair. Even more immobilised, she bucks and writhes, fury and desperation in equal measure marking her every galvanic chair spasm. This is just awesome Charlie at her absolute best. Snap it up and enjoy this incredibly sexy lady, who just KNOWS how to keep us all totally satiated with her true damsel performances. Action jammed from beginning to end and tape bondage at its most uncompromising. You may have noticed that this is how we roll. And, what is this?? Ol Yardstick, that demented Relic Bandit, has left Charlie bound, gagged and locked in her guard station. Those relics are GONE!
Included in this story: bondage, tape bondage, damsel in distress, blondes, big tits, spanking, escape attempts, high heels, roleplay, uniforms, upskirt, chair bondage, chairbound, gagging, gag talk, struggling, mouth packing, mouth stuffing, wraparound tape gagged, escape attempts, female desperation, struggling

Starring: Charlie Monaco
Size: 236.19 Mb
Duration: 00:17:20 min
Resolution: 1280×720
Format video: mp4
Preview:


Download link:
https://florenfile.com/wthkiyiu1ami/Charlie_in_Hot_Footed_Security_Beauty_Jumped.mp4.html