Charlie in: Help Me! Heeeelp Me! Im All Tied Up Again At Uncle Mortdecais Place! – Borderland Bound
You may recall the beautiful, leggy blonde once falling prey to the arch-nemesis of her wizened uncle Mortdecai. The notorious Liam (PintGlass) GallBladder. Young Charlie was busy having a look around Uncs old house when she was snatched by the fiend and put through some incredibly hard bondage that afternoon. Here is a previously undiscovered passage to enter into the phenomenally sexy adventure. An exquisite chair tie, no less, if you are a fan of such things.
Its a truly awesome and thorough barefoot chair tying, in fact, with repeated tough gag applications, each designed to make the squirming beauty even less comfortable. First up, she is spirited to an attic room and tied up in a wooden seat. Then the protesting babe gets a very tight white cloth cleave to shut her feisty yapper up. Left to gag talk and bounce in her seat, the helpless and massive-racked surely we mentioned that niece is totally helpless. After much thrashing and trying to get loose, she shakes her head in defiance as ol GallBladder struts back in to announce he is heading out for a piece. A piece of what, we hear your asses cry out. None of your beeswax, we retort, good-naturedly, of course
Now, to ensure she is kept extra quiet, he doubles up on that awesome gag with a thick cloth detective muzzle straight over the top. Damn, watch the hot bitch deal with THAT one. Her previously pistoning, bound legs now further lashed up to her chair, our gorgeous ripe-titted blonde damsel is well stashed. Nobody will know she is up here. Nobody but us. And we are not telling just yet, right?
When the rotter returneth, its with a cheeky red bandanna. He wants to see just how tight he can get this new gag on the straining, indignant beauty presently at his mercy. Cutting the hot captive off in mid-sentence, the way we do soooo well, he knots off her latest cheek-bulging cleave with a satisfied grunt, mauls the girl around for fun, then promises her a very rough time while he exits. We are now left with the final act of this jaw-spasming gag trial as the blonde goddess bounces, rocks, boob-thrusts and mmmmmpppphhhhs us all down to the nearest infirmary with ticker queries. This incredibly sexy lady, totally bound up and detective (very kinky and nostalgic) gagged to perfection, will be the perfect addition to your Borderland Bound collection. If you have been mad enough to have thus far missed beautiful Charlie in action, witness here for your own good self, her electric performance for us. One of our best damsels eva!!

Starring: Charlie
Size: 1134.12 Mb
Duration: 00:20:23 min
Resolution: 1280×720
Format video: mp4
Preview: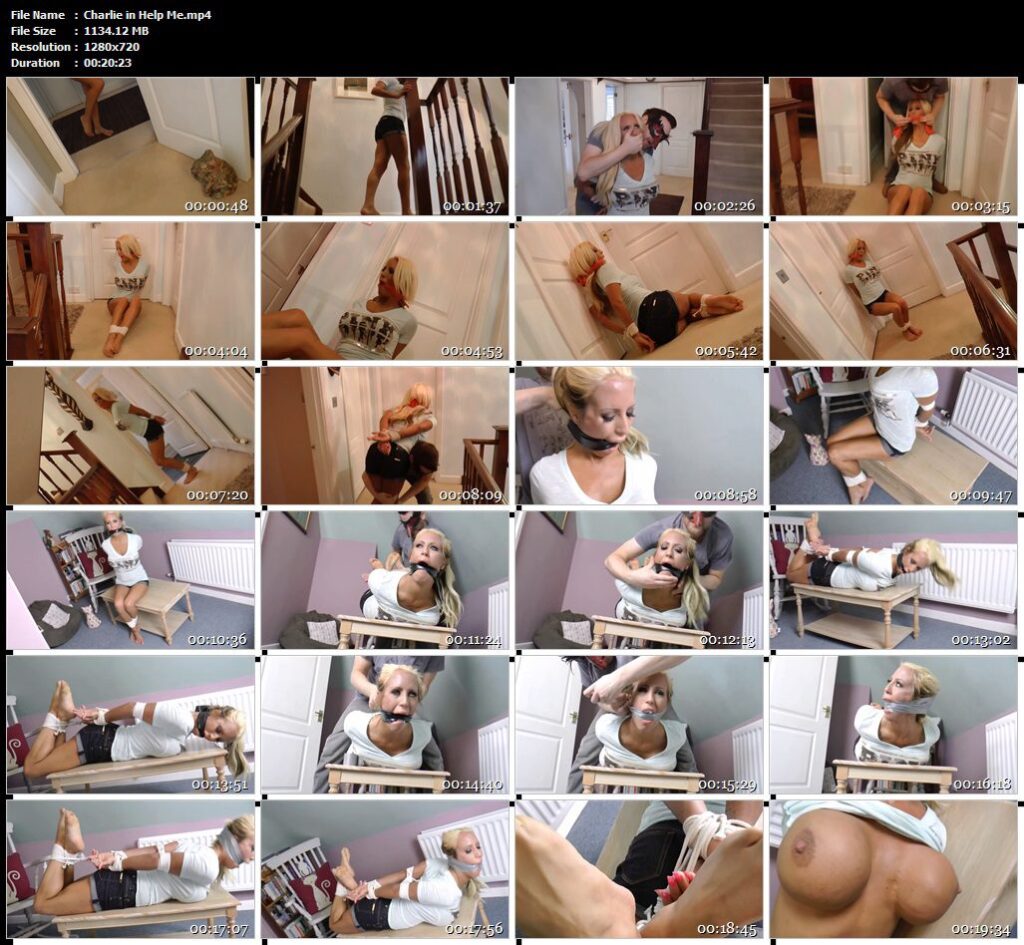 Download link:
https://wayshare.cc/cbr5iaefmt8x/Charlie_in_Help_Me.mp4.html