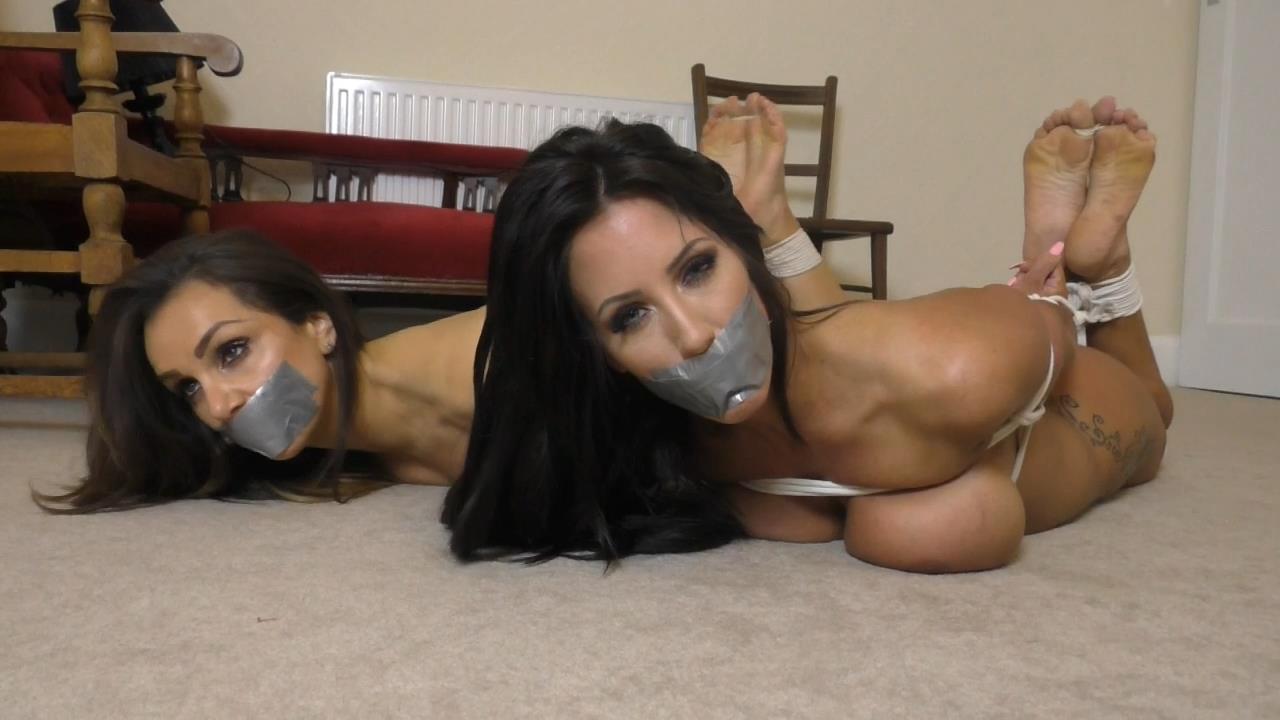 Charlie & Chantelle in: The Cape Whittington Affair: Daring Crimes & Helpless Stripped Damsel Beauties! (Full Adventure) – Borderland Bound
Charlie & Chantelle in: The Cape Whittington Affair: Daring Crimes & Helpless Stripped Damsel Beauties! (Full Adventure) – Borderland Bound
Ah, the Cape Whittington Affair, but isn't it the stuff of pure rumour? Did it REALLY happen like this? Two extremely hot women, stripped naked and left writhing around tightly bound and gagged, locked up within an upstairs room? The codes to a top secret hot air blimp capable of raining down firestorms on much of the country before running out of fuel, if so rigged, stolen!! Yes, surely this could not really have occurred. And what manner of monster would wind gags this HUGE about the hapless mouths of the two sublime damsels, after first stuffing them up with thick wads of, well, stuff! Sounds like a whole lot of foolishness. How exciting!
Evening. Cape Whittington. A residential area for those of a private bent. Posh, expensive row houses, one of which is hiding a dangerous secret. Charlie Monaco, tucked into an amazing little dress; the stunning, super busty and leggy beauty we like to send in to just these kinds of jeopardy-filled situations is waiting for her equally ravishing partner, the amazing Chantelle, apparently having E-Type Jag trouble, to join her. They are here to discuss these secret plans with the owner and patentee of the blimp schematics, Sir Cedric Comely-ButtMunch, but he is M.I.A. at the minute. Young Monaco is a tad confused. Where IS he? Just then, she hears a noise. It must be Chantelle, surely – only it isn't!
Taken captive at persuader-point, the rotter who has disappeared the old man now intends to do the same with her. He knows she is expecting company; he heard her on the phone to her, so he ties her up and gets a tight gag in her mouth so she can't warn her when she arrives. And speaking of which, Chantelle is shocked to find Charlie bound and gagged. She must submit or risk her pal's safety in a major way and is ordered upstairs, hands up. Charlie is bundled up after her.
Up there, in all of that creepiness, the ladies are stripped entirely naked and bound with stout cord in a back room. Charlie struggles urgently as her beautiful colleague is hauled in over the bad guy's shoulder, her mouth sealed up with sticky silver tape. He gropes the helpless hottie while Charlie reads him the riot act, demanding to know why they must be gagged. That's when she gets gagged! Slapping several strips of duct over both girls' mouths, he feels them up and leaves them helpless in this room. The ladies do a LOT of gag talking while squirming around, treating us all to some seriously sexy bare feet. But what is next.?
Turns out a damned good and stringent pigroping apiece! As Charlie & Chantelle groan and grunt and strain into their gags, they have their juicy bare toes twined together as they repeatedly wrinkle their delectable soles. Thus trussed up like spring chickens, even their sexy feet all tied up, the ladies are continuing their strugglethon. But their bondage challenge, for that is surely what this must be – the fucker has them tied soooo tight – is just commencing!
Returning to quiz the bound women, the nutbag starts with Charlie. She won't, of course, give up a thing, and so he, having torn the tape from her sensuous lips, immediately plugs her up with a big chunk of cloth, which audibly muffles her volume. Very hotly done, actually. Then he takes more tape and severely – for there can be no other way to express this, in or out of italics – binds her stretched wide trap and head, many times. Gagging and tit bouncing, the enraged beauty watches haplessly as her pal goes down the same way.
Poor Chantelle, monstrously gagged up cleave style, just like the feisty and regretting it Charlie, grunts and chugs around all of that tape binding her pretty face and head into the middle of next week. Fondled and enjoyed, the toe-trussed detectives are left bound up on the floor, while the guy goes straight ahead and takes those plans himself. If these two hadn't shown up in the middle of things, they might be having a better day. As it turns out, they are not. But are we??
With the massively cleave wrapped and turkey-strung babes rolling round on the floor like amazing, tit-friendly wind-up toys, the house is completely ransacked in the bargain. We mean, that's what these crooks do, isn't it? Mask-Boy, as much as he'd like to take these two toe-tied bints with him, elects instead to leave them in a burning house. For that is NEXT on his agenda. MMMrrrppphhhhh – you SCOUNDREL – Mmmmbbblllllppphhhh!!!
Will they escape somehow? We reckon so. Will we care that that aspect isn't especially believable? NO. Will we enjoy this superb tape and rope up job writ very large upon two of the hottest girls in the fetish game right now? Oh yes. Dally not. This is the clip you've been looking for since the last tape wrap up epic courtesy of Borderland Bound.

Starring: Charlie, Chantelle
Size: 1.15 GB
Duration: 00:23:52 min
Resolution: 1280×720
Format video: mp4
Preview:


Download link:
The_Cape_Whittington_Affair.mp4 – 1.15 GB