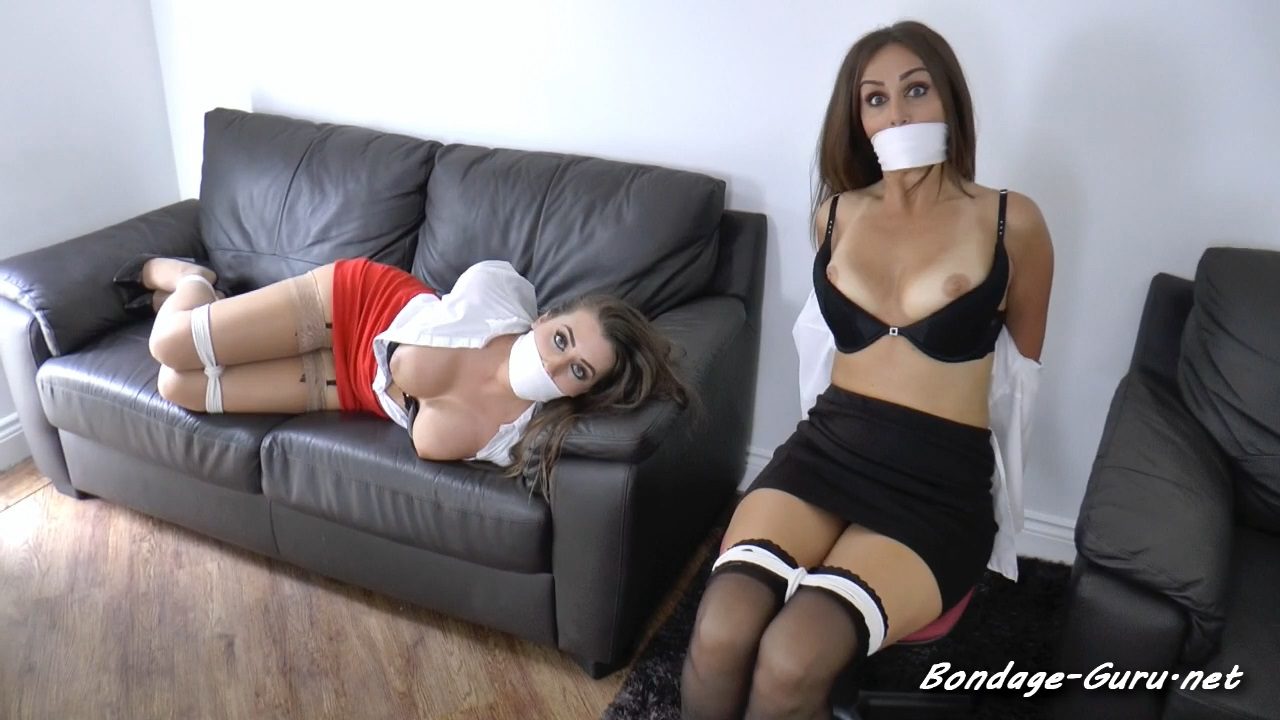 Chantelle & Pandora in: Exciting Burglary Stories: Spectacular Secretaries Humiliatingly Tied, Gagged & Awaiting Assistance! – Borderland Bound
Chantelle & Pandora in: Exciting Burglary Stories: Spectacular Secretaries Humiliatingly Tied, Gagged & Awaiting Assistance! – Borderland Bound
Finding a couple of beautiful women with their hot silk panties on display, bound and gagged in the coffee room was not what was expected, clearly. All roped up and with handkerchiefs tied tightly over their mouths, it appears the ladies have been. manhandled in some way. They are also in a shocking state of undress, and he is almost shy to gaze upon them. Will you be?
Afternoon at the OrangePeel Company, a bookmaking outfit operating out of several residential addresses on the south coast of jolly old England. Saucy secretaries to William J Pre-Molar, the company bossman, Chantelle and Pandora are more than mere eye candy (though not too much more) and have been trusted to look after the MillWall Street offices today, where the take from the previous week is being kept in a basement safe. Now, wouldn't it just be effing awful if some miscreant were to break-in, overpower the girls, and make off with all of that booty?
With this very bad thing now happening, Pandora and Chantelle are ordered into the coffee room at persuader-point, hands up and all of that good fun. Incensed by the robber's impertinence, they repeatedly demand they not be tied up, even as he ties them the fuck up. Gagging their sweet but annoying mouths, he relishes the silence, punctuated by hot little ummmppphhhs and such like as the babes shift around in their seats.
Pandora is tied up in an arm chair while Chantelle is bound on a folding seat. They are groped for good measure and left helpless as the filthy breaker and enterer starts turning the place over. In sexy stockings and heels, the beauties fetch quite a sight, and the delightful gag noises they make are divine. Just when you were happy simply with this chair bound up session, Pandora is on the move! Something else to get us going. She bunny hops across the room on her stilettos while the sexy Chantelle gag mumbles encouragement, but is recaptured out in the hallway. Conveyed straight back to the room, kicking and twisting over the crook's shoulder, she is felt up on a couch.
Helpless Chantelle looks on in disgust as her fellow secretary is felt up, before she has her blouse yanked open and her own bra-lad chest enjoyed. Angry and humiliated, the ladies are once more left to struggle. Pandora writhes passionately on the couch, her sexy lips imprinted slightly beneath her seriously tight gag. Ditto for Chantelle as she arcs around on her chair. Damn, it's intense, and even more so when the guy, almost ready to leave, exposes their ripe tits and can't help but have another go on them while the girls gag talk, enraged by his callous regard for their dignity.
Our trussed and gagged secretaries remain as they are – struggling urgently, communicating through their gags, getting even more excitable still when they hear the front door open some time after the robber has vamoosed with the weekly take. It's the boss, and he is gobsmacked at the sight now before him. Two stunning brunettes squirming bound and gagged. He pulls their gags off and they tell their tale. You'll want to hear it too. Then immediately begin this video again and go back over it in minute detail. Another awesome secretary in peril offering from us. We think it will be to your satisfaction. The girls are on fire, as ever.

Starring: Chantelle, Pandora
Size: 1.06 GB
Duration: 00:18:54 min
Resolution: 1280×720
Format video: mp4
Preview:


Download link:
Spectacular_Secretaries_HumiliatinglyTied_Gagged.mp4