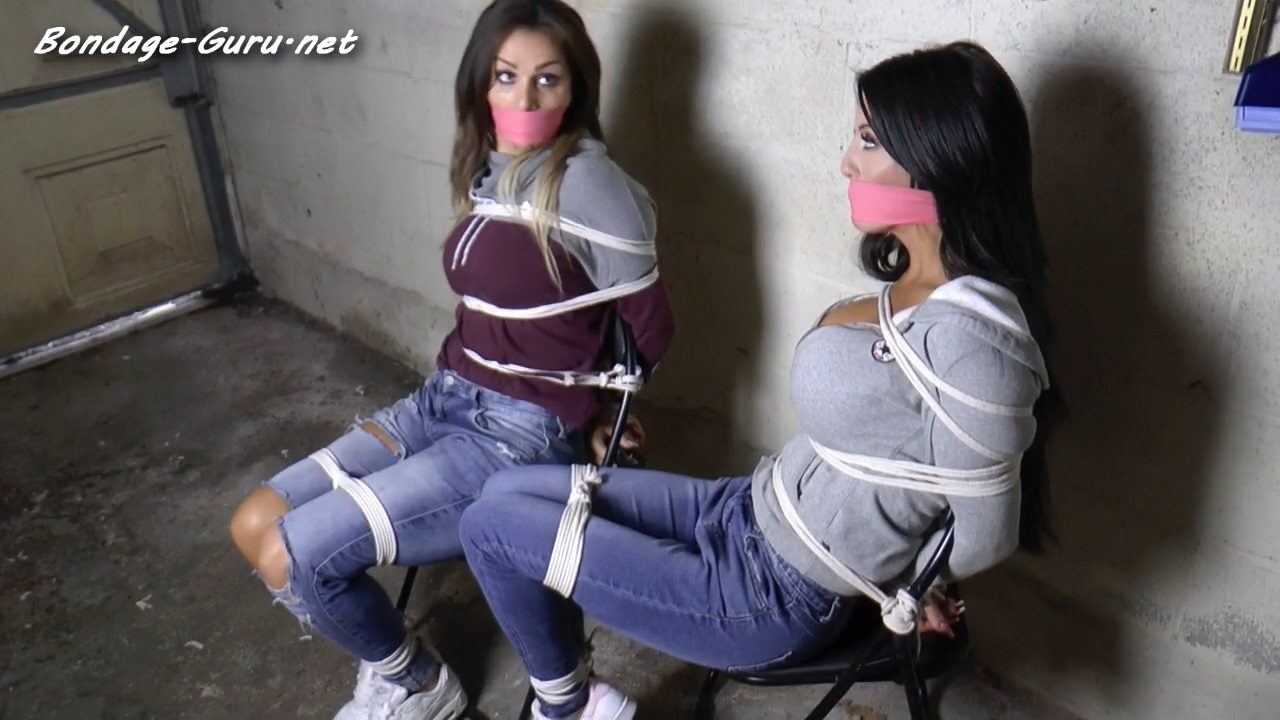 Chantelle, Charlie, Lady Vixen, Brook & Roxi in: Sneaky Snoops All Secured, Wherever They May Be… Are Perfectly Unable to Blab!
Chantelle, Charlie, Lady Vixen, Brook & Roxi in: Sneaky Snoops All Secured, Wherever They May Be… Are Perfectly Unable to Blab!
Mumbling. Muted. Mouths held tight and secure. Unable to speak of what they now know about these dark corners of the Borderland. Napkins, handkerchiefs, various fabrics. Whatever these crooks could get ahold of to GAG THEIR MOUTHS with. Bound stringently with stout cordage, they squirm, strain, twist and writhe. Needing to escape. Needing to tell. But totally unable. That is how we find our five very helpless beauties. Gagged and tied. Captured sleuths paying the price. Join them. You won't be disappointed.
First up is the beautiful Roxi (this chick is so damned pretty while at the same time pulling off the punky and bi- busted Baywatch look all at the same time. She's unique, and one of the sexiest grunters and groaners around as she surges forth, her huge, t-shirt-encased baps jigging with every thrust. But who has done this to her? Some nutty B & B owner she looked in the wrong vestibule drawer of and boom, he has his hand clapped over her pie-hole and is bundling the dear thing into an upstairs room. Soon enough she is firmly restrained and gagged up good with his hanky bound super-tight over her lips. He's tied her ONTO the commode too!
While Roxi, rocking her camo gear and cute sockless plimsolls, struggles urgently, other depravity is being writ large among beautiful young women across the Borderland Map. Like lovely Chantelle and Charlie. And indeed Brook and fiery Lady Vixen. But we'll get to them. Right now, we have the ravishing Roxi struggling with much determination, her bound legs tied up to that toilet, locked away. Her only hope is another guest coming across her in here. Do you think that might happen? Tune in to find out. Meanwhile.
The amazing blonde Brook and cherry-maned lady Vixen have been looking a little too deeply into the comings and goings of an eccentric miscreant named Jasper HotCrossBun. The man has stalked, captured, gagged and trussed the meddlers, in their sexy bare feet, in a back room. We like it when the villains use back rooms in which to.. store, the ladies. Don't you? Makes things more. secretive. For us. WE know the chicks are tied up back there, where nobody else does. Except us. Now, these two passionate strugglers are told to stay put and after a while of seriously sexy gag-communing, do the opposite. They are twisting and bending around the room, in a vain effort to loose some rope somewhere, and commence their getaway.
Huge gags bind their insolent faces shut and they are roped good and secure, clearly somebody didn't want them to be heard, or to escape. Clearly. Well, while they go at it, we'll divert our attention to a fog-shrouded lock-up on the edge of town. A thin shaft of light appears beneath the heavy iron door, and tiny, muffled noises might just be made out coming from inside. But only if you get REALLY close. Or step inside to feast on the fine damsel we've caught.
Here we have the massively-stacked Miss Charlie Monaco and her pal Chantelle – supreme cuties both – being held by a deranged maker of bad videos. He'll have the girls star in one soon enough, when he gets the chance to relieve them off their clothes and hang them up from the ceiling. For now, they struggle valiantly in their sexy casualwear, tightly bound and just as tightly gagged with thick pink flannel strips. That oughta hold their asses, eh? Lashed up expertly in chairs, the sneakered beauties go at it, gag talking with remarkable vigour, though it's all somehow incredibly muted. Quite the perfect balance. Something we work hard to strike with everything we do. It resonates here nicely and the girls could not be more helpless!
Sweeping up later, the madman who has them cannot resist bashing at their thick tits with his broom, humiliating the hostages. He then warns them to keep quiet and shuts them away, where they creak around, all tied up, in their seats, looking for a way to escape, all while being so super sexy. Are they getting out of this? Are Roxi, Lady Vixen, Brook?? All struggle gagged and trussed up, cloth-muzzled, rope-restrained, utterly at the mercy of their demented, weasley captors. And us. We hold all the cards, and enjoy, like fat, knowing spiders on the wall, their perils. So hot. Old school, ultra-kinky hot, in fact. Join them, indeed.

Starring: Chantelle, Charlie, Lady Vixen, Brook, Roxi
Size: 1.03 GB
Duration: 00:27:55 min
Resolution: 1280×720
Format video: mp4
Preview:


Download link:
Sneaky_Snoops_All_Secured_Wherever_They_May_Be.mp4