Borderland Bound – Vickie & Nikita in: The Cabaret Club Confusion: Busty 'Escape Artist' Vixens Kept Away From the Magic Show! (The Complete Tale)
Borderland Bound – Vickie & Nikita in: The Cabaret Club Confusion: Busty 'Escape Artist' Vixens Kept Away From the Magic Show! (The Complete Tale)
Gagged and tied like salamis in a dingy backstage storeroom, star escape artistes Vickie (big, big-boobied milf minx) and the delectable Miss Caslida, have a sneaking suspicion about who has snatched them! Seems that their prevention from performing at the dazzlingly successful Fizzy Cola Bottle Cabaret Club that night is the chief goal of the damned villain who has them…. Read on!
Original release now includes:
Vickie & Nikita's scene from: Intense OTM Delights: Just How Tightly Can Those Gags be Bound Over Their Sexy Mouths While They Struggle in Chairs?
In Miss Vickie's personal prop room, she and her fellow magician/ exciting escaper Nikita (meeaooowwww!) are brushing up on their act. Tonight is a sell-out show at the club and the buxom, ravishing – let's just get that out there – pair will be performing all manner of tricks and stunts. A light bondage routine, where they'll be using gags too, just to thrill some of the secret admirers of such things in the crowd, will be their opener. And, on that note…
Gorgeous Vickie sits on a chair, muscular thighs firmly crossed, while dashing Nikita in her best fishnets, bow tie and all the other bits you can see in the effing pictures, sets about lashing her wrists tightly behind her with white rope. They decide to use a red and white polka dot scarf for a gag and then Vickie is away, trying to get free. While the lovely Nikita watches, arms folded across her ample, corset-adorned chest, Vickie finally slips the rope. Yanking her gag, she knows who's lucky turn it is next…. Mmmmmm, naughty!
While the delicious duo are busy tying one another up, with Nikita relishing the feel of the rope being cinched around her wrists, Vickie suddenly feels something cold and hard pressing into the small of her back. She is ordered to get her hands up and told to go and sit down in the other chair. Though the guy is masked and in coveralls, they think they recognise his voice. Could it be Albie 'Stuffed-Yams' Williams, the owner of newly opened rival club 'Duncans' just around the corner in Lower Butt-Crevice Street. The girls can't be sure, but they have other things on their minds right now – like being tied up!
Now, you might think that the two 'experts' in matters of escape might be able to slip those bindings, but you'd think wrong. Albie has a similar show playing out – tonight in fact – and he is an old master at tying people up (we know, mate, we've seen YOU before) and the ladies are powerless. No way can they budge these knots. He then roughly gags both women. Nikita gets a white handkerchief betwixt the teeth from their props cupboard and Vickie is scarf cleave gagged – a heck of a lot tighter this time!
The babes are left writhing gagged and bound in their seats, swiveling around the magic room and chewing, mouthing and mumbling around their tight, sexy (it must be said) gags. When we've had our fill of this – and you'll get plenty – we'll have the feisty maidens spirited away to Albie's club. For now, we'll enjoy a few last drops of the girls chair-trussed and gag talking. Don't Vickie's crossed legs look hot all bound up like that too?
Later that night, the girls, wriggling and protesting, are transported to Duncan's Magic Club and concealed in one of the store rooms. Vickie and Nikita kick and twist so much that Albie is forced to return and hogtie them both. Yes, they like a fight, this pair, but he is ready to match and best them. This time, the ladies are even more severely restrained than before. They are going precisely nowhere. And the point of this, as they bounce gagged and tied on their big tits? Why, so THEIR club can fail. With all of those miffed customers demanding refunds when the star attractions fail to show, they'll be pouring across to Duncan's, where the SHOW most definitely will go on! But it's the backstage one, involving two tightly bound and cleave gagged beauties, that we have front row tickets to. Happy? Go for it, damsel lovelies. SQUIRM! Mmmmrrrmmmppphhhhh!!

Starring: Vickie P, Nikita Caslida
Size: 1.51 GB
Duration: 00:31:04 min
Resolution: 1920×1080
Format video: mp4
Preview: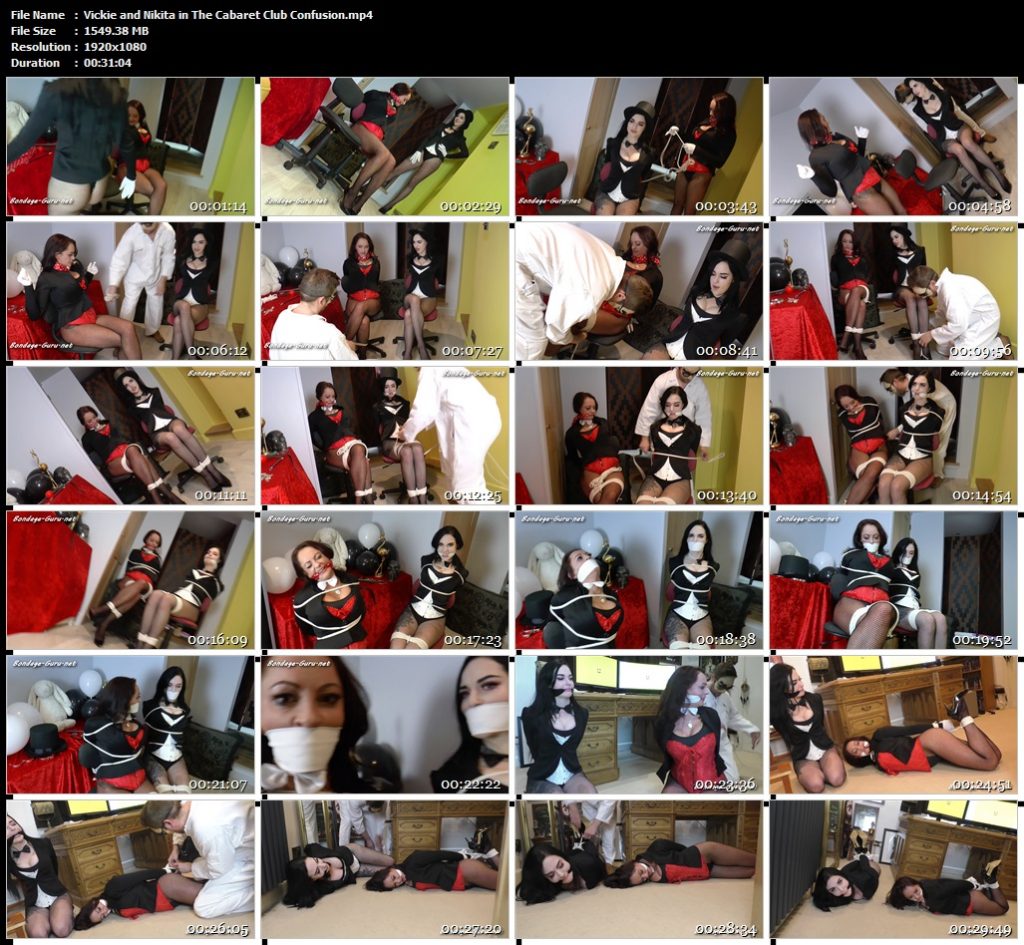 Download link:
Vickie_and_Nikita_in_The_Cabaret_Club_Confusion.mp4